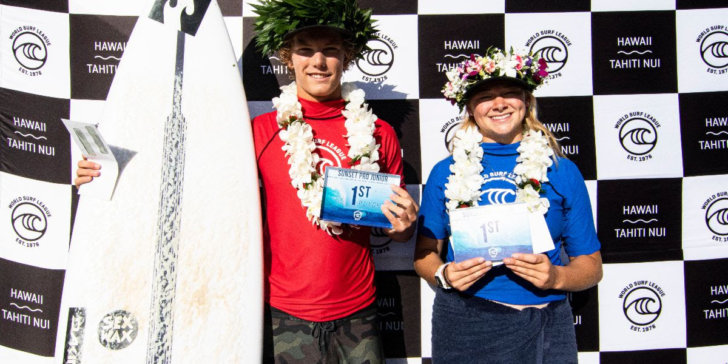 Jackson Bunch and Leila Riccobuano Place Runner-Up
New NW Swells Stacking Up for Men's QS 1,000 This Week
Pictured: Brodi Sale (HAW) and Kirra Pinkerton (USA) made their mark in Hawaii history today at Sunset Beach.
Credit: © WSL / Chlala
Haleiwa, Oahu/HAWAII – (Tuesday, January 21, 2020) – Brodi Sale (HAW) and Kirra Pinkerton (USA) earned their very first Hawaii victories at the Sunset Pro Junior today, the opening event of the 2020 season for the World Surf League (WSL) Hawaii/Tahiti Nui region, after controlling their respective 4-man finals with excellent positioning at Sunset Point and confident forehand surfing. This Men's and Women's 18 and under event runs in conjunction with the Sunset Open, a Men's Qualifying Series (QS) 1,000, which will look to get underway this week as new NW swells begins to fill in along the North Shore.
Californian Takes Out Hawaii Final
Pinkerton, 17, was an unbeatable force today and defeated two-time Sunset Pro Junior winner, Gabriela Bryan (HAW), en route to the victory. Bryan ended in third place while Honolulu's Leila Riccobuano (HAW) earned runner up and Bettylou Sakura Johnson (HAW) finished fourth. This marks Pinkerton's first event in Hawaii since 2015 and first professional win since 2018 but the San Clemente local felt strong going against today's stacked Hawaii draw.
"I've surfed against all the girls before and they all surf super good so going into that I had no pressure," said Pinkerton. "But I knew that all the girls surf super good so I just expected big scores and I was just looking for the right waves."
Pictured: Pinkerton put on a strong showing at Sunset Beach for her competitive return to Hawaii in five years. 
Credit: © WSL / Chlala
The 2018 World Junior Champion has the ultimate goal of qualifying for the 2021 Championship Tour (CT) and will be globetrotting this year to collect QS points. Already off to a great start, Pinkerton earned 9th place in the Corona Open China QS 5,000 two weeks ago and today's win gives her momentum heading into the Australian leg.
"It's always good to get a win in the beginning of the year, especially after a big event like the 5,000," she continued. "And then coming into this one and taking the win, I'm really looking forward to going to Australia and bettering my results there."
In the Final, Pinkerton outsurfed her competitors by staying busy in the lineup and posted the two highest single-wave scores of the heat, a 5.65 and 5.15 (out of a possible 10). Riccobuano was quick to answer back with her own mid-range 5.0 on her backhand, but Pinkerton continued to unleash powerful maneuvers and top to bottom surfing with every wave. With only seconds remaining and needing a 5.80 to take the lead, Riccobuano made one final attempt that judges awarded a 4.10, which ultimately put the Hawaii surfer in second place behind Pinkerton.
Pictured: Riccobuano's backhand attack was a close second to Pinkerton's aggressive forehand.
Credit: © WSL / Chlala
"My heart was racing during the Final, I remember just paddling from West Bowl to Point, to West Bowl to Point and just so much adrenaline," said Riccobuano, 16. "Then when I caught my last wave with a minute left I was like 'oh my gosh', but the energy was cool, I had a lot of good friends out there so it was fun. I've gotten to know a lot of them really well and they're all super sweet. I know we all want to beat each other but we all root for each other at the same time. I'm stoked to get runner up, it's my best result so far at Sunset. I've been doing this contest for so many years, stings not to get the first but you can only get so close."
Earlier in the competition, Sakura Johnson stamped out the highest single-wave score of the women's division, a 7.25 for one turn that fired off a warning shot to competitors, since this event marks her very first WSL appearance. A native to Haleiwa, Sakura Johnson trains with longtime competitor and legendary mentor, Ross Williams (HAW), who also coaches two-time World Champion John John Florence (HAW).
Pictured: L to R: Kirra Pinkerton (1st), Leila Riccobuano (2nd), Gabriela Bryan (3rd) and Bettylou Sakura Johnson (4th).
Credit: © WSL / Chlala
Brodi Sale Earns Career-Best Result
The Men's division was a hearty mix of island talent but it was Big Island's Sale who performed best to earn his first professional victory and first final debut. Sale, 16, went against Maui surfers Jackson Bunch (HAW) and Ocean Macedo (HAW) and North Shore's Shion Crawford (HAW) to usher in the new guard of top-performing teens.
"First final, first win so I'm super stoked," said Sale. "There was such a stacked field. My side of the draw, I had a really gnarly Quarterfinal heat, it was some of the best guys in our region. But every heat, every round is gnarly, especially out here. Whoever gets the wave can win so it's just about putting yourself in the right place and performing once you get the wave. This is a great way to start the year."
Pictured: Sale had precise and polished turns that were a notch above the rest today.
Credit: © WSL / Chlala
From Kailua-Kona, Sale was in-form from the start and garnered the best wave of the Pro Junior event, an excellent 8.50 for a variety of impressive maneuvers. The judges rewarded turns and wave selection today since Sunset did not offer barrels or air sections, and Sale delivered the most polished carves of the competition.
In the Final, Bunch drew first blood and dropped a 4.25, then continued to collect small scores for an early lead. But Sale pulled ahead after earning a 5.50 – the best wave of the heat – and a 4.40 to stave off competitors, even after Crawford scored a 5.15 for strong frontside surfing. Sale tallied the most rides in the Final and was the clear standout of the event, selecting the best waves and completing them with consistency and flair. He plans to prioritize regional events and also travel for select QS events this year.
Pictured: L to R: Brodi Sale (1st), Jackson Bunch (2nd), Shion Crawford (3rd) and Ocean Macedo (4th).
Credit: © WSL / Chlala
"I really want to capitalize on all the events I do this year," said Sale. "I'll definitely be doing all the regional ones because I want to get into Vans Triple Crown and have a good seed. I'm super happy. I've been working hard this last month after I lost in the Triple Crown. I just went home, trained almost every day, was on a pretty good diet and stretching and just feel good. I'm super stoked it all paid off."
The next Pro Junior event of the WSL Hawaii/Tahiti Nui circuit will be in Tahiti, the Papara Pro Junior, from March 9 – 13, which runs in conjunction with a Men's and Women's QS 1,000 at the notable beach break of Papara. At the conclusion of the Pro Junior series, the top three men and top two women off the regional rankings will qualify for the World Junior Championships in Taiwan this November where they will represent Hawaii among all other WSL regions.
About the WSL 
The World Surf League (WSL), established in 1976, is the enablement platform for surfing and surfers worldwide. The WSL is dedicated to changing the world through the inspirational power of surfing by creating authentic events, experiences, and storytelling to inspire a growing, global community to live with purpose, originality, and stoke.
The WSL is a global organization, headquartered in Santa Monica and with regional offices in North America, Latin America, Asia Pacific, and EMEA. The WSL possesses a deep appreciation for the sport's rich heritage while promoting progression, innovation, and performance at the highest levels.
The WSL is comprised of Tours & Events, celebrating the world's best surfers across all disciplines and annually running more than 180 global contests and crowning the undisputed World Champions across all divisions; WSL WaveCo, where innovation meets experience; and WSL Studios, which offers best in class storytelling across competition, lifestyle, and conservation.
For more information, please visit WorldSurfLeague.com