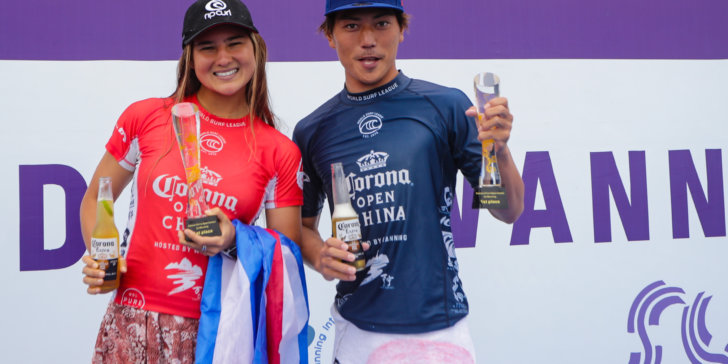 Hennessy's Return to Riyue Bay Transpires to First Major QS Win Over Fierro
Murakami Completes Dream Run, Overpowers Asing In Final
Notable Finishes For Gudauskas, Waida, Nonaka and Kurokawa
Front page: Brisa Hennessy (L) and Shun Murakami (R) emerged with 5,000 points at the Corona Open China hosted by Wanning to start their respective 2020 seasons.
Credit: © WSL / Tim Hain
RIYUE BAY, Wanning/China (Sunday, January 12, 2020) – Brisa Hennessy (CRI) and Shun Murakami (JPN) claimed respective wins at the World Surf League (WSL) Qualifying Series (QS) Corona Open China hosted by Wanning, a men's and women's QS 5,000, in phenomenal fashion. The 2019 Championship Tour (CT) Rookie of the Year and 2020 provisional Olympian Hennessy continued to display a dominant backhand attack to overcome an in-form Vahine Fierro (FRA) in their Final showdown while Murakami picked apart the lineup to dismantle former CT competitor Keanu Asing (HAW) in a stout finish.
This marks Hennessy's first-ever major QS win after getting a quick start on Fierro in the Final to begin building her solid foundation. The Costa Rican saved her best for last and accrued her 12.00 (out of a possible 20) heat total on her last two scoring rides including a big exchange halfway through the heat which had Fierro in the lead for a brief moment before Hennessy's 6.50 (out of a possible 10) was announced after their trade off. The 20-year-old is off to a dream start in 2020 as she takes over the QS ranks moving forward with 5,000 points.

"I'm so excited to win this event, it's an incredible feeling to start the year this way," said Hennessy. "It was so special to share it with Vahine (Fierro). I feel like she was the most in-form and feel really grateful to have the Final with her. I'm really happy to be here with my mom and Molly (Picklum) too which has been hilarious. "One thing I really want to focus on this year is committing more to my decisions more. I'm really indecisive (laughs). Just trying to stay in the moment. This is a journey and it's a marathon, not a sprint so I'm just going to enjoy the process."

Hennessy had to first deal with an in-form Japanese contender  Hinako Kurokawa (JPN) who kept the 2020 CT sophomore at her best, which she delivered and ran away with the heat as the bout progressed. The 20-year-old prepares for a big 2020 season amid the world's best and chasing her dream of the Olympic Games Tokyo.
Hailing from the 2020 Olympic Games host country, Japanese competitor Murakami completed a dream run to earn his biggest career WSL victory in the first men's QS event of the year. It all culminated in a remarkable finish against event standout Asing after starting the affair with a near-excellent 7.67 to take control. The inconsistent swell proved difficult for Asing, not amounting a score of meaning until under the 5-minute mark, as Murakami was able to add a 5.50 to his scoreline and all but seal the victory. The Shizuoka, Japan, local was welcomed back to the beach with roars of congratulations from his compatriots after taking a big win to start 2020.

"I was just focused on winning this event," said Murakami. "This is a great start to the year and I couldn't be happier to make my goal happen. {Keanu) was ripping and surfing really powerful so I just focused on doing my job and it worked out. It's so good to have people on the beach cheering for us, everyone was here today. I just want to say thank you to all the Japan crew for the amazing support  and I'm just so stoked."

Murakami is no stranger to success, earning multiple QS wins with his latest just in October of 2019, but skyrockets from his QS ranking of No. 169 last season to now making his way atop the ranks – showing his ability to overcome tough conditions in a clutch Semifinal performance over Indonesia's Rio Waida (IDN) before the big Final.

Runner-Ups Asing and Fierro Take 4,000 Points Away From China
Asing's mentality remained strong all the way through competition and left Riyue Bay with all the positives.
Credit: © WSL / HainEventual runner-up Asing looked to be on his way to a capping off an incredible event atop the podium himself after a battle unfolded with fellow former CT competitor Patrick Gudauskas (USA). Both went wave-for-wave early on before the eventual Asing attacked the heat's best opportunity to notch a 7.67 and all but secure his Semifinal win with a 14.34 heat total – the day's best. But, the seasoned veteran leaves China in good spirits and 4,000 points."I'm just so happy to kick off the year with a podium," said Asing. "In mind I came here knowing I wanted to be in the Final of the event and I'm just stoked to be here. Nothing better than starting the year off with a Final. It's interesting after such a tough year competitively, it was the worst season of my career, and now starting the year off with confidence and momentum was something I think I was missing."
: Fierro's magic run ended with a runner-up despite her aggressive forehand attack that shined all week.
Credit: © WSL / HainWomen's runner-up Fierro emerged victorious from a nail-biting Semifinal bout with Minami Nonaka (JPN) as the Japanese competitor had one last opportunity to earn a 5.33 but fell just 0.54 short of the requirement as Nonaka maintained the heat's best single-wave score of a 6.33. The Tahitian delivered some of the event's best performances heading into finals day and leaves with plenty of confidence to take on a year among the top QS threats."This is the exact start to the year I was hoping for and I'm hoping to make a run toward qualifying this year," said Fierro. "This has been an incredible trip and it reminds me a lot of home being so tropical. The wave was really fun when you could get a good one but today was tough with it being slow. I'll take this confidence moving forward knowing I can make some heats when it gets hard but it's been such a good experience and I'm so thankful."While not making their way to the podium, big finishes for Gudauskas, Waida, Kurokawa and Nonaka earned them 3,250 points to get their 2020 campaigns started with plenty of muster.The Corona China Open QS 5,000 hosted by Wanning will run at Riyue Bay, Wanning, Hainan Island, China in the best conditions between January 6 – 12. Tune in live throughout the event window via www.WorldSurfLeague.com, Facebook Live or the WSL App.For more information, please visit WorldSurfLeague.com.Corona Open China Men's Final Results:
1 – Shun Murakami (JPN) 12.67       5,000 points
2 – Keanu Asing (HAW) 10.00          4,000 pointsCorona Open China Women's Final Results:
1 – Brisa Hennessy (CRI) 12.00        5,000 points
2 – Vahine Fierro (FRA) 11.86          5,000 points

Corona Open China Men's Semifinal Results:
SF 1: Keanu Asing (HAW) 14.34 DEF. Patrick Gudauskas (USA) 11.94
SF 2: Shun Murakami (JPN) 11.10 DEF. Rio Waida (IDN) 5.00

Corona Open China Women's Semifinal Results:
SF 1: Brisa Hennessy (CRI) DEF. Hinako Kurokawa (JPN) 10.54
SF 2: Vahine Fierro (FRA) 11.67 DEF. Minami Nonaka (JPN) 11.20