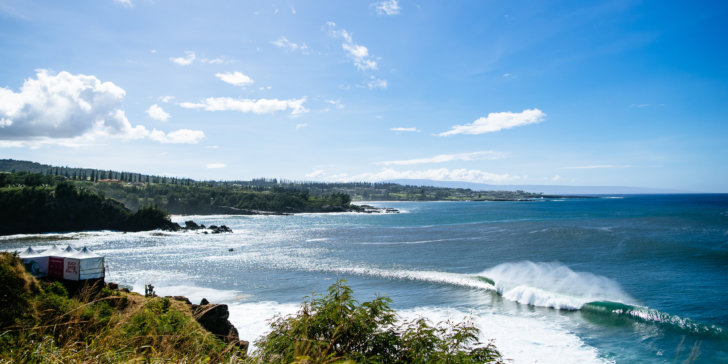 There will never be a 2020 World Champ…A first, in the entire history of Pro Surfing.
Frontpage image: Honolua Bay. The women will kick off the 2021 season 4 months early (November) at Maui's iconic spot; Men will start in December at Pipe. Photo: Sloane / WSL
Obviously, the coronavirus pandemic is the culprit causing the cancellation of The 2020 World Surf League season. 2019 ratings/seedings will carry over to the 2021 season.
"While we firmly believe that surfing is amongst the sports best suited for the competition to be held safely during the age of unresolved COVID, we have huge respect for the ongoing concerns of many in our community as the world works to resolve this," WSL CEO Erik Logan said, according to the organization.
The WSL schedule was due to start in late March, but the opener in Gold Coast, Australia, was canceled 11 days before its start due to the virus. On April 28, the WSL announced all contests through June were postponed. The season traditionally runs into early December.
NEW SCHEDULE: The 2020-21 season is scheduled to start in November for the women and December for the men, both in Hawaii, subject to local approval, and safe travel.
The season will end with a new, one-day, surf-off WSL Finals to crown world champions in September 2021 at a to-be-announced venue. The top five women and top five men in the standings after the 10-contest regular season will compete at that event.
Men and women will have the same number of contests for the first time in one season.
Logan previously said the surfer ranked No. 1 through the Championship Tour regular season will have "a distinct advantage" going into the WSL Finals.
2021 Championship Tour season
* All events and dates subject to change due to applicable COVID-19 related restrictions, including global travel restrictions.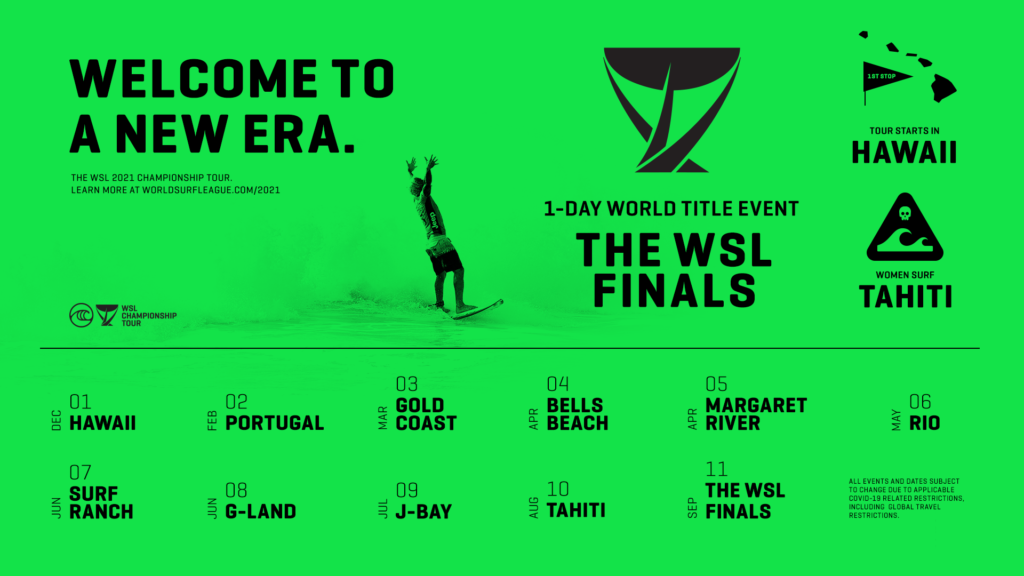 Shiseido Maui Pro presented by Roxy, Honolua Bay, Maui, Hawaii:
November 25 – December 5, 2020
Billabong Pipe Masters, Oahu, Hawaii:
December 8 – 20, 2020
MEO Pro Peniche, Portugal:
February 18 – 28, 2021
Corona Open Gold Coast presented by Billabong, Queensland, Australia:
March 18 – 28, 2021
Rip Curl Pro Bells Beach, Victoria, Australia:
April 1 – 11, 2021
Margaret River Pro, Western Australia, Australia:
April 16 – 26, 2021
Oi Rio Pro presented by Corona, Saquarema, Rio de Janeiro, Brazil:
May 20 – 29, 2021
Surf Ranch Pro, Lemoore, California, USA:
June 10 – 13, 2021
Quiksilver Pro G-Land, Indonesia:
June 20 – 29, 2021
Corona Open, Jeffreys Bay, South Africa:
July 7 – 19, 2021
Outerknown Tahiti Pro, Teahupo'o, Tahiti:
August 26 – September 6, 2021
The WSL Finals, Location TBD:
September 8 – 16, 2021
OLYMPIC Debut is still set…for now.
Most of the field is set for surfing's Olympic debut in 2021, led by the top 10 men and top eight women from the 2019 season standings, a maximum of two per country.
The U.S. qualifiers were world champion Carissa Moore and runner-up Caroline Marks and Kolohe Andino and John John Florence, who beat out Kelly Slater.