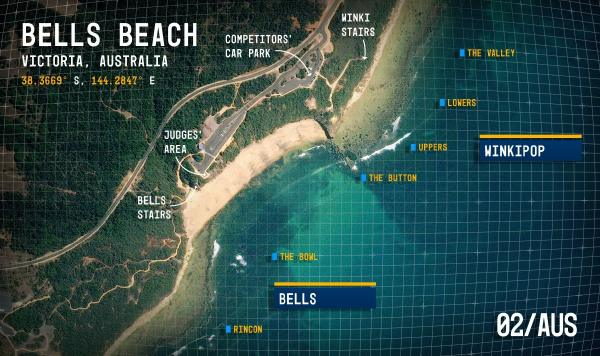 The Break
As a location, Bells Beach isn't exactly idyllic. It's cold and regularly crowded.
But Victoria, Australia's famous break presents its own form of grandeur: Visually stunning, Bells is reliable and accessible — especially to thousands of surfers who live in Melbourne, Australia's second-largest city, 90 minutes to the northeast of the famous spot.
The closest town is Torquay, also known as the Gateway to the Great Ocean Road — a paved paradise along 151 miles (242 km) of coastline. For eager surfers hitting this renowned stretch of coast, Bells Beach is stop No. 1. Simply put: Pull into the car park, run down the stairs and paddle out from the beach.
The Approach
The Bells Beach breakdown, from Rincon to Winkipop.
Rincon can be a high-performance wave and impressive aerial surfing has been on display there in recent years. Once things move into the Bells Bowl though, it becomes hard to surf above the lip. But modern progressive surfing isn't only about airs; rail surfing might be what the conditions demand. (This may come in handy for event wildcard Mason Ho.)
Joel Parkinson, who has won at Bells three times, knows the break as well as anyone. He first travelled to Bells at age 14 and he's tasted victory there on multiple occasions.
"What I've loved to see is how guys have evolved and really pushed their rail game in the Bells Bowl over the last few years, drawing different lines," he said. "It's really brought Bells to life."
Two-time Bells victor Simon Anderson agrees: "Bells is a full power-carve venue, that's what makes it unique. You might say it's similar to Jeffreys Bay in South Africa, but J-Bay is more down the line. The faces at Bells are bigger and that requires a lot of strength to hold your carves off the bottom and off the top. Parko, Kelly, Jordy Smith…those are the types of guys who do well at Bells…and Adriano de Souza, who won it a couple years ago, in 2013, because he could match it with that sort of surfing."
The Innovation…and more Click HERE