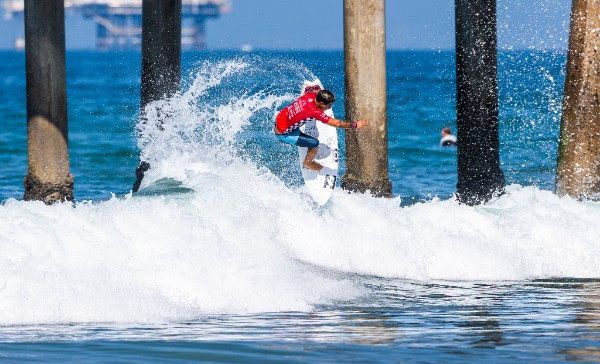 JOAN DURU UNLEASHES PHENOMENAL SURFING IN ROUND 2 DEBUT
MEN'S PRO JUNIOR FINALISTS DETERMINED
 Current No. 4 on the WSL Men's Championship Tour (CT) Italo Ferreira (BRA) showcased his free-spirited style of surfing for a big Round 2 win.
Credit: © WSL / Rowland
HUNTINGTON BEACH, Calif./USA (

Tuesday, July 31, 2018

) – The 2018 Vans US Open of Surfing presented by Swatch continued today in Huntington Beach with the Men's Qualifying Series (QS) 10,000 (Round 2, Heats 9-16) and the Men's Pro Junior Quarterfinals and Semifinals. The World Surf League (WSL) QS offers surfers the opportunity to qualify for the elite Championship Tour (CT), the world's premier surfing series that crowns the world champions at the conclusion of each season, and today's early heats saw competitors fight for critical points to put toward their global ranking.
It was fireworks from the start in tough conditions as Deivid Silva's (BRA) forehand attack went to work and opened up with an excellent 8.00 (out of a possible 10). The Brasilian felt right at home in the beach break with his light-footed approach and lightning-fast maneuvers helping to eliminate CT competitor Frederico Morais (PRT). Silva currently sits at No. 6 on the QS rankings after a big QS 6,000 win in Australia to start the year and is looking to solidify his spot among the Top 10 with another massive result here.
"I'm feeling good and the waves are like the Sydney event so I have some confidence here," Silva said. "I'm also really happy because my good friend Victor (Bernardo) made that heat with me even though it was really slow out there. This is an important event with 10,000 points on the line and I'm happy to be back in Huntington. There isn't a lot of pressure since I did pretty bad here last year and I just want to improve myself, and my surfing, at this event."
Former CT competitor Miguel Pupo (BRA) continued the Brasilian brilliance by earning a stunning 15.66 (out of a possible 20) heat total. Pupo fell off the tour after the 2016 season and is fighting toward requalification. Pupo has been awarded multiple wildcards on the coveted CT this season but hasn't capitalized yet as he just sits at No. 14 on the QS with a handful of Quarterfinal finishes. However, the 26-year-old spent nearly a decade on Tour and has no intention of giving up his dream of returning there.
"I've been in California for almost three and a half weeks now with my family just living each day, and surfing all over," Pupo said. "I went up to the Surf Ranch and surfed down in Trestles for that swell last week. It's a beautiful day here and I'm so happy to make it through that one. The past few years I've lost first round here and getting a result here is key looking toward the back half of the year heading into Hawaii. I'm looking to get back on track here, I have a good board under my feet, and I'm just in a good state of mind right now."
Finn McGill (HAW) looked well on his way to halting the Brasilian force, but a dominant performance from Bino Lopes (BRA), earning an 8.17 and 6.23, and huge comeback by Thiago Camarao (BRA) in the closing seconds sent the reigning World Junior Champion packing.
QS elite and second-year CT competitor Joan Duru (FRA) garnered an astonishing, event best 15.83 heat total over Jadson Andre (BRA), Gony Zubizarreta (ESP), and Hiroto Arai (JPN). The Frenchman is joined by fellow countrymen, CT veteran Charly Martin (FRA) in Round 3 and Duru's hopes are high for a big result in Huntington Beach for the first time in his career — he hasn't bettered an equal 17th since 2011.
"It feels really good with the waves being pretty slow this morning, but I was able to get a few good ones out there," Duru said. "I made the right choices and if you do that you give yourself a good chance at picking off a few scores. I'm not doing so good on the CT right now so these big events are really important for me to get some points. It would be great to good result being the middle of the year and I'm just happy to make that one, hopefully make a few more since I've been losing a lot of heats this year."
Also earning key debut wins were current World No. 4 Italo Ferreira (BRA), CT sophomore Ezekiel Lau (HAW), Mihimana Braye (PYF), who helped eliminate CT veteran Jeremy Flores (FRA) and former CT competitor Ricardo Christie (NZL), and current QS No. 1 Peterson Crisanto (BRA) with an electrifying performance that earned him the event's highest single-wave score of an 8.77.
"I have a lot of confidence coming off that win in South Africa and I know if I make the Final here I'm pretty much on Tour next year so that's my goal at this event," Crisanto said. "It's great to see all the Brazilian boys ripping today. Even though the waves are a little small and inconsistent, we're all surfing the same conditions so I'm really happy to make it out of that one."
Following the Men's Qualifying Series action, the Men's Pro Junior Finalists were decided with inspiring performances and big eliminations. A diverse field of talent now awaits the four-man Final for the prestigious Vans US Open of Surfing win. The Men's Pro Junior Final will feature San Clemente locals Kade Matson (USA) and Cole Houshmand (USA), Hawaii's Barron Mamiya, and Mexico's Alan Cleland after their wins today.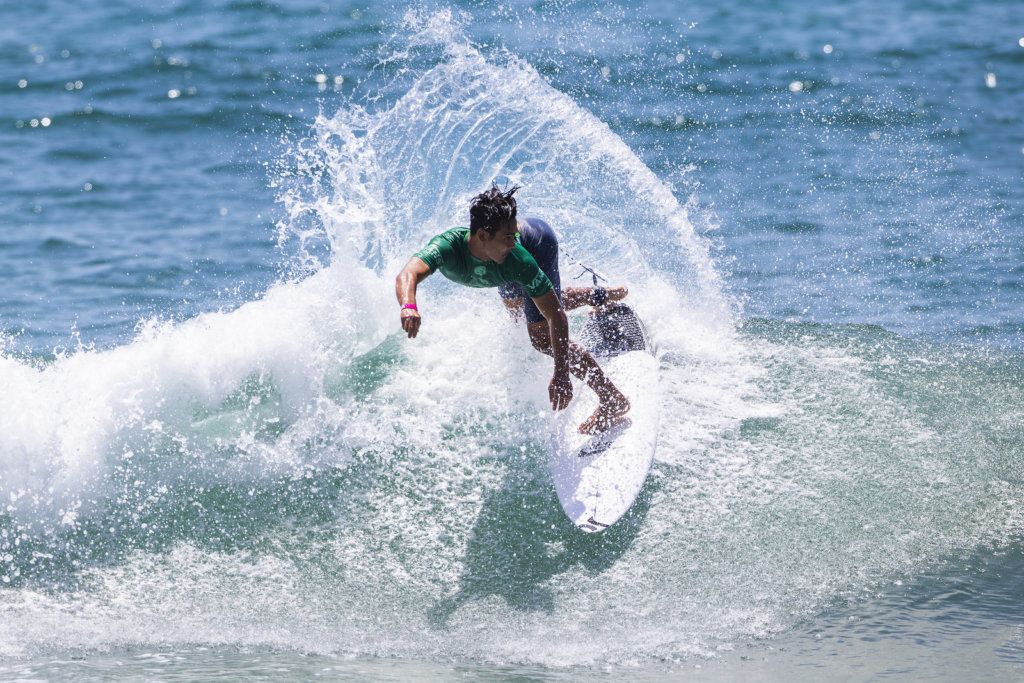 Barron slices and dices to win. PHOTO: © WSL / Morris
A vital day of competition for the region's best 18-and-under surfers began with a heavy upset courtesy of Jackson Butler (USA) as he helped eliminate current North America No. 1 Crosby Colapinto (USA) and No. 2 Eithan Osborne (USA) with 2017 standout Houshmand advancing alongside Butler. However, the Encinitas, California, native couldn't finish out the day on top as a clutch performance from Matson, and Houshmand earned him a spot into his second-straight Vans US Open Pro Junior Final — his second Finals appearance of 2018.
"This is one of my favorite events and after I cracked the Final last year I just want to win it this year," Matson said. "I feel really good right now after getting that Final in Los Cabos earlier this summer and I won an NSSA National title here a few weeks ago so I feel in-sync with this wave. To have all the San Clemente guys here is so good because we push each other really hard even though we're all great friends, we all want to win so it's a healthy rivalry that we all have."
Alongside a well-represented San Clemente, California, crew, Hawaii will once again have a competitor in the Final as Mamiya smashed his way through Quarterfinal and Semifinal action. After Cody Young's (HAW) victory last year, Mamiya has an opportunity to keep the US Open trophy on the islands but knows the work is far from done.
"I'm psyched to be in the Final after I had a great start to the year, but I've been on a bit of a downer with some poor results since so this is great momentum," Mamiya said. "For the Final, I'm just going to try and find the best two waves of the heat and rip them as hard as I can. This is a big arena with huge crowds so I just put my headphones in and not try to think about it. Cody (Young) is one of my good friends and I wasn't here last year, unfortunately, to be with him to celebrate that win, but hopefully, I can win it this year and fly the flag for us again."
Mamiya is joined by an in-form Cleland after a dominant Quarterfinal performance propelled him to the stacked Semifinal that he was able to advance from, marking his best career finish so far.
The Vans US Open of Surfing will continue tomorrow morning at 7:30 a.m. PST with Women's Pro Junior Round 1 (H1-4), Quarterfinals (H1-4), and Semifinals (H1-2), followed by the Men's QS Round 2 (H17-24).
The Vans US Open of Surfing will be broadcast LIVE on VansUSOpenofSurfing.com, on Facebook LIVE via the WSL's Facebook page, WorldSurfLeague.com, and the WSL app. Also check local listings for coverage on CBS Sports Network in the U.S., Fox Sports in Australia, ESPN in Brasil, Sky NZ in New Zealand, SFR Sports in France and Portugal and as part of the EDGEsport Network.
Vans US Open of Surfing Men's QS Round 2 Results:
Heat 9: Deivid Silva (BRA) 14.23, Victor Bernardo (BRA) 10.20, Joh Azuchi (JPN) 10.04, Frederico Morais (PRT) 9.60
Heat 10: Ezekiel Lau (HAW) 10.50, Jorgann Couzinet (FRA) 9.27, Mitch Crews (AUS) 3.50, Noe Mar McGonagle (CRI) 0.00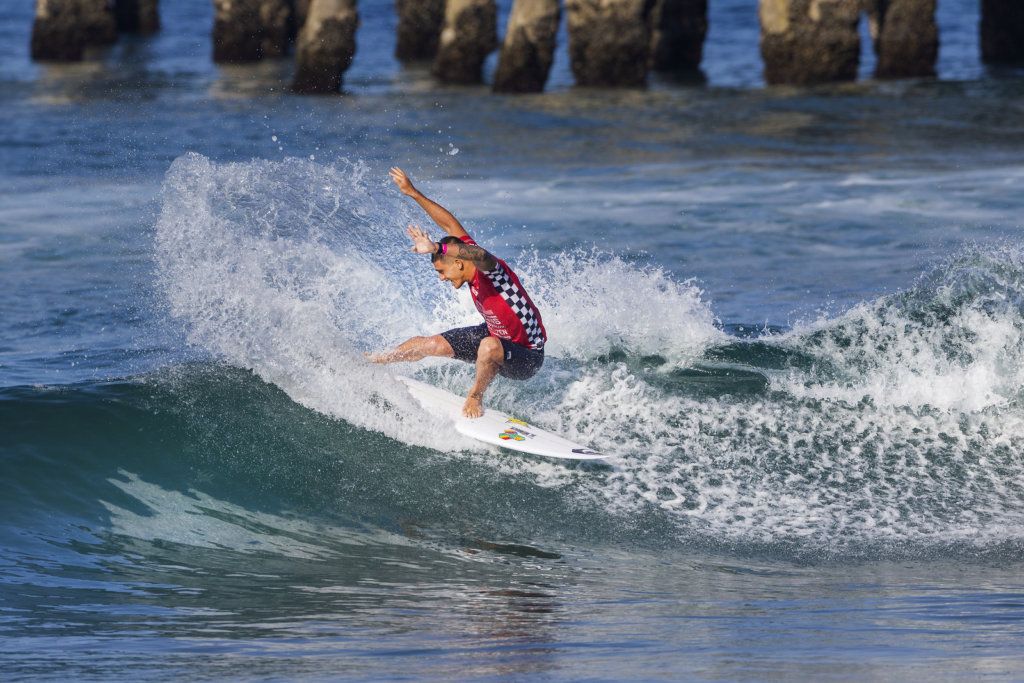 Zeke flair and pwr wins his 2nd heat. PHOTO: © WSL / Morris 
Heat 11: Miguel Pupo (BRA) 15.66, Cam Richards (USA) 8.66, Rafael Teixeira (BRA) 7.77, Ian Gouveia (BRA) 4.90
Heat 12: Bino Lopes (BRA) 14.40, Thiago Camarao (BRA) 11.43, Finn McGill (HAW) 11.27, Luel Felipe (BRA) 9.16
Heat 13: Italo Ferreira (BRA) 13.94, Beyrick De Vries (ZAF) 13.10, Hiroto Ohhara (JPN) 12.40, Flavio Nakagima (JPN) 10.94
Heat 14: Joan Duru (FRA) 15.83, Jadson Andre (BRA) 12.80, Hiroto Arai (JPN) 11.57, Gony Zubizarreta (ESP) 11.03
Heat 15: Peterson Crisanto (BRA) 15.77, Tanner Hendrickson (HAW) 10.90, Sebastian Zietz (HAW) 9.30, Kiron Jabour (HAW) 8.23
Heat 16: Mihimana Braye (PYF) 14.13, Charly Martin (FRA) 11.83, Jeremy Flores (FRA) 11.03, Ricardo Christie (NZL) 10.20
Upcoming Vans US Open of Surfing Men's QS Round 2 Matchups:
Heat 17: Michael Rodrigues (BRA), Seth Moniz (HAW), Soli Bailey (AUS), Cody Young (HAW)
Heat 18: Connor O'Leary (AUS), Jack Freestone (AUS), Mitch Coleborn (AUS), Matt Banting (AUS)
Heat 19: Patrick Gudauskas (USA), Ethan Ewing (AUS), Lucas Silveira (BRA), Brett Simpson (USA)
Heat 20: Conner Coffin (USA), Maxime Huscenot (FRA), Cooper Chapman (AUS), Parker Coffin (USA)
Heat 21: Kanoa Igarashi (JPN), Nat Young (USA), Aritz Aranburu (ESP), TImothee Bisso (FRA)
Heat 22: Tomas Hermes (BRA), Alejo Muniz (BRA), Ian Crane (USA), Marcos Correa (BRA)
Heat 23: Michael February (ZAF), Leonardo Fioravanti (ITA), Benji Brand (HAW), Hizunome Bettero (BRA)
Heat 24: Wade Carmichael (AUS), Evan Geiselman (USA), Davey Cathels (AUS), Kyuss King (AUS)
Vans US Open of Surfing Men's Pro Junior Quarterfinal Results:
QF 1: Jackson Butler (USA) 13.27, Cole Houshmand (USA) 12.37, Crosby Colapinto (USA) 12.20, Eithan Osborne (USA)
QF 2: Kade Matson (USA) 12.06, Bo Raynor (USA) 11.27, Jett Schilling (USA) 6.92, Keanu Kamiyama (JPN) 4.74
QF 3: Joh Azuchi (JPN) 11.80, Barron Mamiya (HAW) 11.66, Hagan Johnson (USA) 7.26, Blake Speir (USA) 6.27
QF 4: Alan Cleland (MEX) 14.33, Malakai Martinez (CRI) 13.07, Mateus Herdy (BRA) 12.84, Tommy Coleman (USA) 6.27
Vans US Open of Surfing Men's Pro Junior Semifinal Results:
SF 1: Kade Matson (USA) 12.70, Cole Houshmand (USA) 11.67, Jackson Butler (USA) 10.90, Bo Raynor (USA) 8.17
SF 2: Barron Mamiya (HAW) 12.27, Alan Cleland (MEX) 11.86, Joh Azuchi (JPN) 10.37, Malakai Martinez (CRI) 8.63
Upcoming Vans US Open Men's Pro Junior Final Matchup:
F: Kade Matson (USA), Cole Houshmand (USA), Barron Mamiya (HAW), Alan Cleland (MEX)