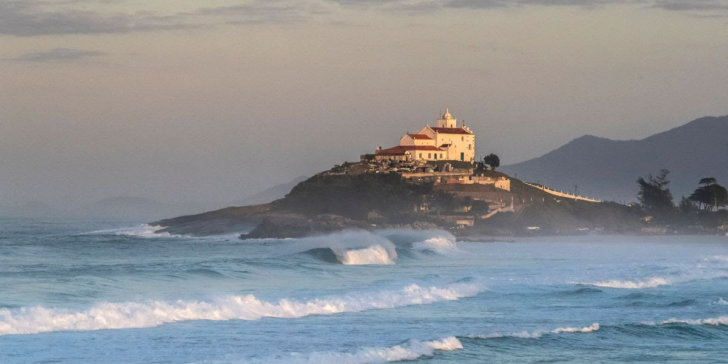 Brazil Set to Host Penultimate Challenger Series Stop, Corona Saquarema Pro pres. by Banco do Brasil
Crucial Championship Tour Qualification Scenarios Set To Unfold
Event Window Opens November 1 through November 8, 2022
Three-time World Champion Medina Confirmed as a Regional Wildcard
front page: The iconic view of Praia de Itaúna, home of the Corona Saquarema Pro pres. by Banco do Brasil, Stop No. 6 of the 2022 Challenger Series. Credit: Thiago Diz / WSL
PRAIA DE ITAÚNA – Saquarema, Brazil (Wednesday, October 26, 2022) – With only two events left in the battle for Championship Tour (CT) qualification, the best up-and-coming surfers are headed to Brazil for the Corona Saquarema Pro pres. by Banco do Brasil, Stop No. 6 on the World Surf League (WSL) Challenger Series, which holds a competition window from November 1 through November 8, 2022. The top Challenger Series surfers will face an extra layer of pressure in Saquarema, as they will have to face off against the very stars they're trying to join on the CT, including three-time WSL World Champion Gabriel Medina (BRA).
Pictured: The event poster for the Corona Saquarema Pro. Credit: WSL
Saquarema has played host to several elite WSL competitions. In June, the city hosted the Oi Rio Pro, Stop No. 8 on the CT, which saw Filipe Toledo (BRA) and Carissa Moore (HAW) take top honors. Last week, the city hosted the Saquarema Surf Festival, the only regional combined Men's and Women's QS 5,000, JQS 1,000, and LQS 1,000 rated event.
Now, Saquarema will host the first Challenger Series event to take place in South America. The event will give local rising talents, Luana Silva (BRA) and Joao Chianca (BRA), a true test as they will have to prove their skills against their future competitors in order to join them on the CT. On the men's side, there are 10 spots up for grabs, but clinching them will not be easy. In addition to Medina, the men's division will feature brothers Miguel and Samuel Pupo (BRA), Jadson André (BRA), and Leonardo Fioravanti (ITA), who recently locked in his spot on the 2023 CT.
On the women's side, there are five spots available and lots of competitors within close reach. While Current World No. 1 Macey Callaghan (AUS), and World No. 2 Caitlin Simmers (USA), will not be competing, Molly Picklum (AUS), and Bettylou Sakura Johnson (HAW), could potentially overtake them with solid results in Saquarema. But, they will have to face some of the best ranked regional surfers including Silva, Daniella Rosas (PER) and Summer Macedo (BRA).
With top-tier talent, crucial CT qualification scenarios, and a promising forecast, the stage is set for amazing action in front of some of the most passionate surf fans in the world.
"For us, it's a great honor to be able to hold the first ever Challenger Series event in Latin America, especially during the final stretch for CT qualification," said Ivan Martinho, WSL LATAM General Manager. "I'd like to congratulate the initiatives led by Banco do Brasil, Corona, the City of Saquarema and the Mayor, Manoela Peres, for their continued support of the sport of surfing."
For more information, please visit WorldSurfLeague.com.
Watch LIVE
The Corona Saquarema Pro pres. by Banco do Brasil is scheduled to run from November 1 – 8 at Praia de Itaúna, in Saquarema, Brazil. The event will be broadcast LIVE on WorldSurfLeague.com, WSL's YouTube channels and the free WSL app. Also check local listings for coverage from the WSL's broadcast partners.
The Corona Saquarema Pro pres. by Banco do Brasil is brought to you by: Corona, Banco do Brasil, BB Asset, Prefeitura Municipal de Saquarema, Secretaria de Esporte e Lazer do Governo do Estado do Rio de Janeiro, TikTok, 51 Ice and NewON.
For more information, please visit WorldSurfLeague.com.