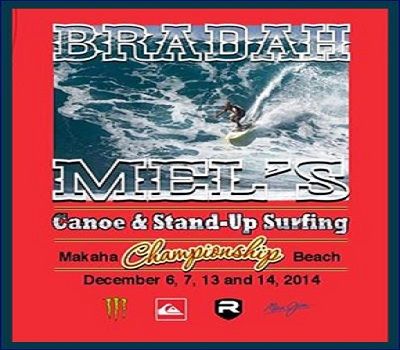 Mel Puu grew up about a mile from Makaha, the west side's legendary surfing beach. He did all kinds of watersports and has won titles in them all.  Some of his personal favorites include the ultra-competitive men's senior race at the Walter J. Macfarlane Regatta at Waikiki Beach and the International Va'a Federation (IVF) World Sprints double hull race, where Puu's team ended a 20-year Tahitian winning streak. Add to that a world championship and more than a dozen national championships in tandem surfing.
Mel Puu' started stand up paddle surfing in the 80's while working as a lifeguard in Waikiki. He was a lifeguard since 1982 and is now legendary as one of Hawaii's great watermen. This event is his way to give back to the community he loves. It is always a benefit in honor of his friend Leighton Look who was paralyzed in a diving accident and has since passed away. Look was a well respected canoe steersman and innovative canoe and paddle shaper. Every year a donation is made to a deserving group in his honor.
The Canoe event in Makaha is wave riding and is always spectacular to watch with beautiful drops and crazy wipeouts. With the gain in popularity of Stand -Up Surfing there is sure to be a full array of athletes challenging Makaha's tricky take off and intense inside backwash.
This year includes a ITSA Pro/Amateur FlHi Girls TV Tandem surfing event one of the most favorite to watch. There are over 40 approved lifts and more being added every year by the pros. Makahas famous team Brian Kealoha and Kathey Terada will be back competing after a bit of a lay off and current Tandem World Champions, from Hawaii, Chuck Inman and Lauren Oiye are practicing new lifts like the one arm stradle and acro flat. "For us, this is a sacred place and a great opportunity to surf in Makaha:, said Inman. "There is so much talent and creativity in surfing that is born in Makaha so it is a real blessing."
The event is two weekends and divisions will be announced according to the conditions of the break.