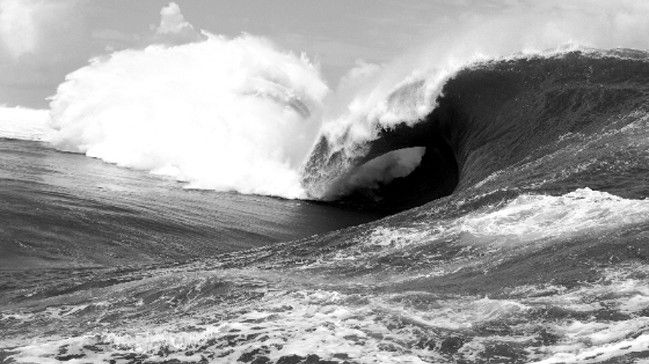 Monsters Are Real: 13 most terrifying sea creatures on earth
Surf News Network, 31 October, 2014: Tahiti, French Polynesia Teahupo'o is widely considered the heaviest wave on the planet. Between the shallow reef and the pounding surf, the notorious break has claimed five lives since 2000. The English translation of "Teahupo'o" is something along the lines of "to sever the head." Enough said.
GHOST TREE
Pebble Beach, California Sharks, hidden boulders and frigid temperatures haunt the appropriately named Ghost Tree break in Northern California. When a giant swell arrives, waves reach up to 80 feet high and 20 feet wide.
CORTES BANK
Cortes Bank, Calif. Like many big wave spots, Cortes doesn't break often, but when it does it's a true monster: During the 1990 Quiksilver in Memory of Eddie Aikau, waves at the Bank, which sits nearly 100 miles off the coast, were reaching 80-to-90 feet. Mike Parsons is one of the masters of the Bank. He holds two Guinness World Records there — one for his 66-footer in 2001 and one for his 77-footer in 2008. Big wave surfer Shawn Dollar (USA), meanwhile, submitted this gem for the 2013 XXL Big Wave Awards' Ride of the Year.
DUNGEONS
Dungeons, Cape Town, South Africa Now an official stop on the Big Wave World Tour (BWWT), Dungeons has long been a choice destination for big wave chargers. Besides hold-downs, frigid temperatures and daunting heights, the area is known for great white sharks that patrol nearby Seal Island looking for dinner.
NAZARÉ
Nazaré, Portugal Around the bend from Portugal's sheltered beach towns lies a beast of a wave. Recent rides at Nazaré are still being reviewed for World Records. Besides its enormous size, the beachbreak also has a strong current and big cleanup sets, forcing surfers who dare to enter to give themselves over to the will of the waves.
JAWS
Pe'ahi, Maui, Hawaii Pe'ahi is roughly 3 miles off the coast of Maui. It has the ferocity of a Hawaiian wave, but with no predictability and enormous power. Tom Dosland's 2012 wipeout there was heavy enough to become an XXL Wipeout of the Year nominee.
THE RIGHT
Western Australia A mile off shore, the Right is a spooky spot with Great Whites lurking and nothing in sight. The Right is prominently featured in many of the incoming XXL Award submissions, including a photo series featuring Chris Shanahan.
PEDRA BRANCA
Pedra Branca, Tasmania, Australia Sixteen miles south-southeast of the Tasmanian coast is a small island that serves as an epicenter for a looming and unpredictable big wave break. Tyler Hollmer-Cross was crushed there during a session that became a 2013 XXL Awards submission.
PUNTA DE LOBOS
Punta De Lobos, Chile Punta De Lobos gets big. And when it gets big it stays big. It's one of the reasons BWWT VP Gary Linden loves having it on tour. "There is an outside ledge barrel and if you make that section it's up to a 500-meter ride. It's not the biggest wave I've ridden, it's not the longest, but combined it's the biggest, longest wave I've ever surfed."
PIPELINE
North Shore, Oahu, Hawaii Over the years, the heavy, hollow barrels off the coast of Oahu have claimed more lives than any other break on Earth, according to a 2008 list of the Top 10 Deadliest Waves by Transworld Surf. Even the 11-time World Champ, Kelly Slater (USA), has gotten rocked at Pipe.
SHIPSTERN BLUFF
Shipstern Bluff, Tasmania, Australia Also known as "Devil's Point," Shipstern Bluff is a lethal right that's difficult to navigate due to ledges that develop mid-face. When Mark Mathews miscalculated one of those ledges in 2011 he took a beating, but not all was lost… He won the XXL Wipeout of the Year Award.
PUERTO ESCONDIDO
Puerto Escondido, Oaxaca, Mexico Puerto Escondido is notorious for providing a ton of XXL submissions. Things either go very right or very wrong at the daunting beachbreak. In 2014, it was good to Shane Dorian (HAW), who submitted a video for the 2015 XXL Awards, but humbling for Ricardo Dos Santos (BRA), who's Wipeout of the Year entry (below) came from the same spot.
hit up the videos and photos on ASP HERE