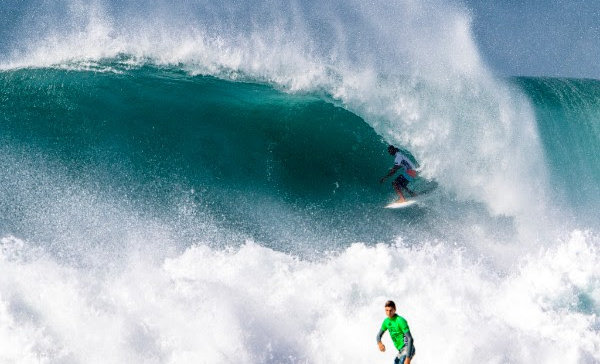 From Vans World Cup Dominance to Big Wave Brilliance, and Back again!
– Josh Moniz Rivals Kemper's Perfect 10 with 9.83
– Round 3 Top Seeds Set for Battle Once Event Resumes 
 Front Page: Josh Moniz (HAW) buried in the barrel on Day 2 of the Vans World Cup of Surfing; fellow heat competitor Wyatt McHale (HAW) rides out in the foreground. CREDIT: © WSL / Keoki
Vans World Cup of Surfing, Men's QS 10,000
Round 2, Heats 1 – 16 Completed
6-8+ft. NNW swell, offshore easterly winds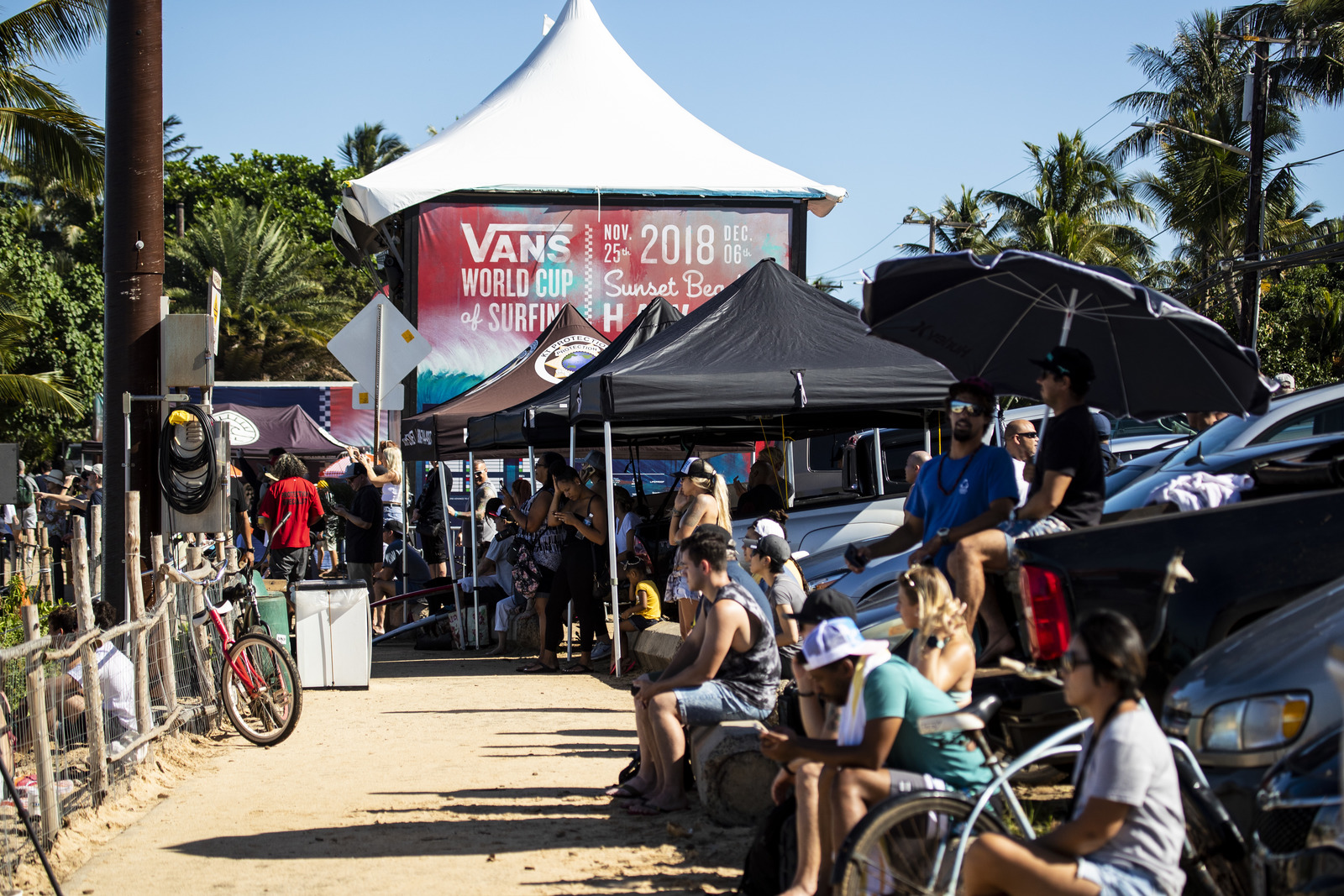 The infamous bikepath  WorldCup18   WSL: Heff
Haleiwa, Oahu/HAWAII — (Wednesday, November 28, 2018) – Three-time Jaws Challenge winner and World Surf League (WSL) Big Wave World Champion Billy Kemper (HAW) jumped from a massive victory on Maui yesterday to another strong result at the Vans World Cup of Surfing today and garnered yet another standout performance at Sunset Beach. During Day 1 of competition, Kemper scored the first perfect 10 of the 2018 Vans Triple Crown of Surfing and took that momentum to Maui, where he dropped into 50-foot waves at Pe'ahi to ultimately win his third event title.

"Leaving here with a 10 my first heat back on the North Shore after an injury, it was a huge confidence boost," Kemper said after today's heat win. "I felt like I just carried that momentum straight in and caught a couple waves at Jaws that will stick with me the rest of my life and ended up winning. And I'm right back here with the same mentality and same goal — just take it heat by heat and just keep chipping away."

Today, Kemper advanced in first out of an intense Heat 9, which saw Vasco Ribeiro (PRT) progress while Jake Marshall (USA) and Benji Brand (HAW) suffered disappointing losses. In the final minute of the heat, all four surfers jumped on one last wave to shake up the standings and leave fans in anticipation of scores. Marshall needed a 5.88 to move into Round 3, however judges scored his final ride just shy, a 5.50, after he came unstuck on his ending maneuver. Kemper's best wave of the heat, a 6.40, earned him a strong lead after backing it up with a 4.77.

Kemper's power surfing is an ideal match for Sunset Beach's consistent, deep-water waves. Credit: © WSL / Heff
"This is day four of competition for me and it feels great," Kemper continued. "I think when you put your mind to something and you put in a bunch of work, this is the test. It's all working, it's all come together. I'm just really enjoying it and having fun. I've got my kids, my wife down here, my friends, family, and it's fun, it's been an emotional rollercoaster."
Rivaling Kemper's perfect 10-point ride was Hawaiian Josh Moniz's barrel of the day during Heat 13, an impressive 9.83 for a late drop into a heaving 12ft. wave. Moniz pushed through the barrel as it closed, then continued with a gouge on the open face and power carve in the pocket to complete the ride successfully. His earlier score of a 6.33 meant he had a commanding lead and his 16.16 combined two-wave total tallied among the top in the event thus far.
"Before I paddled out, the wind shot so offshore (the waves) are actually barreling off the top which is super rare," said Moniz. "The first set that swung under us had a super good look to it and I was like, 'Oh the next one might throw.' It came up and it had a perfect little double up to it. I just slowed my paddle down because I knew I'd get into. Just pulled in and came out."

The second-best wave score of the Vans World Cup, Moniz put the stamp of excellence on this ride with two solid turns after emerging from the barrel. Credit: © WSL / Keoki
Moniz's younger brother, Seth Moniz (HAW), just qualified for the 2019 Championship Tour (CT) after a Semifinal finish at the first event of the Vans Triple Crown of Surfing (VTCS), the Hawaiian Pro, and now Josh is on his way to improving his QS standings as well.
One of the best backhand performances of the day came from stoke-saturated surfer Tanner Gudauskas (USA) in Heat 10 for controlled turns, dynamic maneuvers and a bid into Round 3. He went against Brazil's Caio Ibelli, who advanced in second, and Sunset notables Shayden Pacarro (HAW) from Oahu and Imaikalani deVault (HAW) of Maui.
"It is so perfect when you're watching it, (but) it's actually hard to get a game plan going because you just assume that it will be constant waves and it will all be fun," said Gudauskas. "But I thought I'd sit a little bit wide and try and get off the edge of it and try and get a couple hits that way. I started sitting with priority for a long time and I started feeling the monkey on my back. Those guys are all really good… Close finish, but when I saw that last one come in I was so excited."

Recurrent threat in Hawaii, Gudauskas finaled at the Vans World Cup two years ago and is lining up for another solid result. Credit: © WSL / Heff
Gudauskas looked comfortable to earn an 8.23 and 7.67 with in-form surfing and will compete again in Round 3 Heat 10 after his brother Patrick Guduaskas (USA)opens his Vans World Cup campaign as a seeded surfer in Round 3 Heat 2.
2017 CT athlete Jack Freestone (AUS) had a buzzer beater advancement into Round 3 after he dropped an excellent 8.23 – the highest score of Heat 5 – to jump into first ahead of Carlos Munoz (BRA). His two-turn combination demonstrated commitment and finesse on a solid set wave, and although Freestone rode the least number of waves during the 30-minute exchange, he made his scores count.
"It was definitely good to get a decent wave," said Freestone. "I feel like I kind of deserve one, my last few heats out here, I surfed the HIC (Pro) and you can just get lost so easily out there. I knew exactly what I was looking for, but sometimes Sunset doesn't even let you get a second wave so, I was just glad it came through even though it was in the last 30 seconds."

Freestone tallied an 8.23, one of the best rides of the day, in his early morning heat. Credit: © WSL / Keoki
The Australian has been splitting his year between the QS and family time on Kauai with Alana Blanchard (HAW), who yesterday eliminated world title contender Lakey Peterson (USA) during the final competition of the Women's 2018 CT, the Beachwaver Maui Pro, as a wildcard. By advancing into Round 3, Blanchard handed Stephanie Gilmore (AUS) her seventh world title; partner Freestone gushed with pride during his post-heat interview today.
"It was cool to see her get that opportunity and mix it up with the world's best," said Freestone. "She didn't look like she skipped a beat, it looked like she'd been there (on the CT) the past 4, 5 years. It was very inspiring for me as well and we were so happy and proud of her."
Freestone currently sits in the No. 22 spot on the QS and will use this last-chance opportunity at the Vans World Cup to hopefully re qualify for the 2019 CT.
Surfline, the official forecast partner of the VTCS, is calling for the current/fading NW swell to continue to back down over the next couple of days. Thursday morning could see head high waves, however onshore winds will make for unfavorable conditions in the declining surf. A new WNW swell is expected for the weekend along with a large, long period swell from the NW toward the end of the holding window. Contest organizers will reconvene tomorrow morning to determine a call by 7:30 a.m. HST and Round 3 Heat 1 will be first in the water.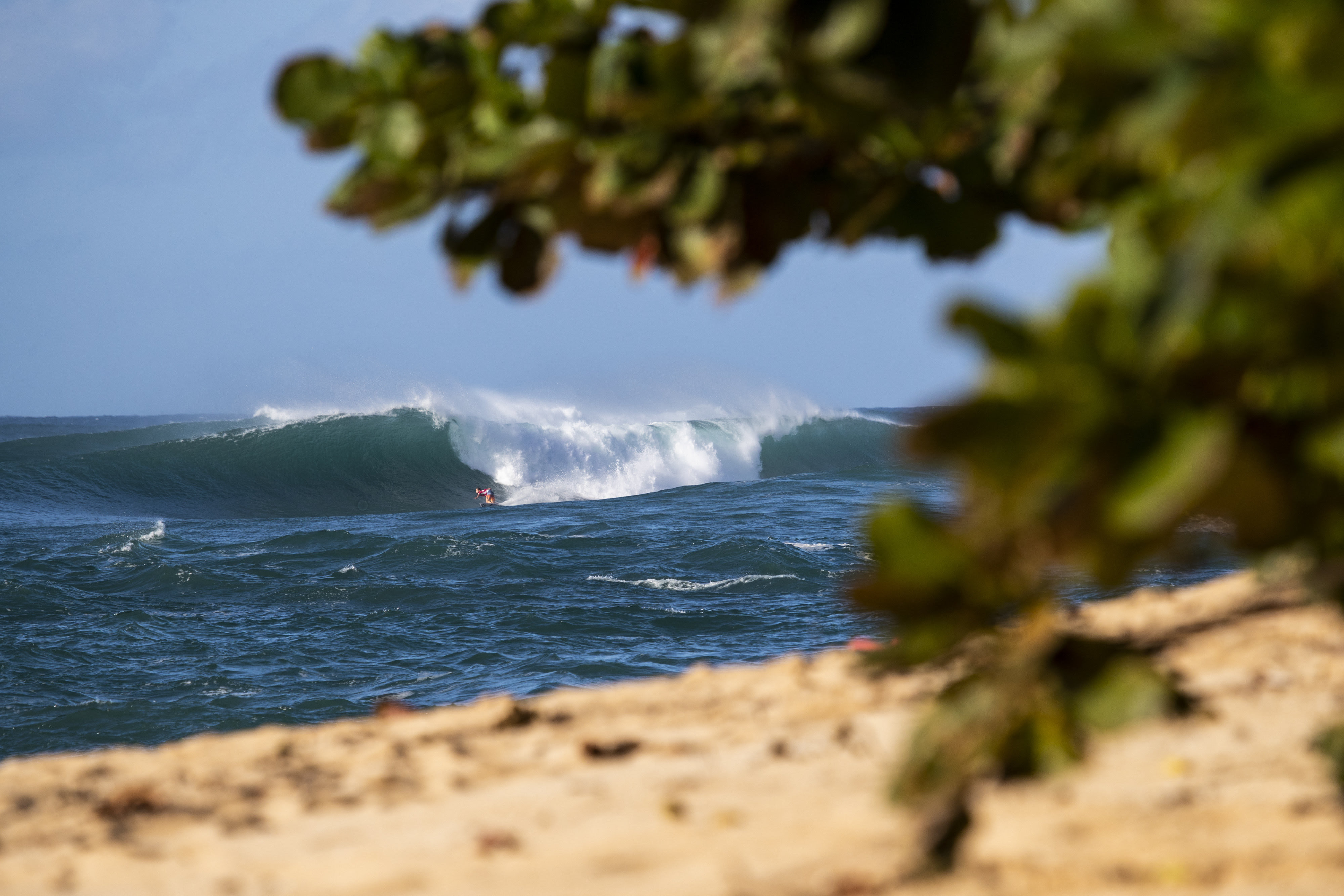 Sunset Beach lined up with ideal conditions today, providing Round 2 athletes with highly contestable wave canvases. Credit: © WSL / Heff
The second event of the Vans Triple Crown of Surfing, the Vans World Cup of Surfing, has a holding window from November 25 – December 6 and will take place at Sunset Beach. For more information about the event, including past champions, spectator tips, community events and more, please visit http://www.vanstriplecrownofsurfing.com/.
Each event of the 2018 Vans Triple Crown of Surfing will run on the four best days of surf within the event's holding window. LIVE streaming is available on WorldSurfLeague.com, VansTripleCrownOfSurfing.com, Facebook.com/wsllive and the WSL and Facebook apps (Facebook login required for mobile viewing). Or tune into Spectrum SURF Channel, which will televise the action LIVE and in replay on digital channels 20 and 1020HD, across the state of Hawaii.
2018 Vans World Cup of Surfing Results
Athletes listed in 1st through 4th place
Round 2 (1st and 2nd advanced, 3rd = 65th place, 4th = 81st place
H1: Charly Martin (FRA), Dylan Lightfoot (ZAF), Jorgann Couzinet (FRA), Evan Valiere (HAW)
H2: Soli Bailey (AUS), Gatien Delahaye (FRA), Reo Inaba (JPN), Nat Young (USA)
H3: Kalani Ball (AUS), Jack Robinson (AUS), Skip McCullough (USA), Adin Masencamp (ZAF)
H4: Reef Heazlewood (AUS), Kainehe Hunt (HAW), Barron Mamiya (HAW), Jacob Willcox (AUS)
H5: Jack Freestone (AUS), Carlos Munoz (CRI), Luel Felipe (BRA), Alex Ribeiro (BRA)
H6: Lucas Silveira (BRA), Michael February (ZAF), Hiroto Ohhaara (JPN), Davey Cathels (AUS)
H7: Alonso Correa (PER), Aritz Aranburu (ESP), Finn McGill (HAW), Ethan Ewing (AUS)
H8: Matthew McGillivray (ZAF), Ramzi Boukhiam (MAR), Noa Mizuno (HAW), Evan Geiselman (USA)
H9: Billy Kemper (HAW), Vasco Ribeiro (PRT), Jake Marshall (USA), Benji Brand (HAW)
H10: Tanner Gudauskas (USA), Caio Ibelli (BRA), Shayden Pacarro (HAW), Imaikalani DeVault (HAW)
H11: Beyrick De Vries (ZAF), Matt Banting (AUS), Mason Ho (HAW), Keanu Asing (HAW)
H12: Miguel Pupo (BRA), Jeronimo Vargas (BRA), Thiago Camarao (BRA), David Van Zyl (ZAF)
H13: Joshua Moniz (HAW), Bino Lopes (BRA), Dion Atkinson (AUS), Wyatt McHale (HAW)
H14: Ian Crane (USA), Michael O'Shaughnessy (HAW), Dusty Payne (HAW), Cam Richards (USA)
H15: Maxime Huscenot (FRA), Wesslley Dantas (BRA), Mateus Herdy (BRA), Jackson Baker (AUS)
H16: Alejo Muniz (BRA), Stuart Kennedy (AUS), Liam O'Brien (AUS), Luke Shepardson (HAW)
About VansVans®, a VF Corporation (NYSE: VFC) brand, is the original action sports footwear, apparel and accessories brand. Vans® authentic collections are sold in 84 countries through a network of subsidiaries, distributors and international offices. Vans® has over 2,000 retail locations globally including owned, concession and partnership doors. The Vans® brand promotes creative self-expression in youth culture across action sports, art, music and street culture and delivers progressive platforms such as the Vans Park Series, Vans Triple Crown of Surfing®, Vans Pool Party, Vans Custom Culture, and Vans' cultural hub and international music venue, House of Vans.