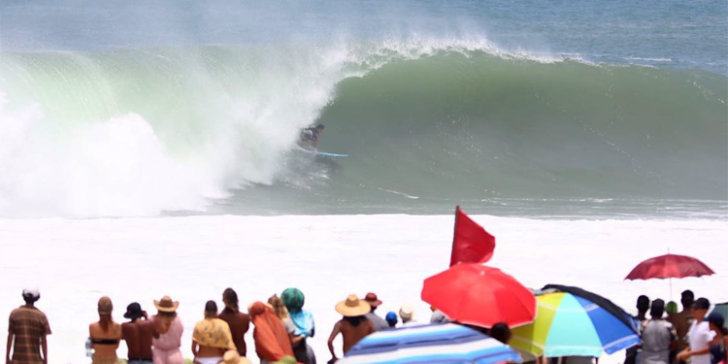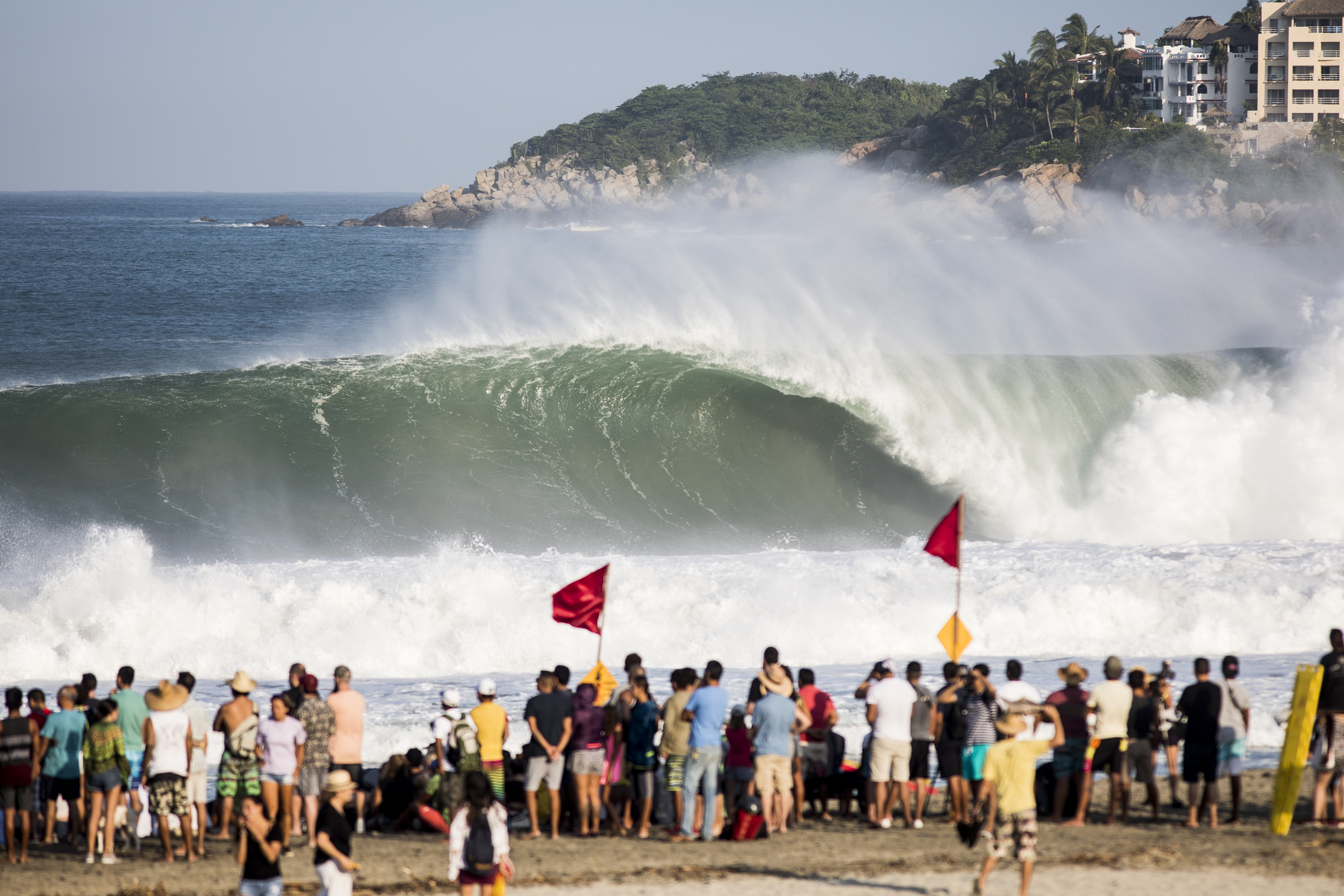 PUMPING PUERTO  iMAGES: Edwin Morales
No, this big wave contest is not part of the WSL Big Wave Tour, but that doesn't mean it wasn't a rush watching…a solid south swell (same one to hit us) rock the beach.
Frontpage: Billy Kemper. Photo: Edwin Morales
Waves reached easy 6′ to 8′ in the double to triple overhead range (even a few higher) allowing the surfers to pick between the barrelling rights and lefts.
Spectators witnessed heavy wipeouts even a few injuries. One was spooky. Women's finalist Michaela Fregonese suffered a wound to her stomach after a bad wipeout. She had to be carried up off the beach on a stretcher before emergency services transferred her to the town's hospital. She's currently in stable condition and under observation. Plenty of thoughts and prayers go out for Fregonese to make a full speedy recovery.
Kemper came ahead of Gabriel Villaran, Marcial Monreal, Jafet Ramos, Cesar Petroni and Cristian Merello in the final match up.
"I came here with one goal and got it. I felt great out there all day thanks to my coach and Carlos Tangaro for a good couple weeks of work," said Kemper.
"Sharing perfect barrels with locals and internationals was truly a blessing. I am feeling very grateful for all the support. Thanks to people of Puerto Escondido for welcoming us and putting on such a sick comp!"
Plus, check it out…The WSL started something that's catching on…both male and female winners received equal prize-money…this was thanks to a successful crowdfunding campaign.

In the women's final it was Valenti who stood above Emily Erickson, Isabelle Leonhardt, Raquel Heckert, Keala Kennelly, and Michaela Fregonese.
"I am so stoked to see how meaningful this is for the local community and all the women here. And thanks WSL for paving the way," said Valenti.
2019 Puerto Escondido Cup | Finals
Men
1. Billy Kemper (HAW)
2. Gabriel Villaran (PER)
3. Marcial Monreal (MEX)
4. Jafet Ramos (MEX)
5. Cesar Petroni (MEX)
6. Cristian Merello (CHI)
Women
1. Bianca Valenti (USA) 26.20
2. Emily Erickson (HAW) 24.05
3. Isabelle Leonhardt (MEX) 22.20
4. Raquel Heckert (BRA) 20.58
5. Keala Kennelly (HAW) 19.19
6. Michaela Fregonese (BRA) 2.86