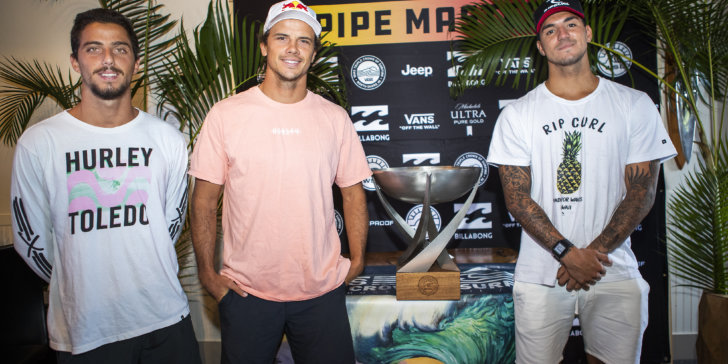 Gabriel Medina, Julian Wilson, and Filipe Toledo Ready for World Title Battle

Pipe Invitational Will Start Hawaii Finale and Determine Event Wildcards
Pictured: (L to R) 2018 World Title Contenders Filipe Toledo (BRA), Julian Wilson (AUS), and Gabriel Medina (BRA)
Credit: © WSL / Cestari
PRESS CONFERENCE INTERVIEWS LINK HERE
BANZAI PIPELINE, Oahu/Hawaii (Friday, December 7, 2018) – The Billabong Pipe Masters in Memory of Andy Irons, the final stop on the 2018 World Surf League (WSL) Men's Championship Tour (CT), will open tomorrow, Saturday, December 8, and hold a competitive window through Thursday, December 20, 2018.

The Billabong Pipe Masters will cap off the season to determine the 2018 Men's World Champion and the winner of the prestigious Vans Triple Crown of the Surfing (VTCS). Only three athletes remain in contention to claim the 2018 World Title: Gabriel Medina (BRA), Julian Wilson (AUS), and Filipe Toledo (BRA).
The Men's World Title Scenarios going into the last event of the season, the Billabong Pipe Masters in Hawaii, are as follows:
– If Gabriel Medina finishes 1st or 2nd at the Billabong Pipe Masters, he wins the World Title;
– If Gabriel Medina finishes 3rd at the Billabong Pipe Masters, Julian Wilson and Filipe Toledo will need to finish 1st;
– If Gabriel Medina finishes 5th-25th, Julian Wilson and Filipe Toledo will need a 2nd or 1st at Pipe.
Medina, 2014 WSL Champion, comes into the final event of the 2018 season ranked first on the Jeep Leaderboard. Medina has a 4,740-point lead over his only two challengers, Wilson and Toledo, leaving him little room for error if Wilson and Toledo find their rhythm at Pipe.
"Pipe is one of my favorite events of the year," said Medina. "It's a tricky wave, you can get incredible waves but it's hard to surf, very powerful and that's why it's so exciting to surf, you never know what it's going to be."
The Brazilian superstar has never won the Billabong Pipe Masters but has come in second two times in his career, falling short to Wilson in 2014 and Adriano de Souza (BRA) in 2015.
"Everyone is hard to beat, so every heat I'll just try to do my job and not think of the other guys," continued Medina. "Filipe and Julian started the year better than me, but I managed to get a couple of good results mid-year and it's great to be in the race with them now. They're the gnarliest guys at the moment and it's exciting to surf against them for the Title. I've been inspired by them and we always push each other to be better."
Wilson is the only 2018 World Title contender who has previously won the Billabong Pipe Masters (2014). Having already proven himself at the famed venue, the 30-year-old is Medina's biggest threat to winning the Championship. The Australian feels re-energized and ready for pumping waves at Pipeline to close out the season.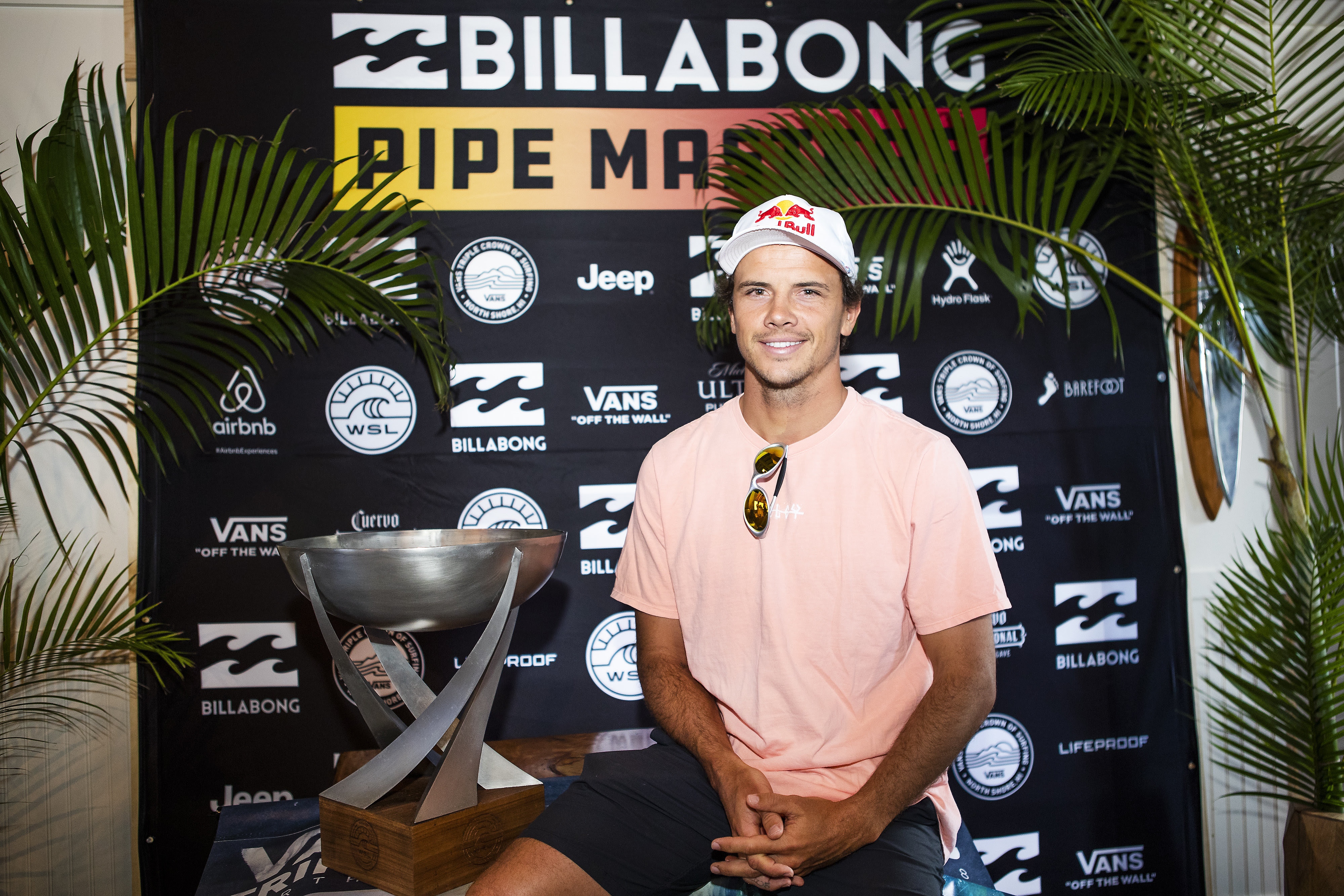 "I had my wife and baby with me through Europe, so when I got home after Portugal it was the first time I wasn't chasing after lost time and I could really regroup and re-energize," said Wilson. "Pipe is a bit like Tahiti in that you have to build yourself up to it, especially coming from a town where the waves don't get too big. I've been on my dirt bikes a lot because the adrenalin is very similar to being stuck out there in big waves at Pipe.
"There's a lot of wind on the forecast, so it's not guaranteed we're going to surf big waves but there's a good chance. Medina has proven to make more heats than the rest of us out there and negotiate his way around that wave quite well. Obviously, he's ahead of me and the one I've got to beat. He is the biggest threat to me not achieving my dream in this event."
Toledo's best result at the Billabong Pipe Masters is 5th place, but now he will need to make the Final at Pipe to even have a chance of winning his maiden World Title. This year Toledo competed in the VTCS, deciding that more time in Hawaiian waters could help his ultimate cause. So far, he was eliminated in the Quarterfinals of the Hawaiian Pro and Round 4 in the Vans World Cup. Now, his focus is on the Pipe Masters for his shot at a World Title.
"I grew up looking up to the best surfers in the world who have competed here at Pipe so it's definitely an inspiration for me and I feel grateful to be a part of it now," said Toledo. "It's such a special wave, and I'm always going out thinking of what could be the wave of my life, not the worst wipeout of my life. It's probably the most challenging wave on tour."
Two-time WSL Champion John John Florence (HAW) has withdrawn from the Billabong Pipe Masters.
Florence will be replaced by up-and-comer Seth Moniz (HAW), who recently qualified for his first year on the 2019 CT at the Hawaiian Pro Qualifying Series event. 
Billabong Pipe Masters: Third and Final Stage of Vans Triple Crown of Surfing
For 36 years, the VTCS has been sharing and celebrating one of the most significant sporting series in the world. The VTCS  encompasses three different and equally storied wave venues along seven miles of hallowed coastline – Haleiwa Ali'i Beach, Sunset Beach, and Pipeline. The first gem of the series, the Hawaiian Pro at Haleiwa, saw 2012 WSL Champion Joel Parkinson (AUS) take the win and move closer to securing a fourth VTCS title. Parkinson announced retirement from professional surfing earlier this year but is lining up for a victorious swan song. Ezekiel Lau (HAW) won the Vans World Cup of Surfing yesterday in all-time big wave conditions at Sunset Beach and is in contention for his first VTCS title and another victory for Hawaii.Now, the three-event series heads into its final event, the Billabong Pipe Masters, which will determine the esteemed VTCS winner. Although the Triple Crown race is still open heading into Pipe, the top three leaders include Jesse Mendes (BRA), who placed 5th at the recent Hawaiian Pro and runner-up in yesterday's Vans World Cup, Parkinson, and Lau, respectively.
Pipe Invitational Will Determine Two Wildcards for Billabong Pipe Masters
The first competition day of the Billabong Pipe Masters will feature the Pipe Invitational, a 32-man trials event that awards the top two finishers a wildcard into the main event. With a $60,000 prize purse on the line, but more importantly, a chance to play spoiler to the World Title, the Pipe Invitational will kick things off in dramatic fashion once competition begins.The 32-man draw is comprised of the top 12 finishers from the 2018 Volcom Pipe Pro, four Hawaii athletes off the International QS, four from the regional QS, six event wildcards, four standout Pipe performers, the 2017 Pipe Invitational defending event winner, and a Vans Triple Crown of Surfing contender. Names like Billy Kemper (HAW), 3x Jaws Challenge winner and reigning Big Wave Champion; former Pipe Invitational winners Finn McGill (HAW) and Dusty Payne (HAW); North Shore big wave standout Jack Robinson (AUS); and Hawaiian notable Mason Ho (HAW) fill the roster, alongside young guns like Wyatt McHale (HAW), 17, Justin Becret (FRA), 17, and Barron Mamiya (HAW), who have also earned their place in the lineup.For more information, please visit WorldSurfLeague.com.