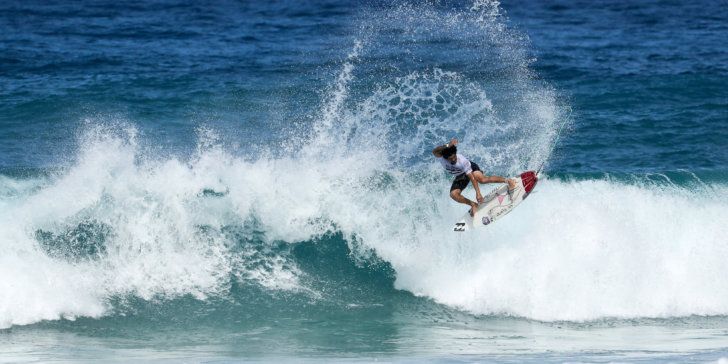 WORLD TITLE RACE ON THE LINE IN ELIMINATION ROUND 2
EVENT CALLED OFF @ 11:15Am due to fading surf. The Buzzer Blew 945am…Surf' as 3-5′ and more North today with very light NNE winds in transition to South this afternoon. Looks like some moderate 3-5′ WNW surf at 14 sec fills the first half of Sunday so small in the morning with AM glass but sketchy SW flow later +  sea breezes if land heating increases enough. This WNW veers NW Monday and hovers 3-4′ at 13 sec. A Larger NNW up to 4-6′ hits Tuesday peaking maybe 7′ Wednesday but the North winds may prove a challenge along with the direction. Backdoor should line up. SNN.
 Italo Ferreira (BRA) will move directly through to Round 3 after winning his heat against three-time WSL Champion Mick Fanning (AUS) and rookie Frederico Morais (PRT) in Round 1 of the Billabong Pipe Masters. 


Credit: © WSL / Cestari
Location:   
  Banzai Pipeline, Oahu/Hawaii 
Event window:
  December 8 – 

20, 2017

Today's call:
  Round 1 (Heats 10-12) complete
Conditions:
  4 – 6 foot 
BANZAI PIPELINE, Oahu, Hawaii/USA (Saturday, December 16, 2017) – The Billabong Pipe Masters in Memory of Andy Irons continued today after four-consecutive lay days in four-to-five foot (1.2 – 1.8 metre) conditions at Pipeline. The Billabong Pipe Masters, the final stop on the 2017 World Surf League (WSL) Championship Tour (CT) and the third event of the Vans Triple Crown of Surfing (VTCS), completed the remaining three heats of Round 1 and will look to continue competition in the coming days.
Today saw a mix of swells provide opportunity for surfers to catch waves across a broad playing field; from Off The Wall, the break to the west of Pipeline, to Gums, east of the venue.
Three-time WSL Champion Mick Fanning (AUS) was taken down by Brazilian superstar Italo Ferreira (BRA) in the final heat of Round 1 today. Fanning opened the heat with a 5.27 for the lead, but Ferreira came charging back with a 7.83 (out of a possible 10) to counter. In a battle of the back-up scores, Ferreira secured a 5.57 for a 2.10-point lead over Fanning. 2017 CT rookieFrederico Morais (PRT) fell to third place in the heat after only posting two 4-point rides. Morias and Fanning will be relegated to elimination Round 2, where they will face Kanoa Igarashi (USA) and Bede Durbidge (AUS), respectively.
"I've had a lot of good moments here in Hawaii," Ferreira said. "I got a good result in Haleiwa and Sunset too. Now it's Pipe and I'm so happy to compete in this event again. It's special, sponsored by Billabong. I'm so happy to compete with Mick (Fanning) and all the guys. It's always hard when the guys push a lot, I'm so happy."
2017 CT rookie Connor O'Leary (AUS) snuck in a win over 2012 WSL Champion and Pipe Master Joel Parkinson (AUS) and fellow rookie Leonardo Fioravanti (ITA) in Heat 11 of Round 1. Parkinson held the heat lead for the majority of the heat, but a strong 7.17 gave O'Leary the 0.91-point advantage needed to advance straight to Round 3. Parkinson will be up againstWiggolly Dantas (BRA) in Round 2, while Fioravanti will need to defeat Sebastian Zietz (HAW)to stay in the event.
"It's really tricky out there," O'Leary commented. "I wouldn't have thought that I'd be surfing Gums in my very first Pipe Masters, but a win is a win and I'll take it. My game plan was to stay away from Backdoor because it's so tricky and you really didn't know which waves were good or which waves were bad so thought I'd have a heat at Gums and surf by myself and hopefully get a couple."
Adrian Buchan (AUS), Zietz and Ian Gouveia (BRA) set the bar for the morning in Round 1 Heat 10. Buchan had the highest score of the day, an 8.00, for two vertical backside turns on an overhead wave at Backdoor and took the win to head straight to Round 3. Zietz took full advantage of the beach break at Gums and had the peaks to himself, tallying two mid-range scores, a 5.33 and 5.27, while Gouveia got creative with air attempts and earned a combined heat total of 8.43. Both he and Zietz are relegated to elimination Round 2.
"It was kind of crazy because Seabass (Sebastian Zietz) was surfing Gums, I was surfing Backdoor and Ian (Gouveia) was surfing Off The Wall," said Buchan. "I've never really had a heat out here like that. One year when Bede (Durbidge) won, we were surfing Backdoor and Off The Wall, but it's completely different to what you usually think of, but that's the tour, you gotta be ready for everything. I wasn't too worried, I kind of had a few opportunities at the start that just didn't pan out and I just knew that when a proper set hit Backdoor it was going to have a little bit more impact. I would have liked another one at the end so I didn't have to kind of sit and keep swiveling my neck, either way, to watch the other guys but stoked to get a win."
With Round 1 of the Billabong Pipe Masters complete, four still surfers remain in contention to clinch the title: reigning WSL Champion John John Florence (HAW) who leads the rankings, Gabriel Medina (BRA), Jordy Smith (ZAF) and Julian Wilson (AUS). Florence will win his second WSL Title if he makes the final at Pipeline.
World Title Scenarios going into the Billabong Pipe Masters:
– If Florence gets 1st or 2nd at Pipe he will clinch the World Title;
– If Florence gets a 3rd, Medina will need a1st at Pipe to win the World Title;
– If Florence gets a 5th, Medina will need a1st at Pipe to win the World Title;
– If Florence gets a 9th, Medina will need a 2nd, Smith a 1st;
– If Florence, gets a 13th or 25th, Medina will need a 5th, Smith a 2nd and Wilson a 1st
When competition resumes, 2014 WSL Champion Medina and 2014 Pipe Master Wilson will need to battle their way out of elimination Round 2 to keep their World Title hopes alive.
Medina will be first up in Round 2 against Pipe Invitational winner Dusty Payne (HAW) and will fight to stay in contention for a second World Title. Both athletes excel in waves that provide aerial opportunities and given the forecast and today's air show, fans can expect to see a tight showdown between Medina and Payne, former CT competitor and local spoiler.
Wilson, the only 2017 World Title contender with a win at Pipe, will need to take down event wildcard Benji Brand (HAW) in the third heat of elimination Round 2. Brand has been on a tear this season after earning the WSL Hawaii/Tahiti Nui Regional Champion title and forging his way from Round 1 to the Quarterfinals in the Vans World Cup, event no. 2 of the Vans Triple Crown of Surfing, and will add pressure to Wilson's campaign.
Event organizers will reconvene tomorrow at 7:30 a.m. HST to reassess the conditions and make the next call.
For more information, check out WorldSurfLeague.com.
Billabong Pipe Masters Remaining Round 1 Results:
Heat 10: Adrian Buchan (AUS) 10.83, Sebastian Zietz (HAW) 10.60, Ian Gouveia (BRA) 8.43
Heat 11: Connor O'Leary (AUS) 12.04, Joel Parkinson (AUS) 11.13, Leonardo Fioravanti (ITA) 8.44
Heat 12: Italo Ferreira (BRA) 12.90, Mick Fanning (AUS) 10.80, Frederico Morais (PRT) 9.27
Billabong Pipe Masters Round 2 Match-Ups:
Heat 1: Gabriel Medina (BRA) vs. Dusty Payne (HAW)
Heat 2: Owen Wright (AUS) vs. Ethan Ewing (AUS)
Heat 3: Julian Wilson (AUS) vs. Benji Brand (HAW)
Heat 4: Matt Wilkinson (AUS) vs. Stuart Kennedy (AUS)
Heat 5: Adriano de Souza (BRA) vs. Jadson Andre (BRA)
Heat 6: Kolohe Andino (USA) vs. Jack Freestone (AUS)
Heat 7: Filipe Toledo (BRA) vs. Ian Gouveia (BRA)
Heat 8: Sebastian Zietz (HAW) vs. Leonardo Fioravanti (ITA)
Heat 9: Joel Parkinson (AUS) vs. Wiggolly Dantas (BRA)
Heat 10: Mick Fanning (AUS) vs. Bede Durbidge (AUS)
Heat 11: Frederico Morais (PRT) vs. Kanoa Igarashi (USA)
Heat 12: Michel Bourez (PYF) vs. Joan Duru (FRA)