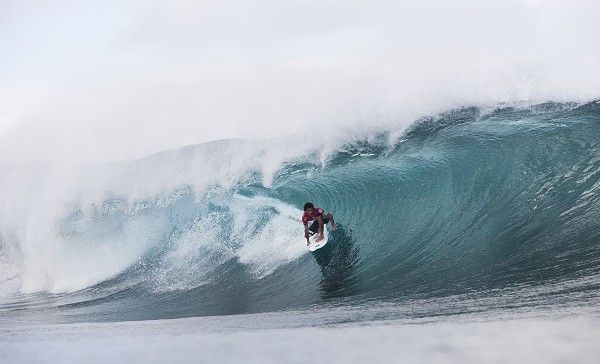 Dual heat format today. The NW/NNW is 3-5′ solid with better back-door opportunities. Waves trend down through the weekend with no contest expected. Moderate ENE trades create side offshores easing over the weekend.  The forecast looks good on a rising 16 sec NW swell Tuesday the 15th  which peaks near 8′ (triple overhead) for Wed-Thursday. A strong finish for the event. SNN.
WSL No. 2 Filipe Toledo (BRA) faces Bruce Irons (HAW) in the opening heat of the morning.
Image: WSL / Cestari
BANZAI PIPELINE, Oahu/Hawaii (Friday, December 11, 2015) – 2015 WSL Title implications are on the line this morning with event organizers calling the Billabong Pipe Masters In Memory of Andy Irons, the final stop of the Samsung Galaxy WSL Men's Championship Tour (CT) and Vans Triple Crown of Surfing, ON with four-to-six foot Banzai Pipeline conditions in store for the world's best.
"When we first came down here in the dark we really didn't see much out there but things turned around really quick and the last hour has actually been quite good so we're on," WSL Commissioner Kieren Perrow said. "We'll go right into Round 2 and Round 3 will be on standby, we also have the women's specialty heat that we may get into after Round 2. Round 2 and Round 3 will be overlapping, each heat will be 40 minutes long – at all times there will be four surfers in the water. If I were in a heat my main focus of the day would be Backdoor, there's some pretty exciting sets standing up and just A-framing."
Up first this morning will be current WSL No. 2 Filipe Toledo (BRA) against former Pipe Master Bruce Irons (HAW) in the opening heat of the elimination Round 2.
The Billabong Pipe Masters will be webcast LIVE on WorldSurfLeague.com and on the WSL app.
The world's best surfing will also be broadcast LIVE on Fox Sports in Australia, MCS Extreme in France, EDGE Sports in China, South Korea, Malaysia and other territories and on Globo TV  in Brazil.
BILLABONG PIPE MASTERS ROUND 2 MATCH-UPS:
Heat 1: Filipe Toledo (BRA) vs. Bruce Irons (HAW)
Heat 2: Taj Burrow (AUS) vs. Brett Simpson (USA)
Heat 3: Adriano De Souza (BRA) vs. Jack Robinson (AUS)
Heat 4: Matt Wilkinson (AUS) vs. Adam Melling (AUS)
Heat 5:  Julian Wilson (AUS) vs. Wade Carmichael (AUS)
Heat 6: Adrian Buchan (AUS) vs. Miguel Pupo (BRA)
Heat 7: Kelly Slater (USA) vs. Dusty Payne (HAW)
Heat 8: Jadson Andre (BRA) vs. Sebastian Zietz (HAW)
Heat 9: Nat Young (USA) vs. Glenn Hall (IRL)
Heat 10: Keanu Asing (HAW) vs. Kolohe Andino (USA)
Heat 11: Joel Parkinson (AUS) vs. Ricardo Christie (NZL)
Heat 12: Wiggolly Dantas (BRA) vs. Jordy Smith (ZAF)