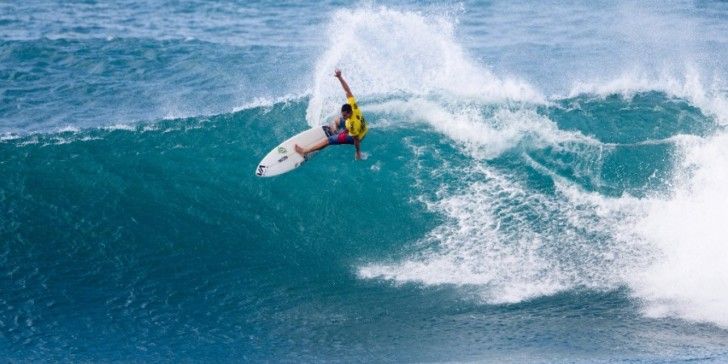 BIG WAVES HOLD FOR SECOND DAY OF HIC PRO, COMPETITION HEATS UP AS TOP NAMES ADVANCE
Makuakai Rothman (HAW) sweeps through Round Three. Image: WSL / Freesurf / Keoki
| | |
| --- | --- |
| Location:    |      Sunset Beach, North Shore, Oahu                                                 |
| Event window: |      October 27 – November 9   |
| Ratings: |      Men's QS3,000   |
| | |
SUNSET BEACH, Oahu/Hawaii – (Friday, November 4, 2016) — Sixteen-year-old Finn McGill (HAW), dominated the 112-man field during the second day of the Vans Presents the HIC Pro in 15-foot wave faces at Sunset Beach. McGill, maintained the highest single wave score of the event, a 9.4 from Day 1 and backed it up with the second best wave of the competition today, an 8.93. Finn had home turf advantage over the international blend of athletes and demonstrated skill and experience in the critical surf.McGill and Makuakai Rothman (HAW) both progressed from their Round Two heat by besting big wave surfer and 2015 Pe'ahi Challenge winner Billy Kemper (HAW) and Australian surfer Jackson Baker. Rothman scored a head-high barrel in the dying minutes of the heat for a 6.87, which knocked Kemper out of advancing position by less than half a point.
With a solid chance at qualifying for the Vans Triple Crown, McGill has been collecting points throughout the year on the Qualifying Series (QS) and had his best result in Tahiti after taking runner up at the Rangiroa Open Pro. The Sunset Beach local also placed 5th at the Papara Pro and has had success on the regional junior tour as well. Should he qualify for a slot into the final two QS10,000's of the year – the Hawaiian Pro and Vans World Cup – it will have been hard earned and well deserved.
Other teenage standouts included Italy's Leonardo Fioravanti, 18, and Australia's Jack Robinson, 18, both looking for a solid result in Hawaii this season. Fioravanti is ranked No. 1 on the international QS and is more than likely to qualify for the 2017 World Surf League (WSL) Samsung Galaxy Championship Tour (CT).
"It's definitely good to come into Hawaii with a good qualifying ranking, just because you have a bit less pressure of trying to get a result," said Fioravanti. "For me, coming here with less pressure is amazing because I want to get a good result in Hawaii. I feel like these waves suit my surfing but I've never got a result in the last couple of years, but hopefully this year I can and just solidify my QS rating."
Fioravanti has been traveling to Hawaii since the age of 10 and is a familiar face in the lineups along the North Shore.
"Hawaii is one of my favorite places in the world," continued Leo. "First of all because it is some of the best waves in the world. Everybody is here, the level is so high, you always push each other to the next level, it's a great place to be and I usually spend Christmas here with my family too."
Defending event winner Ian Walsh (HAW) made it through to the next round in an all-Hawaii heat against Kauai's Koa Smith and Evan Valiere and Oahu's Imaikalani deVault. Smith was in a good rhythm while Walsh played it smart and chose waves carefully, both who were rewarded with a slot into the next round.
"The waves are really good today," said Walsh. "It's tricky to find them and be in the right place when they come in, but if you're in the right spot the waves are really fun."
Walsh excels in massive surf and has the technical skill to win again in Big Sunset, but his goal is to take it heat by heat and appreciate the small wins.
"My ultimate goal this winter is to kind of take a step back after how crazy last season was and really just appreciate all the little things that lead up to and surround these swells," said Walsh. "I felt like last year was such a panic and sense of urgency with how many big swells we were having back to back to back to back, that you're always thinking about the next swell and getting all your gear ready while still surfing one of the big days. This year I just want to try and focus on what's right in front of me and enjoy it while I'm healthy."
Tahitian powerhouses O'Neill Massin and Tereva David are making their mark at the big wave venue after they both advanced in the competition. Massin has traveled to Hawaii for the past four years but is just finally gaining experience at Sunset.
"Last year I came and I lost my first heat, it was the first time I surfed Sunset," said Massin. "This year I came early, two weeks before the contest so I could train and see where is the good spot. The waves are really good for the Tahitians because we are the big guys. It's a little bit the same in Tahiti, the waves are powerful. We love this kind of wave."
A final day for the HIC Pro awaits and contest organizers will reconvene in the morning at 7am to make a call. With a reinforcing NNW swell on hand, a winner could be crowned in the next 24 hours so stay tuned in to watch the action LIVE on WorldSurfLeague.com and VansTripleCrownofSurfing.com/Vans.
RESULTS
Surfer shown 1st through 4th, all athletes from Hawaii unless otherwise noted.
Round of 64, 1st and 2nd to next round, 3rd = 33rd place, 4th = 49th place
H1: Tanner Hendrickson, Elliot Paerata-Reid (NZL), Elijah Gates, Kaimana Jaquias
H2: Brian Toth (PRI), Cody Young, Taumata Puhetini (PYF), Diego Mignot (FRA)
H3: Mason Ho, Sunny Garcia, Kai Mana Henry, Derek Peters (USA)
H4: Jack Robinson (AUS), Mitchell James (AUS), Manuel Selman (CHL), Gain Gillette
H5: O'Neill Massin (PYF), Kekoa Cazimero, Lucca Mesinas Novaro (PER), Danny Fuller
H6: Koa Smith, Ian Walsh, Evan Valiere, Imaikalani deVault
H7: Fraser Dovell (AUS), Noa Mizuno, Keoni Yan, Kilian Garland (USA)
H8: Leonardo Fioravanti (ITA), Alex Smith, Kevin Sullivan, Braiden Maither
H9: Wade Carmichael (AUS), Chris Foster, Mitchell Parkinson (AUS), Dylan Goodale
H10: Finn McGill, Makuakai Rothman, Billy Kemper, Jackson Baker (AUS)
H11: Joel Centeio, Jacome Correia (PRT), Skip McCullough (USA), Timothee Bisso (GLP)
H12: Shane Holmes (AUS), Tim Reyes (USA), Monty Tait (AUS), Jamie O'Brien
H13: Nathan Hedge (AUS), Cole Houshmand (USA), Myles Padaca, Masatoshi Ohno
Round of 96, 1st and 2nd to next round, 3rd = 65th place, 4th = 81st place
H12: Monty Tait (AUS), Sheldon Simkus (AUS), Jacome Correia (PRT), Nate Dorman (USA)
H13: Myles Padaca, Eala Stewart, Kairi Noro (JPN), Wyatt McHale
H14: Olomana Eleogram, Cole Houshmand (USA), Mikey Bruneau, Takayuki Wakita (JPN)
H15: Benji Brand, Riley Laing (AUS), Travis Beckmann, Reef Heazlewood (AUS)
H16: Louis Gillick (AUS), Tereva David (PYF), Arashi Kato (JPN), Kaishu Tanaka (JPN)