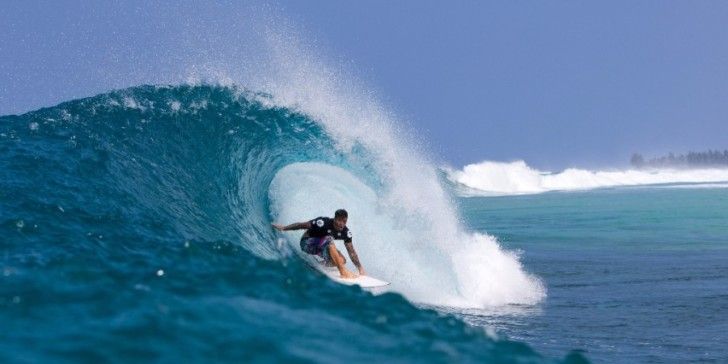 TOP NAMES HO, IRONS AND PUHETINI ADVANCE
FLORENCE AND SLATER TO HIT THE WATER ONCE COMPETITION RESUMES
Image: Warrior of the day Kekoa Cazimero (HAW) slotted in a Backdoor barrel while sporting a fresh injury to the face.
Credit: WSL/Freesurf/Heff
| | |
| --- | --- |
| Location:    | Pipeline, North Shore, Oahu                                                   |
| Rating: | Men's QS3,000  |
| Event Window:    | January 29 – February 10 |
| | |
HALEIWA, Oahu/Hawaii (Friday, February 3, 2017) — 2015 Big Wave World Champion Makuakai Rothman (HAW) took advantage of ultra-clean, barreling sandbar surf and textbook tubes during the Volcom Pipe Pro, a World Surf League (WSL) Qualifying Series (QS) 3,000 event, and scored the only perfect 10-point ride of the event. This is Rothman's first appearance back in competition since last year's Vans Triple Crown events, after he sustained injuries at Puerto Escondido in June 2016 during the Big Wave Tour.Rothman dropped into the barrel and positioned himself as it stretched all the way to Off The Wall. The Volcom house erupted with cheers after he made a clean exit, and the vote was unanimous amongst the judges – a perfect 10.

Rothman's 10-point ride. Image: WSL/Freesurf/Keoki
"Just drop in and do the hula," laughed Rothman. "I was fortunate enough to be in the right spot and God let me out of that one. Backdoor's my spot. I love it like this, this is perfect. Hopefully the next couple days get some big waves then some real Pipeline and we'll see what happens then."
Despite Rothman's 10, the surfer advanced behind Tahiti's Taumata Puhetini who showed total commitment on his backhand and scored a 7.67 and 4.37 for the heat win. Puhetini is the sole remaining Tahitian in the event after taking out countryman Turo Ariitu in Round Two Heat 11.
"Everybody surfs good, everybody's on their game and Taumata got a couple good waves," continued Rothman. "I could have took that last one from him, but I just did my thing and got lucky. This is my first contest back, I haven't surfed competitively since before the Pipe Masters. It just feels great to be back in the water feeling good enough to surf. Being out of the water is horrible, surfing is my life. Anything I have in my life I owe to surfing and to be back here competing in front of my friends and family, in front of all these fans, you can't beat it."

Ho slots himself into a Backdoor gem, awarded a 9.70 by judges. Image: WSL/Freesurf/Keoki
Another exciting exchange went down earlier in Round Two Heat 10 and featured Pipe savants Mason Ho (HAW) and Bruce Irons (HAW) along with California's Tim Reyes and Kauai's Danny Fuller. Reyes got an early lead by dropping a 6.83 on his opening ride, but Ho swooped in on another clean Backdoor barrel for a 7.83 to fire up the competition. Irons earned an 8.60 under priority and built momentum, but unfortunately couldn't secure the back up score he needed to advance.
"The waves, it's not what you would expect but it's a lot better than you would expect you know," said Irons post heat. "It's like a point break sandbar, it's perfect, it's good competition waves."
Within the final minutes, Ho found a reeling right and scored a 9.70 – the second highest single wave score of the day – for the heat win ahead of Irons. The two scores granted him the highest combined wave total of the event, an excellent 17.53.

Backdoor produced playful surf that veterans like Irons took advantage of. Image: WSL/Freesurf/Keoki
"The 9.7, it was a nice wave," said Ho. "I was in second and I was kind of trying to keep Timmy Reyes off the wave. It didn't really look like a good wave, but I knew it was going to barrel a little bit. And Bruce just went on one that didn't look that good and he got really barreled so I was like, oh maybe I can do like a little Bruce thing. I went and took off and pulled into it and then it kept kind of growing and growing and growing I guess. And then I got to come out."
Warrior status of the day went to Kekoa Cazimero (HAW) who gashed his eye during Round Two Heat 13 with Makai McNamara (HAW), Tyler Newton (HAW) and Andy Criere (ESP). After pulling into his opening ride at Backdoor, Cazimero got sucked over the wave and collided with the rail of his board, which shot directly into his face and split open the skin under his left eye.
"I felt really dizzy and confused," said Cazimero. "I was spitting out blood and it was all in my eyes too. Makua Rothman and Joel Centeio were right there to check on me by the water's edge. They told me I needed stiches but I was determined to win."

Dr. Dao stitches up Cazimero post heat. Image: WSL/Freesurf/Keoki
His determination paid off, as after paddling back into the lineup, he caught a few more waves and advanced in first ahead of Makai McNamara (HAW). "Dr. Leland Dao gave me 10 stitches. I have a black eye now too so I'm hoping it doesn't shut over night for Round 3 tomorrow. I feel pretty good though. Going to push through and get it done. Fired up."
Contest organizers forecast that tomorrow, Saturday, February 4, will be good conditions to resume competition, but will reconvene in the morning to assess and make a call by 7AM HST. Round 3 will complete once the event restarts, with top names like John John Florence (HAW), Kelly Slater (HAW) and Billy Kemper (HAW) making their first appearance.
Follow the action LIVE on WorldSurfLeague.com and RedBull.tv/volcompipepro. The Volcom Pipe Pro is also being broadcast on Oceanic Time Warner Cable so be sure to tune in to local SURF channels 250 and 1250HD for your daily dose of barrels.
RESULTS
Surfers shown 1st through 4th, all athletes from Hawaii unless otherwise noted.
Round of 64, 1st and 2nd advance, 3rd = 33rd place, 4th = 49th place
H1: Nathan Florence, Kiron Jabour, Dean Bowen (AUS), Taichi Wakita (JPN)
H2: Griffin Colapinto (USA), Jeronimo Vargas (BRA), Kai Mana Henry, Manuel Selman (CHL)
Round of 96, 1st and 2nd advance, 3rd = 65th place, 4th = 81st place
H1: Nathan Florence, Manuel Selman (CHL), Eli Olson, Noa Mizuno
H2: Kai Mana Henry, Dean Bowen (AUS), Mikey Bruneau, Nic Von Rupp (PRT)
H3: Wyatt McHale, Brian Toth (PRI), Jordy Collins (USA), Tomas Tudela (PER)
H4: Kaimana Jaquias, Leandro Usuna (ARG), Flavio Nakagima (BRA), Gregg Nakamura
H5: Olamana Eleogram, Hank Gaskell, Ian Walsh, Keoni Yan
H6: Joshua Burke (BRB), Koa Rothman, Guillermo Satt (CHL), Jared Hickel (AUS)
H7: Nomme Mignot (FRA), Ezra Sitt, Miguel Blanco (PRT), Yuri Gonsalves (BRA)
H8: Kaito Kino, Kaito Ohashi (JPN), Alonso Correa (PER), Dylan Goodale
H9: Seth Moniz, Cody Young, Jamie O'Brien, Shane Holmes (AUS)
H10: Mason Ho, Bruce Irons, Tim Reyes (USA), Danny Fuller
H11: Taumata Puhetini (PYF), Makuakai Rothman, Turo Ariitu (PYF), Shun Murakami (JPN)
H12: Miguel Tudela (PER), Reo Inaba (JPN), Eala Stewart, Chris Foster
H13: Kekoa Cazimero, Makai McNamara, Tyler Newton, Andy Criere (ESP)
H14: Gatien Delahaye (GLP), Shayden Pacarro, Elijah Gates, Masatoshi Ohno (JPN)
H15: Benji Brand, Luke Shepardson, Cory Arrambide (USA), Tanner Hendrickson
H16: Parker Coffin (USA), Lucca Mesinas Novaro (PER), Charly Quivront (FRA), Ulualoha Napeahi