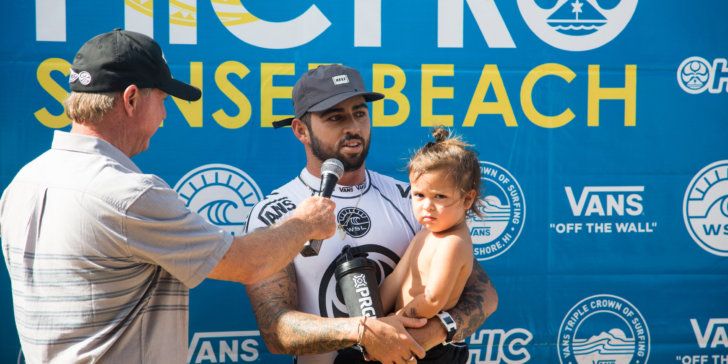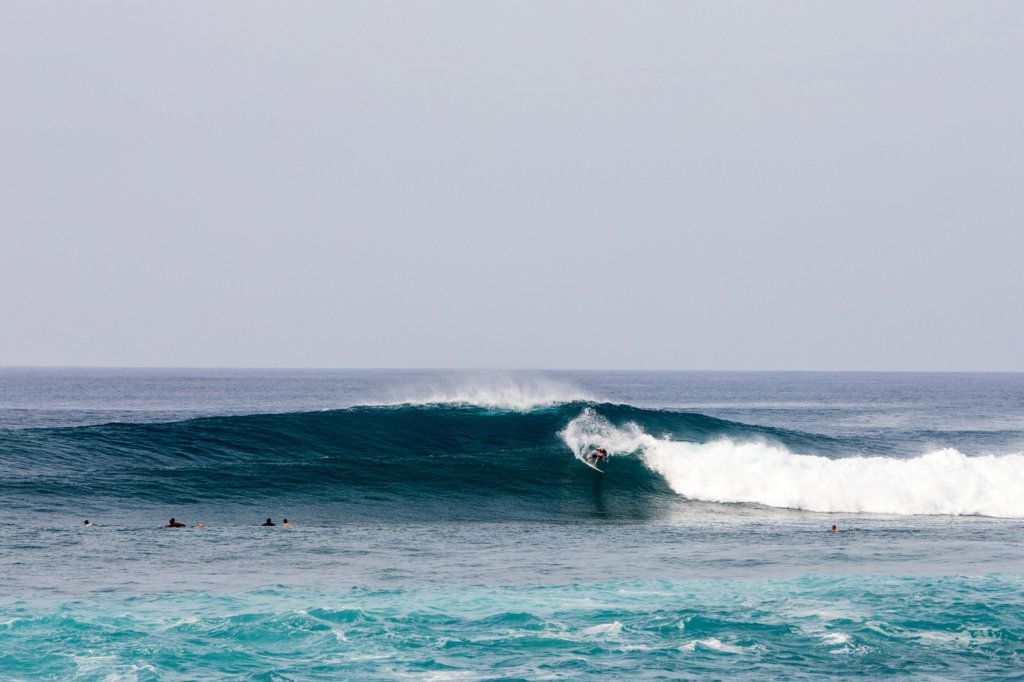 Sunset coming to play for the HICPro17 Heff
LIKELY FINISH THURSDAY ON EASING SWELL
WADE CARMICHAEL (AUS) SCORES NEAR-PERFECT 9.67
WILDCARD KALANI DAVID (HAW) MAKES A COMEBACK TO COMPETITION

Wade Carmichael scores the highest two-wave total of the day, a 17.50.
Image: WSL / Freesurf / Heff
Location:   
  Sunset Beach, Oahu, Hawaii
Event window:
  

October 27 – November 9

Rating:
  Men's QS3,000; official local qualifier for VTCS
Conditions:
  Clean 6-8ft.+ W swell, light SE offshore winds
HALEIWA, Oahu/Hawaii (Sunday, October 29, 2017) — Hot off a runner up finish at the World Surf League (WSL) Pe'ahi Challenge Big Wave event on Maui, Billy Kemper (HAW) returned home to Sunset Beach to further his competitive run at the Vans Presents the HIC Pro, where he won his Round 2 heat today. Champion of the HIC Pro in 2010 and multi-finalist throughout the years, Kemper looked solid in the 6-8+ foot surf on offer today despite a meniscus and MCL injury that he suffered on a 45+ft. wave at Pe'ahi.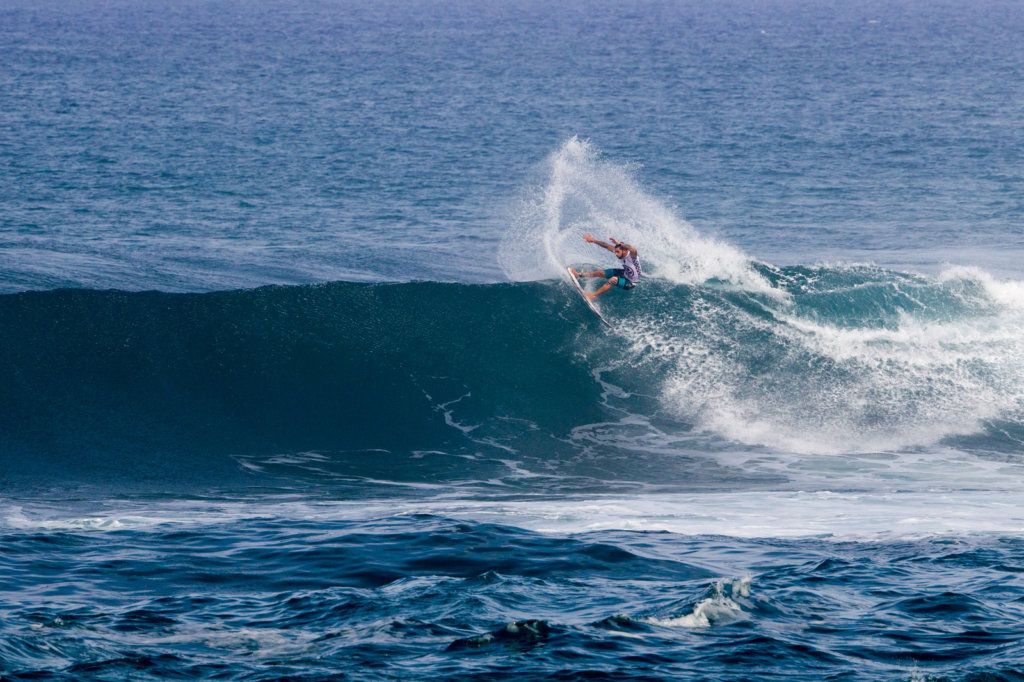 BillyKemper flying at the speed of lip_KEO
Up against an international mix in the last heat of Round 2, Kemper proved his Sunset prowess against Kade Matson (USA), Tristan Guilbaud (FRA) and Shun Murakami (JPN) for first place advancement. He takes this competition as seriously as any, and has worked incredibly hard this year in preparation for winter on the North Shore.
"Sunset is a beast of its own and you're dealing with Mother Nature whether it's two feet or 100 feet," commented Kemper. "You can't take it lightly, you have to have your preparation 100 percent and be ready for the worst outcome. I'm ready, I'm confident and I'm happy and healthy."
With consistent surf on tap, competitors were treated to equal wave-scoring opportunities in the ideal conditions.

Billy Kemper with son Haze during a post-heat interview with commentator Beau Hodge. Image: WSL/Freesurf/Keoki
"It is definitely fun out there, it's like skatepark compared to Jaws," continued Kemper. "But my adrenaline and my excitement are just as high as it would be surfing a heat at Jaws, so I take every heat the same and I'm just out there to win and have a good time and make it home safe to my family."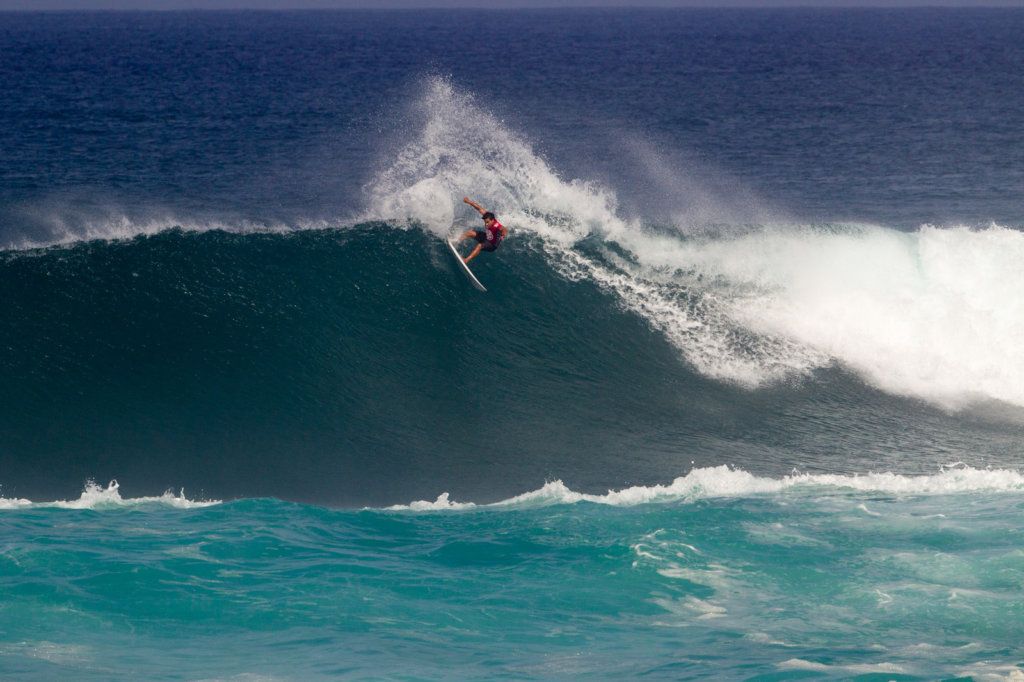 KEANU ASING AIMING CARVING HIS PATH TO THE WCT 2018. IMAGE: KEO
A polished performance from Wade Carmichael (AUS) ended the day in dramatic fashion as the QS campaigner dropped a 9.67 in the final heat of the day, and the highest two-wave heat total of the competition, a 17.5. Winner of the 2015 Hawaiian Pro, Carmichael registers as a perennial threat on the North Shore and uses the HIC Pro to warm up for the Vans Triple Crown of Surfing.
"I usually do this event every year, just try to get used to your boards and get surfing really," said Carmichael. "Sometimes you come over for Haleiwa and it's flat and then it just goes boom, first swell and you're straight into it, so it's a good warm up and gets the confidence up."
The Australian's power surfing suited Sunset perfectly today and his 9.67 was awarded after multiple explosive maneuvers were dropped from take-off to finish.
"It was just a bomb set, a nice peak and I was just frothing," commented Carmichael. "I didn't really know what to do, I just wanted to surf and have some fun and I ended up getting three turns which is pretty rare for Sunset and it's a good wave. I didn't know what score it was going to be, I was stoked it was a 9."
Wildcard Kalani David (HAW) made a comeback today after being out of competition for a year due to a heart condition. His strong performance today was a solid indicator that David is back in full force and eager to regain his place amongst Hawaii's best, thanks to North Shore veteran Joel Centeio (HAW). Centeio, Hurley Surf Coach and advocate for Hawaii youth, handed his wildcard over to David in an act of selflessness and good faith.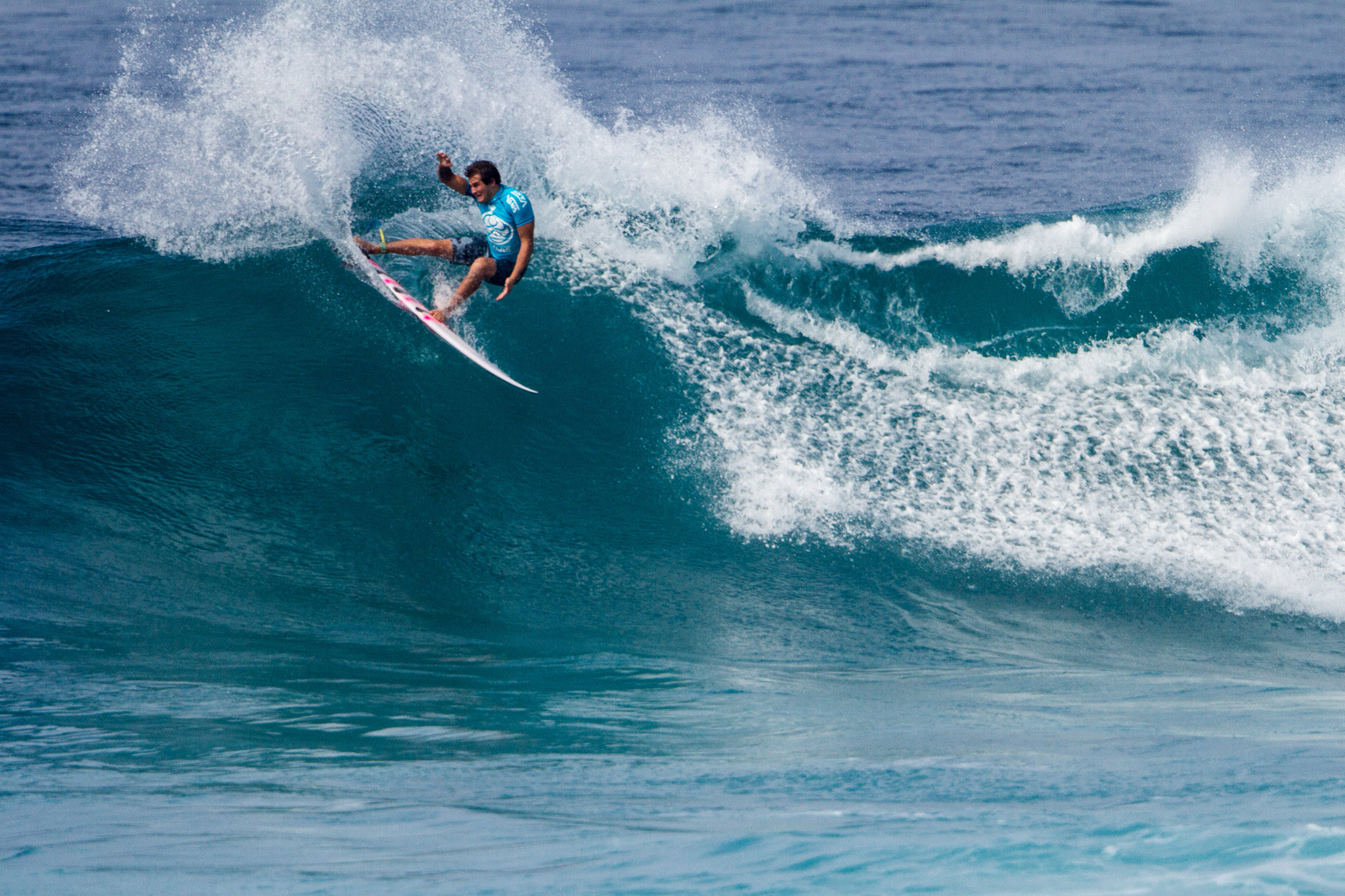 Kalani David took a commanding lead at the start of the heat and held it throughout for a first-place finish. Image: WSL/Freesurf/Heff
"That was the biggest thing ever, I was just randomly at my house waxing up my board about to go surf and then I get a call… saying 'yeah you got the wildcard, Joel (Centeio) decided to give it up and give it to you,'" said David. "Thank you Joel, you're the man, you always have been my favorite surfer since day one so it's pretty cool for you to give it to me and hopefully I do something with it."
Margaret River's Jack Robinson (AUS) had the second highest single wave score of the event, a 9.17 for a display of clean surfing on a set wave, combined with a committed finish in the critical section of the wave.

Jack Robinson sets his rail on a classic Sunset bottom turn. Image: WSL/Freesurf/Heff
"I've done that a lot out there before, so when the right wave comes it doesn't really matter, it's just if it lines up I'm going to do it," said Robinson. "I'm stoked, I didn't know it was going to be this big so I'm just happy it's real Sunset." Robinson backed up his near-perfect ride with a 6.50 for calculated maneuvers and a small but clean barrel on the inside.
Championship Tour rookie and Honolulu native Ezekiel Lau narrowly made it through the heat behind Robinson to edge out young gun Wyatt McHale (HAW) and Maui's Hank Gaskell. Lau showed his CT-level composure by nabbing the needed score in the final minute of the heat.
"I'm looking to put on some good performances," commented Lau. "I've been having a lot of heats, especially on Tour, where I go through heats standing up once or twice and I just really want to get something going where I stand up three or four times a heat and get myself more opportunity to perform, so that's my goal."
The swell is forecast to decrease slightly through tonight and provide 4-6 ft. tomorrow with similar conditions. Contest organizers say Thursday looks promising for the final day of competition, with a winner being crowned around 3:30pm.
RESULTS
Surfers shown in order of 1st through 4th, all athletes from Hawaii unless otherwise noted
Round of 64 (1st and 2nd advance, 3rd = 33rd place, 4th = 49th place)
H1: Tanner Hendrickson, Keanu Asing, Taylor Clark (USA), Nolan Rapoza (USA)
H2: Barron Mamiya, Josh Moniz, Dion Atkinson (AUS), Leandro Usuna (ARG)
H3: Seth Moniz, Kalani Ball (AUS), Imaikalani deVault, Ramzi Boukhiam (MAR)
H4: Cody Young, David do Carmo (BRA), Griffin Colaptino (USA), Kaiki Yamanaka (JPN)
H5: Patrick Gudauskas (USA), Jeronimo Vargas (BRA), Maxime Huscenot (FRA), Yuji Nishi (JPN)
H6: Mason Ho, Ricardo Christie (NZL), Lucas Silveira (BRA), Shaun Burns (USA)
H7: Noe Mar McGonagle (CRI), Marc Lacomare (FRA), Skip McCullough (USA), Sandon Whittaker (AUS)
H8: Kalani David, Liam Mortensen (AUS), Reef Heazlewood (AUS), Ariihoe Tefaafana (PYF)
H9: Jack Robinson (AUS), Ezekiel Lau, Wyatt McHale, Hank Gaskell
H10: Tanner Gudauskas (USA), Taumata Puhetini (PYF), Ian Crane (USA), Jackson Baker (AUS)
H11: Jorgann Couzinet (FRA), Kiron Jabour, Mihimana Braye (PYF), Cole Houshmand (USA)
H12: Benji Brand, Cooper Chapman (AUS), Kaito Kino, Shane Campbell (AUS)
H13: Wade Carmichael (AUS), Dusty Payne, Nathan Florence, Koa Rothman
Round of 96 (1st and 2nd advance, 3rd = 65th place, 4th = 81st place)
H12: Kaito Kino, Cole Houshmand (USA), Manuel Selman (CHL), Eli Olson
H13: Nathan Florence, Gatien Delahaye (FRA), Cristobal De Col (PER), Jacome Correia (PRT)
H14: O'Neill Massin (PYF), Koa Rothman, Sebastian Williams (ZAF), Finn McGill
H15: Matthew McGillivray (ZAF), Fraser Dovell (AUS), Makai McNamara, Diego Mignot (FRA)
H16: Billy Kemper, Kade Matson (USA), Tristan Guilbaud (FRA), Shun Murakami
About HIC – Hawaiian Island Creations
Hawaii's biggest and best selection of surf gear! Since 1971, HIC has provided Hawaii with quality surfboards, skateboards, clothing and accessories – by surfers, for surfers. Locally owned and operated, the HIC retail chain includes sixteen stores across Oahu, Maui and Hawaii Island, along with two stores in Japan. Through a commitment to quality, service and aloha spirit, the brand has built a reputation as an icon of Hawaiian surfing recognized throughout the world. Enjoy the ride!
About Vans
Vans®, a VF Corporation (NYSE: VFC) brand, is the original action sports footwear, apparel and accessories brand. Vans authentic collections are sold globally in more than 75 countries through a network of subsidiaries, distributors and international offices. Vans also owns and operates nearly 600 retail locations around the world. The Vans brand promotes the action sports lifestyle, youth culture and creative self-expression through the support of athletes, musicians and artists and through progressive events and platforms such as the Vans Triple Crown of Surfing®, the Vans U.S. Open of Surfing, Vans Pool Party, Vans Custom Culture, Vans Warped Tour®, and Vans' cultural hub and international music venue, the House of Vans.