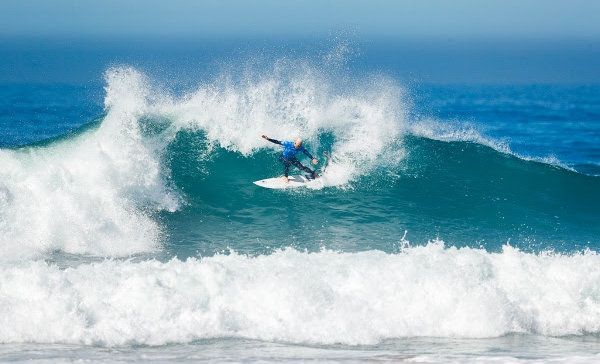 – WILDCARD TERESA BONVALOT ELIMINATES REIGNING WSL CHAMPION TYLER WRIGHT
– 6X WSL CHAMPION GILMORE DISPATCHED BY INJURY REPLACEMENT BIANCA BUITENDAG
– BIG SCORES AS PRESSURE INTENSIFIES IN ROUND 3 OF EDP BILLABONG PRO CASCAIS
– WATCH LIVE AT WORLDSURFLEAGUE.COM

Tatiana Weston-Webb (HAW) put on the day's most convincing performance in Round Three.
Credit: © WSL / Poullenot
| | |
| --- | --- |
| Location:    | Cascais, Portugal |
| Event window: | September 26 – October 5, 2017 |
| Today's call: | Women's Rd2&3, Men's Rd3 H1-8 Completed. |
| | |
| --- | --- |
| Condition | Excellent three-to-five foot lefts and rights. |
PRAIA DE CARCAVELOS, Cascais/Portugal (Thursday, September 28, 2017) – The Cascais Women's Pro, Stop No. 8 on the World Surf League Championship Tour (CT), resumed today at the back-up venue of Guincho in clean four-to-six foot surf. Competition ran through Rounds 2 and 3, with the first four Quarterfinalists decided. Following the conclusion of the women's event the EDP Billabong Pro Cascais ran through heats 1 – 8 of Round 3.
Reigning WSL Champion Tyler Wright (AUS) was eliminated in Round 2 at the hands of local wildcard Teresa Bonvalot (PRT). Today was the first CT win for Bonvalot, who is competing as a wildcard in Cascais for the fifth year. Wright suffered an injury during a freesurf earlier this week, tearing her MCL, and today's 13th place finish is her worst result of the season with possible world title implications.
"I was just so nervous," Bonvalot said. "I'm pretty stoked, it's my first heat win as a wildcard on the CT. The waves are pretty good and you just have to be patient and wait for the right ones. Until the end things were pretty close. It's just crazy how nervous and scared I was – so much more than on the QS or the Juniors. I knew that she could get a big score at any time. I have nothing to lose but now I want more and to make heats and beat the best surfers in the world."
"My leg is still sore, I did it three days ago," said Wright. "I could have sat this event out but I'd rather win or lose on my feet so I decided to compete. Teresa had a really smart heat and played a smart game so I'm stoked for her. For a wildcard I thought she did really well. My MCL is 70% off the bone so between now and France I'll focus on healing and getting myself in the best physical health to compete there. Even though I lost it's hard for me to figure out how I lost. I don't feel like I'm injured, I still feel like I can go out there and win. I've got a really good team and I'm feeling good."
Bonvalot went on to face Nikki Van Dijk (AUS) and Lakey Peterson (USA) in Round 3. Van Dijk claimed the win and her place in the Quarterfinals with a 7.33. Peterson and Bonvalot will surf again in Round 4.
Another upset played out in Round 2 Heat 4 when injury replacement Bianca Buitendag (ZAF) defeated six-time WSL Champion Stephanie Gilmore (AUS), despite finding a solid score on her opening wave. Buitendag was able to close the heat with a 6.77 to secure her advancement in the competition and send Gilmore home in 13th place.
"Sometimes things just go your way and today is one of those days," Gilmore said. "It's tough out there and things are moving a lot. The goal is to take things one day at a time and not to plan too much. I've been overthinking things a lot so I'm trying to keep things simple."
"It's super tough out there," Gilmore said. "There are plenty of opportunities but it's tough to find them. I relied too much on my forehand. Bianca [Buitendag] is so strong. It was tough and it's a terrible result. The year's not over and anything could happen. I'm sure Courtney, Sally and Carissa are pretty excited that Tyler and myself are out but it will certainly put the pressure on them. That's the excitement of sport! I'm looking forward to France, I love that event, and I'll make the most of my time here in Portugal."
Sally Fitzgibbons (AUS), current No. 1 on the Jeep Leaderboard, earned her place in the Quarterfinals with a Round 3 victory over Keely Andrew (AUS) and Silvana Lima (BRA). Andrew and Lima will have another chance to advance in Round 3 when competition continues.
"There's always a big advantage to skipping rounds and I'm really happy to be through to the Quarterfinals," Fitzgibbons said. "This year I really have that calm and confidence that I do have what it takes to make it through to Finals and win events. I think last year I was lacking in a couple of areas and I've been chasing those and building it back up. I'm really ready and I want to keep going all the way. I've been in title races before so I'm just trying to bring out my best performances and enjoying my time in the ocean."
Tatiana Weston-Webb (HAW) also secured a Quarterfinal berth with the top score of the heat, a 7.77,  on her final wave. Manuel's final wave fell just short of what was required and she will join current World No. 2 Courtney Conlogue (USA) in elimination Round 4.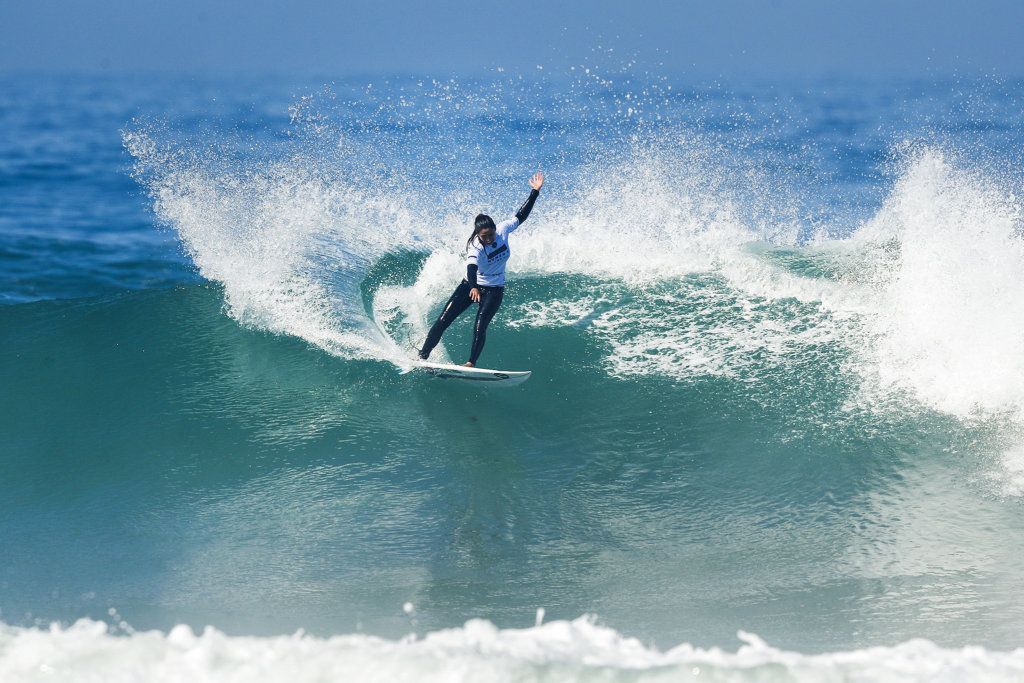 Malia Manuel of Hawaii will surf in Round Four of the 2017 Cascais Women's Pro after placing second in Heat 3 of Round Three at Cascais, Portugal.
"There's so many scoring opportunities out there, it's just a matter of being in line for one," said Weston-Webb. "Grit and determination the whole time. I don't know what's happening at the moment but I'm surfing pressure free and not letting results define me. I really like the waves here and I've been having so much surfing here. I'm really focused on consistency at the moment."
The final women's heat of the day saw Carissa Moore (HAW) claim victory and a place in the Quarterfinals. Erickson had the highest single-wave score of the day, a 7.90, but wasn't able to find a back-up and will have to surf again in Round 4 along with Buitendag.
French surfers Pauline Ado (FRA) and Johanne Defay (FRA) both suffered early elimination in Round 2 at the hands of Van Dijk and Manuel respectively. The result is Defay's worst of the year and Ado's sixth 13th place finish.
Following the conclusion of the women's event competition ran through the first 8 heats of Round 3 of the EDP Billabong Pro Cascais.
Kanoa Igarashi (USA), 19, came out victorious of a stacked Round Three matchup against fellow Championship Tour athlete Stuart Kennedy (AUS) as well as Joshua Moniz (HAW) and Patrick Gudauskas (USA). Igarashi dominated on the clean and long lefts to post an excellent 8 point ride and a strong backup. The Californian's flow, linking maneuvers with speed and control all the way into the shore break earned him one of the day's highest heat totals for his spot into Round Four.
"It's funny conditions are so much different in the water from what you're looking at on the beach," Igarashi explained. "But I'm just glad I was able to go out there and use my instincts and guide myself to the waves I wanted to catch and it worked out. The QS is a year long series of events of trying to be consistent in all those different places. I got a couple good years and it'd be sick to get that QS trophy at some point."
Joan Duru (FRA), 28, brought his CT polished act to the party in the very next heat and nailed four great waves to build an impressive 15.73 total in the Guincho lefts and rights. The Frenchman who found his groove midway through the season on the elite tour, currently sits in 18th position and is looking to build momentum in Cascais towards performing on home turf next week at the Quiksilver Pro France.
"I was so lucky in that heat, I started with a good left and got a right on my way back out, then another left and another right," Duru stated. "I hope that luck stays with me for the rest of the week. The transition to the QS is never easy, you have four guys out there absolutely ripping. I have some new boards that I wanted to try in the beach breaks and they're working really good so I'm stoked, they should be sick at home in France."
Wade Carmichael (AUS), 24, is in his best qualifying effort in 2017 and currently right outside the door of the coveted QS Top 10. The Australian has been finding his form in the last two qualifying events of Galicia and Azores and put on the day's biggest performance to move into Round Four ahead of World No. 23 Italo Ferreira (BRA).
"I didn't know what was going on the whole time and just kept catching waves," Carmichael said. "I had the world's worst free surf this morning and a long day of waiting so I was really nervous but I just wanted to catch waves! These 10,000s and the last two 6,000s were so hard but you have to bring your A-game and just try to put some good waves together."
Mikey Wright (AUS) and Jadson Andre (BRA) came out on top of arguably the round's biggest heat against Connor O'Leary (AUS) and Jorgann Couzinet (FRA). At the term of a really tense battle, Wright's forehand power carves were the winning ingredient.
Local hero Frederico Morais (PRT), 25, had a close call in Round Three and had trouble getting his heat underway with a couple of below average scores. The Portuguese superstar came back in a big way with three good waves in the last five minutes to jump from third into the lead and walk away with the win.
Competitors and event officials will reconvene at 7:45 a.m Friday for a potential start of either the QS or CT competitions.
Mid period NW swell continues Thursday with the most size at Guincho, which will be in the head high/overhead range on sets (Carcavelos small).  Morning wind looks favorable. Another NW swell will build in Friday afternoon/evening and peak Saturday and looks a couple notches larger than the current swell. Strong N/NNW wind also looks likely for Friday afternoon through the weekend. A final WNW/NW swell is possible toward the end of the waiting period, around October 3rd. Surfline.
The EDP Billabong Pro Cascais 2017 runs in conjunction with the Cascais Women's Pro, stop No. 8 on the WSL Women's Championship Tour and both events are broadcast LIVE via WorldSurfLeague.com, the WSL app and on Facebook LIVE via the WSL's Facebook page.  Also check the local listings for coverage on CBS Sports Network in the U.S., Fox Sports in Australia, ESPN in Brazil, Sky NZ in New Zealand, SFR Sports in France and Portugal, Sport TV in Portugal and the EDGEsport Network.
For more information, check out WorldSurfLeague.com.
The EDP Billabong Pro Cascais 2017 is supported by the Câmara Municipal de Cascais (Cascais City Council), Edp, Billabong, Tourism Portugal (Portuguese Waves), , Jogos Santa Casa, MEO&Moche, Hertz, MEO Beach Cam and CP (Comboios de Portugal/Trains of Portugal) among others.
CASCAIS WOMEN'S PRO ROUND 2 RESULTS:
Heat 1: Nikki Van Dijk (AUS) 11.50 def. Pauline Ado (FRA) 11.07
Heat 2: Malia Manuel (HAW) 8.90 def. Johanne Defay (FRA) 7.76
Heat 3: Teresa Bonvalot (PRT) 9.50 def. Tyler Wright (AUS) 7.23
Heat 4: Bianca Buitendag (ZAF) 12.27 def. Stephanie Gilmore (AUS) 11.00
Heat 5: Sage Erickson (USA) 13.50 def. Bronte Macaulay (AUS) 7.60
Heat 6: Keely Andrew (AUS) 10.70 def. Coco Ho (HAW) 8.50
CASCAIS WOMEN'S PRO ROUND 3 RESULTS:
Heat 1: Nikki Van Dijk (AUS) 13.23, Lakey Peterson (USA) 12.10, Teresa Bonvalot (PRT) 4.33
Heat 2: Sally Fitzgibbons (AUS) 12.56, Keely Andrew (AUS) 10.00, Silvana Lima (BRA) 6.77
Heat 3: Tatiana Weston-Webb (HAW) 14.37, Malia Manuel (HAW) 13.50, Courtney Conlogue (USA) 11.40
Heat 4: Carissa Moore (HAW) 14.34, Sage Erickson (USA) 12.67, Bianca Buitendag (ZAF) 8.50
CASCAIS WOMEN'S PRO ROUND 3 MATCH-UPS:
Heat 1: Lakey Peterson (USA) vs. Silvana Lima (BRA)
Heat 2: Keely Andrew (AUS) vs. Teresa Bonvalot (PRT)
Heat 3: Malia Manuel (HAW) vs. Bianca Buitendag (ZAF)
Heat 4: Courtney Conlogue (USA) vs. Sage Erickson (USA)
EDP BILLABONG PRO CASCAIS ROUND 3 RESULTS:
Heat 1: Cam Richards (USA) 14.30, Alex Ribeiro (BRA) 12.54, Michael Dunphy (USA) 11.10, Jeremy Flores (FRA) 7.60
Heat 2: Kanoa Igarashi (USA) 14.63, Stuart Kennedy (AUS) 14.53, Joshua Moniz (HAW) 10.83, Patrick Gudauskas (USA) 10.53
Heat 3: Joan Duru (FRA) 15.73, Deivid Silva (BRA) 12.33, Davey Cathels (AUS) 12.10, Parker Coffin (USA) 6.94
Heat 4: Wade Carmichael (AUS) 16.60, Italo Ferreira (BRA) 13.36, Noe Mar McGonagle (CRI) 12.87, Ricardo Christie (NZL) 6.77
Heat 5: Mikey Wright (AUS) 13.60, Jadson Andre (BRA) 13.33, Connor O'Leary (AUS) 12.06, Jorgann Couzinet (FRA) 10.90
Heat 6: Kalani Ball (AUS) 11.80, Keanu Asing (HAW) 11.53, Thiago Camarao (BRA) 10.56, Mihimana Braye (PYF) 10.53
Heat 7: Frederico Morais (PRT) 14.70, Willian Cardoso (BRA) 13.77, Victor Bernardo (BRA) 11.30, Carlos Munoz (CRI) 10.50
Heat 8: Leonardo Fioravanti (ITA) 15.00, Tomas Hermes (BRA) 12.40, Tanner Hendrickson (HAW) 11.36, Adam Melling (AUS) 11.06
REMAINING EDP BILLABONG PRO CASCAIS ROUND 3 MATCH-UPS:
Heat 9: Maxime Huscenot (FRA), Ethan Ewing (AUS), Hiroto Ohhara (JPN), Marc Lacomare (FRA)
Heat 10: Jackson Baker (AUS), Jesse Mendes (BRA), Nat Young (USA), Caio Ibelli (BRA)
Heat 11: Alejo Muniz (BRA), Miguel Pupo (BRA), Michael February (ZAF), Ryan Callinan (AUS)
Heat 12: Mateus Herdy (BRA), Griffin Colapinto (USA), Cooper Chapman (AUS), Ezekiel Lau (HAW)