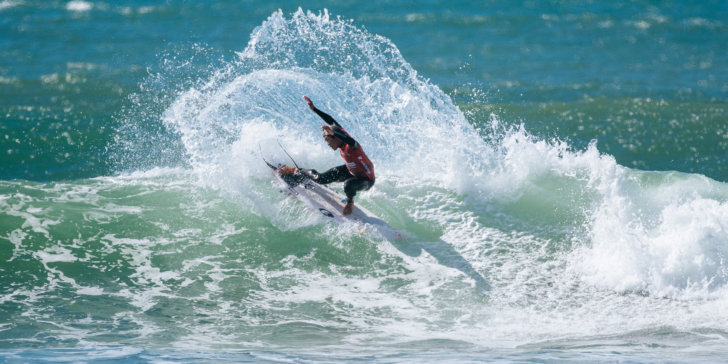 Americans Dominate Morning Wave in Ericeira
Morais' Shock Elimination Upsets Portuguese Hopes
Former Finalists Put on a Show
Next Call Monday, October 3, 2022 at 7:30 a.m WET (11 hours ahead of Hawaii)
Pictured front page: World No. 5 Kanoa Igarashi (JPN) put on a clinic in fun-sized Ribeira d'Ilhas. Credit: © WSL / Poullenot
RIBEIRA D'ILHAS, Ericeira / Portugal (Sunday, October 2, 2022) –  The EDP Vissla Pro Ericeira, Stop No. 5 on the World Surf League (WSL) 2022 Challenger Series, kicked off today in three-to-four foot surf and variable light winds at first, to complete the first 18 heats of the men's Round of 96.

The EDP Vissla Pro Ericeira carries huge importance for all surfers in qualifying for the Championship Tour (CT), but maybe more so for those at the bottom of the ranks as they eye only one more chance in Brazil before the field is reduced to the Top 80 for the men and Top 48 for the women at the final event in Hawaii.

With pressure at an all-time high in Ericeira, some struggled and some reveled in the rippable but technical rights of Ribeira d'Ilhas.
Pictured: 
Vissla surfer Cole Houshmand (USA) was on fire in his first heat at Ribeira. 
Credit: 
© WSL / Poullenot
Americans Dominate Morning Wave in Ericeira
The first five heats of the day were dominated by North American and Hawaiian surfers, starting with the reigning event winner and current rankings No. 3 Ezekiel Lau (HAW) in the day's very first matchup. The powerful regular foot who's coming off a major win at the VANS US Open of Surfing, picked up right where he left off with a solid performance to advance into the Round of 48.
Conner Coffin (USA) and Imaikalani Devault (HAW) put on convincing performances as well but it was Ian Gentil (HAW) and Cole Houshmand (USA), who really found the best opportunities in a tricky lineup to post big heat wins.
"I got that first wave and then the second about 10 minutes after," Houshmand explained. "I only caught these two waves but I was able to control the heat. You're never in a safe position but you definitely feel confident when it's like this. I didn't want to go on something that would put me out of position so I just kind of held my ground and I'm thankful it worked out."
Pictured: 
Former CT surfer Michael Rodrigues (BRA)'s requalifying campaign is off to a good start in Portugal. 
Credit: 
© WSL / Poullenot
Morais' Shock Elimination Upsets Portuguese Hopes
Frederico Morais (PRT) launched his campaign on home turf with a good wave 10 minutes into the heat, posting a 6.57 (the second-best score of the heat) for his signature forehand attack of the Ribeira rights. The experienced CT campaigner chose the patient approach, sitting quietly in the lineup waiting for another good wave with priority, but unfortunately the ocean did not cooperate.
Pushing his luck into the final seconds of the heat, Morais had to eventually stand up on something before the horn sounded, but his second wave didn't offer the sections needed and his score came up short of the requirement.
Michael Rodrigues (BRA) and Marco Giorgi (URY) got busier in the lineup and managed to edge out Morais, sending shockwaves to the beach where large crowds were pulling for their national hero. Another first round exit will seriously complicate Morais' chances of qualifying this season, but Brazil and Hawaii are two places where the Portuguese surfer knows he can pull out a miracle move.
Pictured: 
Ryan Callinan (AUS) has winning experience on his side in Ericeira. 
Credit: 
© WSL / Poullenot
Former Finalists Put on a Show
As conditions continued to improve throughout the day, a few surfers stood out from the crowd, particularly two that fought for the win back in 2018 at Ribeira d'Ilhas. World No.5 Kanoa Igarashi (JPN) and Ryan Callinan (AUS) had an epic joust at the time, which Callinan won to seal his requalification for the CT.
Both surfers looked in fine form for their first heat in Ericeira today. Igarashi posted the highest combined heat total of the day with 15.07 points and Callinan's 14.10 was up there with the day's best as well.
"This wave is such a hard wave, but at the same time it's always very similar," Igarashi analyzed. "Even the waves that I got my scores on, I didn't think they'd offer much but they ended up doubling up and that's always what you're looking for out there."
While the Japanese's fate does not rest on a result here – Igarashi made the Rip Curl WSL Finals and is a lock on the 2023 CT – for Callinan, who currently sits in 4th on the CS rankings, points matter at a location he appreciates.
"It's hard to tell where the cut off is going to be so I'm just trying to make as many heats as I can," Callinan stated. "I'm enjoying Portugal and I just want to keep surfing and improving every heat. I actually haven't been back here since winning in 2018 but I think it suits my surfing when it connects so hopefully I can get another big result."
The current leader on the CS, Rio Waida (IDN) did not let a bad result at the US Open affect his performance in the next event as the Indonesian advanced through his first heat with a big performance of his own. His light footed and dynamic approach worked perfectly on the crumbly faces this afternoon and Waida put together two solid scores for a Round of 48 berth.
"First of all it's great to be back to Portugal, it's a very beautiful country," Waida said. "I didn't surf my best in that first heat but that was enough to make it through so I'm happy. There's definitely pressure in being the number one on the rankings, and until I'm officially qualified I just want to keep making heats and try to win one more event!"
In the first 18 heats of the EDP Vissla Pro Ericeira, most of the top seeds made it through, except for four, Brazil's Mateus Herdy and Joao Chianca as well as Ramzi Boukhiam (MAR) and Nolan Rapoza (USA) .
When the event resumes, six heats remain in the men's opening round, featuring among others, former WSL Top 5 Morgan Cibilic (AUS), rankings No.2 Leonardo Fioravanti (ITA) as well as the last Portuguese surfer in the field, Guilherme Ribeiro (PRT).
Event officials will be back at Ribeira d'Ilhas for the next call at 7:30 a.m WET Monday, October 3, 2022.
Watch LIVE
The EDP Vissla Pro Ericeira is webcast LIVE on WorldSurfLeague.com, WSL's YouTube channel, and the free WSL app. Also check local listings for coverage from the WSL's broadcast partners.
The 2022 EDP Vissla Pro Ericeira is scheduled from October 1 – 9, 2022, at Praia de Ribeira d'Ilhas, Ericeira – Portugal. For all results, photos, and video highlights, please visit WorldSurfLeague.com.
The EDP Vissla Pro Ericeira is supported by EDP, Vissla, Tourism of Portugal, Mafra City Council, Ericeira World Surfing Reserve, Estrella Galicia, You & The Sea Hotel and Apartments, and Hertz.
About the WSL
The World Surf League (WSL) is the global home of competitive surfing, crowning the undisputed World Champions since 1976 and showcasing the world's best surfers on the world's best waves. WSL is comprised of the Tours and Competition division, which oversees and operates more than 180 global competitions each year; WSL WaveCo, home of the world's largest high-performance, human-made wave; and WSL Studios, an independent producer of unscripted and scripted projects.