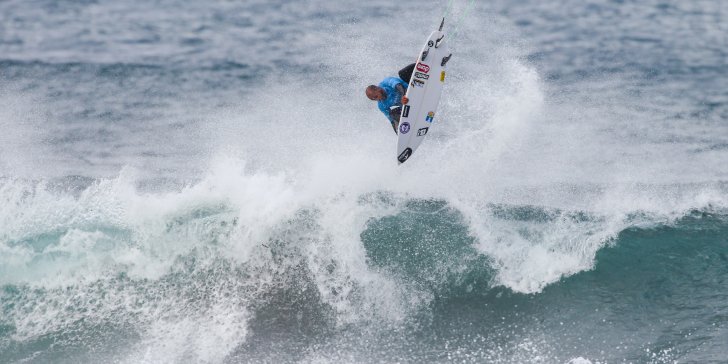 Jadson Andre posts amazing performance with radical airs

Event favorites Silva, Ribeiro, Robinson, Mendes eliminated in Round 5

Younger crew takes command with Marshall, Tancred & Cibilic leading the charge
PLAYA DE PANTIN, Valdoviño / Galicia – Spain (Friday, September 6, 2019) – The QS10,000 ABANCA Galicia Classic Surf Pro continued in three-to-four foot surf and similar side-onshore winds for a sixth day of action in Pantin. After completing the remaining two heats of Round 4, competition ran through the all-important two-surfer heats of Round 5 to decide the event's quarterfinalists.

The first two heats brought incredible action as four surfers went above the lip to score massive numbers.

Jadson Andre (BRA) and Timothee Bisso (FRA) took it to the lineup first and though cordial and showing much respect for each other on land, the battle in the water heated up quickly to deliver epic exchanges.

Brasilian World No. 29 got two quick scores on the board staying on the wave face and then took it to the air to post two huge numbers. His first air was a super high, corked rotation for a 9.33 but Andre didn't stop there. He went for the ultimate show, throwing everything into an inverted, backflip rotation to put the final nail in Bisso's coffin and move into the Quarters.

"For me Tim was by far the best surfer and best competitor in this whole event," Andre said. "I knew I had to go all-in if I wanted to beat him. I know how to do those backflips but I've never really tried any in a heat, this was the perfect time to go for it. I'm pretty stoked on my campaign in this event and I think I'm looking pretty good on the rankings after this so I'm really happy and having a blast."

In the following heat, Jesse Mendes (BRA) and Matt Banting (AUS) followed the script perfectly, to post their first of two solid scores with committed carves. But once again the fight quickly moved to above-the-lip maneuvers and at that game, Banting got the upper hand this time with a big backhand rotation perfectly landed for a backup 8.00 point ride to defeat Mendes and advance into Finals day.

"That was en epic heat," Banting said. "Coming up against Jesse I knew there were going to be some high scores, he's such a talented surfer. You want to start safe and do a couple turns to build the house but the wind was just so perfect for airs. I don't feel like I did anything wrong in that heat so I'm pretty stoked."
Jesse Mendes (BRA)'s impressive rail game wasn't enough to advance past Banting today.
Credit: © WSL / MasurelAfter spending two years on tour in 2015 and 2016, Banting suffered repeated injuries that kept him out of the water for the whole 2017 season and is now on his quest to join back the Top 34. Sitting 7th on the QS before Pantin, a big result tomorrow will go a long way for the Australian surfer.The Jake Marshall (USA) vs. Frederico Morais (PRT) duel was the first to stay grounded and 20 year-old Californian Marshall managed to out-power the former Championship Tour surfer to post his season-best result and take a huge leap in the rankings."There's a lot of points on offer and a lot of opportunities in Europe this year," Marshall said. "I'm super stoked to be out here competing it's super fun. Frederico is a very experienced competitor who's been on the tour and done well so I knew it was going to be tough and I just tried to play the priority right at the end there and I'm stoked it worked out."Caleb Tancred (AUS) secured the day's upset as he eliminated one of the favorites in the windy lefts of Pantin, current World No. 16 and an air specialist Deivid Silva (BRA). Matthew McGillivray (ZAF) eliminated Jack Robinson (AUS) and continues his qualifying bid in Pantin through to the Quarters as well. Morgan Cibilic (AUS) posted an equally as upsetting win over current No. 3 on the QS Alex Ribeiro (BRA).

The day's final two heats were France against Pupos as the older of two brothers Miguel Pupo (BRA) took on Charly Martin (FRA) and younger sibling Samuel Pupo (BRA)  was up against Nomme Mignot (FRA).

The first heat went Martin's way for a whole 29 minutes until Miguel Pupo pulled a full forehand rotation for a 7.40 to steal the win in the dying moments. In the final matchup of the day, Mignot put pressure on the younger Pupo with a solid 7.50 in the first few minutes and continued with a 7.93 midway through to really push the Brasilian against the ropes. Samuel Pupo was never able to climb out of the combination situation he found himself in and Mignot posted a win for Team France.

Surfers will be back at 1 p.m Saturday for the first call of Finals day, which could see the event winner crowned around later in the afternoon.

The ABANCA Galicia Classic Surf Pro count on the collaboration of Xunta de Galicia (Turismo de Galicia, Xacobeo 2021, Deporte Galego, Galicia Calidade, Secretaria Xeral de Igualdade, Conselleria de Medioambiente), Diputacion de A Coruña, Ayuntamiento de Ferrol, Ayuntamiento de Valdoviño, Sociedad Mixta de Turismo de Ferrol, Costa das Ondas y Federación Galega de Surf; así como las firmas ABANCA, ESTRELLA GALICIA, CABREIROA, HOSPITAL QUIRON, INTERMAX, VOLKSWAGEN YAÑEZ, TAGHEUER, JOYERIA JAEL, SIROKO,GADIS, GAM, ITG Y VAZVA.

The ABANCA Galicia Classic Surf Pro is scheduled from September 1-7, 2019 at playa de Pantin, Galicia / Spain. For all results, photos, video highlights and press releases, log on to worldsurfleague.com.