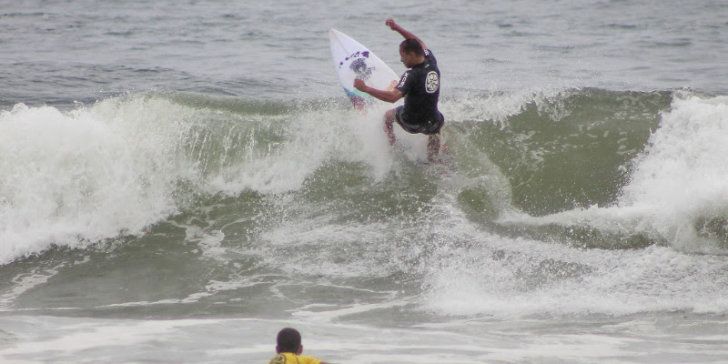 August 10, 2017 – Hilo, Hawaii – The Big Island Keiki were the true winners at the 14th annual Honoli'i Paka Honua Surfing Classic, presented by Basic Image and Hawaiian Island Creations. Held Saturday, July 29th at Honoli'i Beach Park, this free annual event is a highlight for local keiki and their families, providing a fun-filled day of surfing, community, and aloha.

Keiki 15 and under came from around the Big Island to battle it out on a cold and rainy day at Hilo's most popular surf spot, Honoli'i Beach Park. They displayed true sportsmanship and aloha for each other in and out of the water. Over 70 individuals competed in three age divisions for both boys and girls, plus an expression session that included all contestants.
The winners of each division were awarded hand-made trophies and prizes, and every keiki who entered walked away stoked with goodie bags from multiple sponsors.

The event is organized by Keith "Braddah Skibs" Nehls, along with the support of Basic Images Inc and Hawaiian Island Creations.  A special "mahalo" to these brands for providing prizes for all division finalists:  Billabong, Bubble Gum Wax, Creatures Of Leisure, Crush & Creed Sunglasses, Dakine, Globe Skateboards, Go Pole, GoPro Hero 5, HIC Bodyboards, Hubbard Bodyboards and Fins, Hurley, Kicks Fins, Little Hands Organic Facesticks , MS Bodyboards, O.A.M., Rip Curl, Sp Gadget, Skate One, Triad Bodyboards and Volcom.
Girls (8 & Under)
1 Shavanie Urubio
2 Sophia Hunt
3 Noah Munoz Luz
4 Hi'ilei Kuamoo-Mendiola
5 Malia Werner

Girls (9 – 11)
1-­‐Sophi Carlucci
2-­‐Lily Oblero
3-­‐Kaolino Glendon

Girls (12 – 15)
1 Malaika Bishaw
2 Rumor Butts
3 Starsea Kahikina
4 Maka Patnaude

Expression Session
1-­‐Nakoa Kuamoo-­‐Mendiola
2-­‐Solomon Ortiz
3-­‐Shayden Delacruz-­‐Pacarro
4-­‐Diesel Butts
5-­‐Makana Edens
6-­‐Kelvin "Slugga" Kahikina
Boys (8 & Under)
1 Kalei Rivas
2 Max Germond
3 Cruz Lemes
4 Zal Costa
5 Jonah Bento
6 Kona Costa

Boys (9 – 11)
1-­‐Makoa Au Hoon
2-­‐Ocean Butts
3-­‐Evan Delany
4-­‐Milo Rossman
5-­‐Payton Pacarro
6-­‐Shawn Urubio

Boys (12 – 15)
1-­‐Kane Turalde
2-­‐Hunter Chun Fat
3-­‐Honu Longley
4-­‐Kupono Edens
5-­‐Kauahane Masaoka
6-­‐Braddah Arraujo
About HIC – Hawaiian Island Creations:
Since 1971 HIC has been providing Hawaii's best selection of quality surfboards, skateboards, clothing and accessories. Locally owned and operated, the HIC retail chain includes seven stores on Oahu, three on Maui, four on Hawaii Island, and two in Japan. Through a commitment to quality, service and aloha spirit, the brand has built a reputation as an icon of Hawaiian surfing recognized throughout the world. Enjoy the ride!