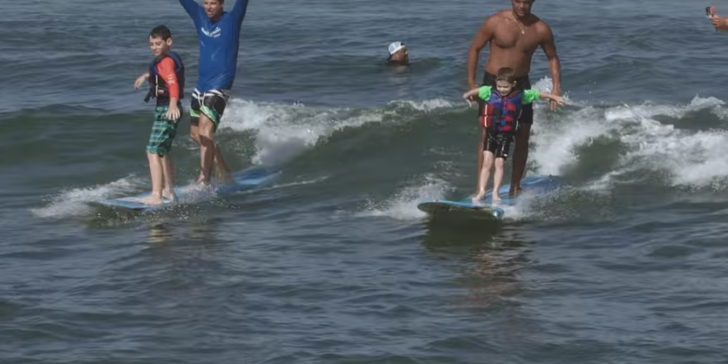 Yes, Surfing is 'mo bettah' for stoke than the hospital fighting Cystic Fibrosis
"You know, skies the limit" Kala Alexander
Salt water literally helps the kids breathe easier by mimicking treatments they get in clinics. And a smiles and soaring spirit doesn't either…SNN.
 Surf News Network, 25 January, 2017 – 'Reef We Heart' recently teamed up Mauli Ola Foundation on Oahu, Hawaii. The Mauli Ola Foundation introduces surfing to kids as a natural therapy for genetic disorders like Cystic Fibrosis.
The salt water in the ocean helps the kids breathe easier by mimicking the treatments they receive in the clinics. Since 2007, when Mauli Ola Foundation was founded they have taught 4,000 kids with cystic fibrosis to surf.
Reef Ambassadors, Taylor Knox and Mikala Jones along with a host of legendary North Shore pros came out to volunteer and give these kids a day they won't soon forget. Reef We Heart is proud to make a contribution to Mauli Ola Foundation in support this event.
"It's been a real eye opener to be involved with a brand that's bringing awareness to kids that are dealing with challenges in their life. To be able to get out there in the ocean with them to experience and share that with them is amazing. I almost feel like I should thank them for letting me be a part of their life." – REEF Ambassador, Taylor Knox
We Heart is designed to help those in need where REEF and its global Ambassadors travel and surf, from our own coastal communities to those in the developing world. Join #ReefWeHeart and inspire communities all over the world that share in REEF's vision.