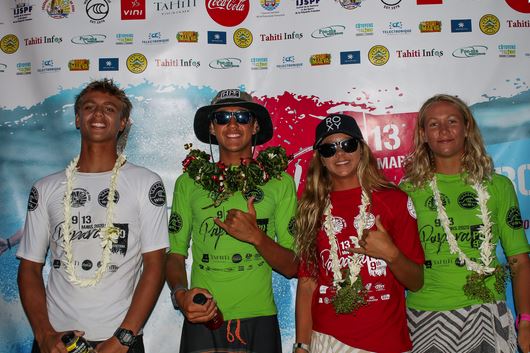 Tahiti's Kauli Vaast Earns Runner-Up Alongside Maui's Nora Liotta
Tetahio, Crawford, Silva and Stone Finish with Respective Final Appearances
Pictured Front page: A massive day unfolded at the Papara Pro Junior Tahiti with Jackson Bunch (HAW) (center left) and Bettylou Sakura Johnson (HAW) (center right) took down their first-ever WSL wins.
Credit: © WSL / Andrew Nichols
PAPARA, Tahiti/French Polynesia (Monday, March 9, 2020) – Bettylou Sakura Johnson (HAW) and Jackson Bunch (HAW) claimed the World Surf League (WSL) Papara Pro Junior Tahiti, regional stop No. 2 for men and women Pro Juniors in Hawaii/Tahiti Nui, in two foot, occasional three, clean conditions. A marathon display of competition ensued as competitors scorched their way through finals day which tested their endurance and will to succeed. But in the end Oahu, Hawaii's, Johnson and Maui, Hawaii's, Bunch emerged victorious over a heavily-contested event field that featured some of the region's premiere talents from the Pacific and South Pacific Islands.
Pictured: Johnson's decimating forehand continually paved the way to her first-ever WSL win.
Credit: © WSL / Christophe Abraham
A critical Final unfolded between the region's standouts with Johnson, 2019 event runner-up Savanna Stone (HAW), Luana Silva (HAW) and Nora Liotta (HAW), who earned fourth, third and second place, respectively. Conditions slowed down as the Final got underway, testing competitors' patience and wave selection with Liotta finding the edge toward the dying minutes over the in-form Johnson. A close battle between Liotta and Johnson continued until the final horn as Johnson found a gem in the final two-minutes, needing just a 5.43 (out of a possible 10), and garnered one of the heat's top scores – a 6.30 – to catapult from third to first place.
This marked back-to-back Final appearances for the 14-year-old after her Sunset Pro Junior fourth-place finish and Johnson now jumps to first on the Hawaii/Tahiti Nui Pro Junior rankings.
"When that horn sounded I just thought 'I can't believe it', I did it and I'm just so excited," said Johnson. "It's super fun to come here for the first time it was just amazing. I just tried to get my waves in and finish strong but all three of them are really good surfers and to be in the lineup with them is a pleasure. This wave is so rippable and you can do so many maneuvers. This will help my confidence so much and I'm just going to try and keep going."
Pictured: Bunch finding the rights and making them count when they mattered. Credit: © WSL / Abraham 
A back and forth battle ensued within the men's Final as well, with Bunch and Tahiti's own Kauli Vaast, two-time defending event winner, trading exchanges toward the midway point of the heat. Vaast's compatriot Teiva Tetahio, along with Shion Crawford (HAW), both showcased their respective forehand and backhand attacks on the running righthanders of Papara's beach break. But Bunch's 7.17 at the 15-minute mark helped get the edge over Vaast who held a heat-best 7.50 but lacked a backup score of significance and ultimately took the event title back to Hawaii.
"I'm so psyched and knew I needed to do well in this Pro Junior for a shot at hopefully qualifying for Worlds and to do it feels great," said Bunch. "Kauli (Vaast) got me in two heats before earlier today so to get him in the last one was really good. The waves just didn't go his way in the end with it being super slow in that Final. I just kept lucking into a few really good rights but I had that one really fun left with a snap to an air and other than that I just looked for rights. I'm hoping to keep this up for the rest of the week and just keep having fun."
Pictured: Vaast nearly made an unprecedented run in Papara with three-consecutive victories within his grasp.
Credit: © WSL / Abraham
One of the most dominant juniors in this event's history, Vaast, made his third-consecutive Final at Papara and nearly secured a third-straight win. But the ocean went quiet on the Tahitian heading in to the back-half of a stout battle and he was left needing just a 5.67 after notching the Final's best single-scoring wave of a 7.50. Now Vaast, balancing school and the QS as well, looks to keep his momentum going after earning an equal ninth at the Surfest Newcastle Pro QS 5,000 and bring home a Papara Pro Open Tahiti victory after a runner-up last season.
"I was good, I felt good all the heats I made with good scores, my goal was to win again for the third time," said Vaast. "Right in the Final heat, Jackson got two good waves in the beginning and I was waiting for a good one. I got the best score of the heat and I was waiting for another score and nothing came for like fifteen minutes, so I lost. But second is a good place too and now I'll go to school tomorrow since the QS is likely off but I'm just here for the week before heading to Barbados for that event as well."
Pictured: Liotta figured out the lineup within one of her heats and didn't turn back with a charge to the Final.
Credit: © WSL / Abraham
This marks Liotta's best-career result as she makes her way though the Pro Junior ranks after a massive day of competition finished runner-up. One of Maui's upcoming talents started her campaign off with a big Quarterfinal win that helped set the pace for her day, thriving in clutch moments to earn an advancing position in the Semifinals before nearly getting the glory of her first WSL victory.
"I'm super excited. It's amazing, I'm so happy to make it through," said Liotta. "There are so many good girls in this contest and I'm really stoked to finish how I did. I have so much more confidence going into the QS now that I got a good result here and I know the wave a little better now. All the girls rip so hard and I"m really happy to share a Final with them."
Event organizers will reconvene at 7:00am TAHT to determine a possible start to the women's Papara Pro Open Tahiti QS 1,000.
The Papara Pro Open Tahiti will run from March 9 – 13 on the best days of the event window in Papara, Tahiti.
Papara Pro Junior Tahiti Women's Final Results:
1 –  Bettylou Sakura Johnson (HAW) 12.57         1,000 points
2 –  Nora Liotta (HAW) 11.70                                  750 points
3 –  Luana Silva (HAW) 10.86                                 560 points
4 –  Savanna Stone (HAW) 10.37                           525 points
Papara Pro Junior Tahiti Men's Final Results:
1 –  Jackson Bunch (HAW) 13.17             1,000 points
2 –  Kauli Vaast (FRA) 11.93                        750 points
3 –  Teiva Tetahio (PYF) 11.26                     560 points
4 –  Shion Crawford (HAW) 10.83                525 points
Papara Pro Junior Tahiti Women's Semifinal Results:
SF 1: Bettylou Sakura Johnson (HAW) 14.10, Savanna Stone (HAW) 12.63, Angelina Ross (HAW) 9.20, Mathilde Monbrison (PYF) 8.00
SF 2: Luana Silva (HAW) 13.73, Nora Liotta (HAW) 11.50, Leila Riccobuano (HAW) 10.70, Erin Brooks (HAW) 9.90
Papara Pro Junior Tahiti Men's Semifinal Results:
SF 1: Shion Crawford (HAW) 13.16, Teiva Tetahio (PYF) 11.27, Brock McTigue (HAW) 10.80, Levi Young (HAW) 7.50
SF 2: Kauli Vaast (FRA) 14.20, Jackson Bunch (HAW) 13.07, Eli Hanneman (HAW) 12.73, Sage Tutterow (HAW) 10.97
Papara Pro Junior Tahiti Women's Quarterfinal Results:
QF 1: Savanna Stone (HAW) 15.34, Mathilde Monbrison (PYF) 9.00, Stella Valdez (USA) 8.70, Haylee Boverman (HAW) 7.10
QF 2: Bettylou Sakura Johnson (HAW) 12.66, Angelina Yossa (HAW) 8.40, Pua Desoto (HAW) 7.17, Kohai Fierro (PYF) 4.10
About the WSL 
The World Surf League (WSL), established in 1976, is the enablement platform for surfing and surfers worldwide. The WSL is dedicated to changing the world through the inspirational power of surfing by creating authentic events, experiences, and storytelling to inspire a growing, global community to live with purpose, originality, and stoke.
The WSL is a global organization, headquartered in Santa Monica and with regional offices in North America, Latin America, Asia Pacific, and EMEA. The WSL possesses a deep appreciation for the sport's rich heritage while promoting progression, innovation, and performance at the highest levels.
The WSL is comprised of Tours & Events, celebrating the world's best surfers across all disciplines and annually running more than 180 global contests and crowning the undisputed World Champions across all divisions; WSL WaveCo, where innovation meets experience; and WSL Studios, which offers best in class storytelling across competition, lifestyle, and conservation.
For more information, please visit WorldSurfLeague.com
About the Tahitian Surfing Federation (Federation Tahitienne de Surf)
The association called the Tahitian Surfing Federation is located at Taharu'u Beach PK 39 Papara, Tahiti, French Polynesia and aims to organize, control and develop the practice of surfing and all associated disciplines including bodyboard, longboard, kneeboard, bodysurf, skimboard, paddleboard, stand-up paddleboard, and tow-in surfing.
The Tahitian Surfing Federation coordinates the activities of affiliated associations practicing the above-mentioned activities functioning in French Polynesia and, when appropriate, of Polynesians abroad. The organization establishes the rules of conduct as defined by the Olympic Committee of French Polynesia, elaborates the rules and pedagogic content pertaining to the teaching of surfing, and maintains all useful relationships with all Federations and all French and foreign agencies and public authorities.