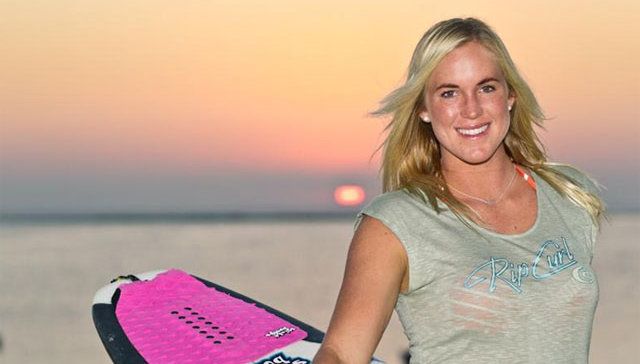 Bethany Hamilton © Sticky Bumps
Tom Curren, Greg Long, Dane Reynolds and Eddie Aikau round out the Surf Snowdonia list.
Surfersvillage 
17 June, 2017 – Let's go back In honor of International Surfing Day Saturday, June 17 (also the summer solstice 21st) and read how SV "tracked down blogger Jade Crerand to post her Top 5 Badass Surfers. While everyone has a different takeaway on what qualifies as "badass", Jade's reasoning is that those who have gained cult status and tend to break with convention qualify as being "badass." To this end, she's narrowed down an extensive list by focusing on those in our tribe who are inspirational".
These surfers stand out so much by breaking with convention or following their own path one way or another, they are afforded legendary status. Read on to see how five of the most badass names in the sport have made their mark…
Bethany Hamilton
Bethany's arm was bitten off in a shark attack when she was just 13 years old. Incredibly, she took back to the ocean to continue surfing again a month later and soon after that, she'd won her first national title. She continued to surf while pregnant, ignoring the criticism to continue her life as she always lived it. There have been two films made about Bethany, and her autobiography Body and Soul topped the New York Times Bestseller list. She also founded her own charity Friends of Bethany, providing care and guidance for other shark attack survivors and amputees.
Badassometer Rating: 95%
Tom Curren
Tom has won the world championships three times and is known as one of the true geniuses of the sport, leading the 80s surfing revolution of professionals who turned surfers into verified athletes. He once rode a wave for 1200 feet and had to walk his way back to the main break. Tom was also known as an anti-establishment rebel who would show his disdain for the corporate side of his vocation by passing up prize money, purposely doing nothing to score a single point at certain contests and standing up photographers. He also had a secret music career as a respected recording artist for several years, which he finally revealed when he retired in his early 30s.
Badassometer Rating: 80%
Eddie Aikau
Hawaiian Eddie was a prize-wining surfer and lifeguard who often tackled huge waves over 30 feet high, ultimately saving a total of over 500 people while on duty. In all the time he looked after Waimea Bay, not a single surfer died. In the Eighties, the 'Eddie Would Go' motto became a huge seller in reference to his willingness to catch the biggest waves out there and they covered merchandise everywhere. Unfortunately, Eddie was lost at sea and never seen again aged 31 after attempting to swim for help when his crew's canoe capsized while on a 30-day island voyage. 'The Eddie' Big Wave Invitational tournament sees the most respected big wave surfers on earth competing, but only when swells measure over 20 feet in true Eddie fashion.
Badassometer Rating: 90%

Dane Reynolds
Dane grew up surfing from the age of 10, developing a progressive style which has had a huge influence on the sport. His infamous 'go for broke' trademark saw him found a style which was both experimental and acrobatic – though this has resulted in numerous injuries over his career. Dane is another rebel who doesn't like to be restricted by the constraints of contest however, and tends to frustrate his fans by occasionally quitting competitive surfing for a while when he gets bored to enjoy the excitement of free surfing. He is nevertheless viewed by many as the best free surfer in the world.
Badassometer Rating: 75%
Greg Long
The most decorated big-wave surfer in history, Greg has taken every tournament trophy possible which is perhaps why he indulges even bigger thrills in his hobby of chasing storms around the world. He was even nominated for National Geographic's Adventurer of the Year. However, Greg's adrenaline-seeking almost saw him drowning 100 miles offshore in 2012 while freesurfing…before competing again later that week. In 2008, he shared out his prize winnings from the Maverick's contest with the five other finalists. Greg was also the first big-wave surfer to secure a sponsorship, thus helping taking the discipline mainstream.
Badassometer Rating: 90%
Special Mention: Doc Paskowitz
'Surfing Guru' Doc Paskowitz was a former doctor who quit the profession to pursue his love of surfing full time and take his family on the road. His wife and nine children lived in a camper van and travelled around living a bohemian lifestyle centred around surfing. They were known as the First Family of Surfing. Humanitarian Doc also founded the Surfing for Peace movement, sending surfboards to Gaza in an attempt to help bring about peace in the region – he is widely credited as introducing the sport Israel. He was a health guru too and wrote the book Surfing and Health. One of his most memorable quotes was "It's easier to die when you have lived, than it is to die when you haven't. So I say to all young people go make memories; beautiful memories. Because when the time comes to go, you won't go alone."