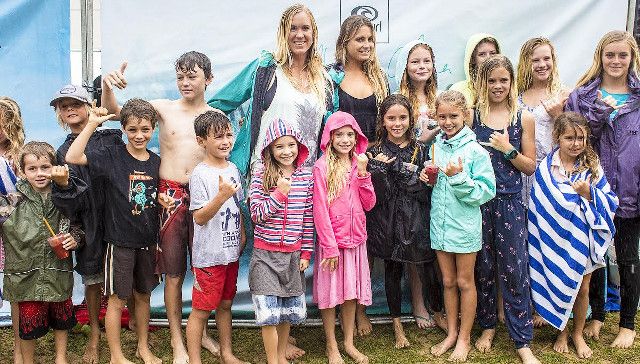 Hanalei, Kauai, Hawaii
17 April, 2016
The surf contest  creates a fun environment for the kids to compete and hone their skills
Surf News Network, 21 April, 2016 – The Bethany and Alana Keiki Classic took place this past Sunday, April 17th at their home break of Pine Trees, Hanalei, Kauai. The surf contest brought out the local community for an exciting day of surfing, beach games and the opportunity to interact with Bethany and Alana.
It was a rainy day at Pine Tree's with gusty winds and challenging conditions. Unfortunately, due to the conditions the 10 and under boys and girls were not able to surf; instead the kids participated in competitive beach games. The boys 11-14 surfed two heats and a final and the girls 11-14 surfed one heat and a final.
The competitors were judged on their best wave of the heat to advance to the finals. The goal of the surf contest was to create a relaxed, fun environment for the kids to practice their skills and compete against their friends and peers.
Bethany's husband Adam ran beach games for the kids in-between heats; both Bethany and Alana joined in on the fun.  "I love this event because even though Alana's traveling and I'm traveling we're able to come and get to know the new generation of surfers. We're able to hang out, have fun and play beach games!" says Hamilton.
"Pine Tree's is a very special place for me and Bethany. We want to make this a fun place for kids to come and experience a contest that's not so competitive and really fun." says Blanchard. "I feel really special that kids want to compete in our event and continue to support us."
Bethany received some great submissions for her essay contest. Competitors were asked to submit an essay describing how drugs and alcohol abuse take you away from your passions and dreams. Bethany was only able to choose two winners, who received Rip Curl Maui Mini watches, but was extremely impressed with all of the entries.
Rip Curl and GoPro teamed up to run a photo of the day contest via Instagram, and Alana chose the winner of the day, who was awarded with a GoPro!  Check out all the Instagram posts from the event through #RipCurlKeikiMoment.
A special thank you to Hanalei Surf, Bethany and Alana for helping put on such a great community event!  Also, thank you to all of the companies who contributed prizing to stoke all the kids out – Rip Curl, GoPro, FlexFit, Sticky Bumps, Cobian, SPY, Futures Fins, SMS Audio, Crush, Jamba Juice and Ormco.
Results of The Bethany and Alana Keiki Classic:
Girls 14/Under:
1st: Keala Tomodo Bannert
2nd: Gabriela Bryan
3rd: Angelina Yossa
4th: Syndey Maczka
5th: Anya Shockley
6th: Kahealani Papke
Boys 14/Under:
1st: Sage Tutterow
2nd: Cole Frye
3rd: Sammy Gray
4th: Keliko Pa
5th: Kainehe Hunt
6th: Tahaki Papke