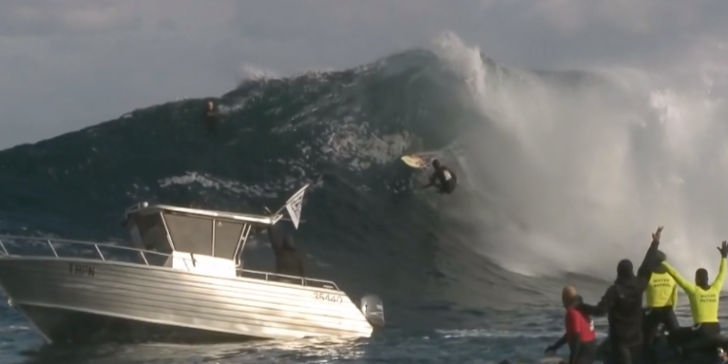 Framegrab 'set up' of this Iconic Slab.
Watch your back out here…
I'll go first…
Red Bull Cape Fear, an invitation-only and first ever surf event to be held at Tasmania's Shipstern Bluff, has been won by visiting Hawaiian invitee, Nathan Florence (Oahu, HAW).
Florence defeated a host of Aussies, including big wave expert Laurie Towner, Justen "Jughead" Allport and local Tasmanian standouts James Hollmer-Cross and Mikey Brennan, to take victory in the one-day event that pits free-surfing specialists against each other at revered and dangerous surf spots.
Incredibly, the Red Bull Cape Fear victory is the first-ever notable competition win for Florence, who calls Hawaii's North Shore home, where he lives with his famous surfing siblings John John (two-time WSL Men's World Champion) and Ivan. The trio is renowned for their big wave exploits and today it was Nathan's turn in the spotlight.
Florence (USA) looked good from the get-go, comfortably winning his opening heat to garner a spot in the final, despite never previously having surfed Shipstern Bluff. He then started the one-hour final in superb fashion, securing an excellent 9.33 ride (out of a possible perfect 10) in the opening minutes. The 24-year-old Hawaiian paddled into and successfully negotiated a double-overhead barrel and Shipstern's notorious 'step' – a feature that sends most surfers airborne and a factor that makes the wave so daunting and unpredictable. Florence's excellent rhythm continued; he soon backed up his quality start with a series of great barrel rides. His second highest scoring ride netted him 5.83pts from the judges, and Florence's eventual two-wave combined total of 15.16pts was more than enough to win him the coveted Red Bull Cape Fear 2019 champion's trophy.