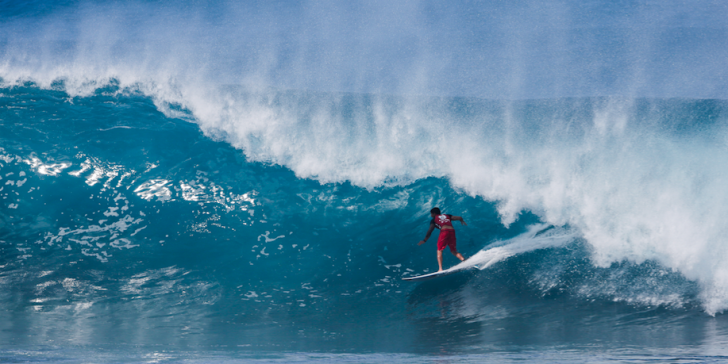 The King is still the King. An Amazing day in one of the most consistently excellent days of the Banzai ever. Congrads also to Bruce Irons winning the Todd Chesser Award. Makai McNamara (20) for his Warrior status. To JOB in 2nd and Bruce Irons in 4th. Full story coming.
Surfs firing 6-10′ spitting lefts and smooth offshores with clouds. Reinforced today up to 15′. They got it done in the nick of time. SNN.
MONDAY:"BEST WAVES OF THE WINTER" FOR THE VOLCOM PIPE PRO DAY 2 STORY.
DAY2 VIDEO HI LITES AT BOTTOM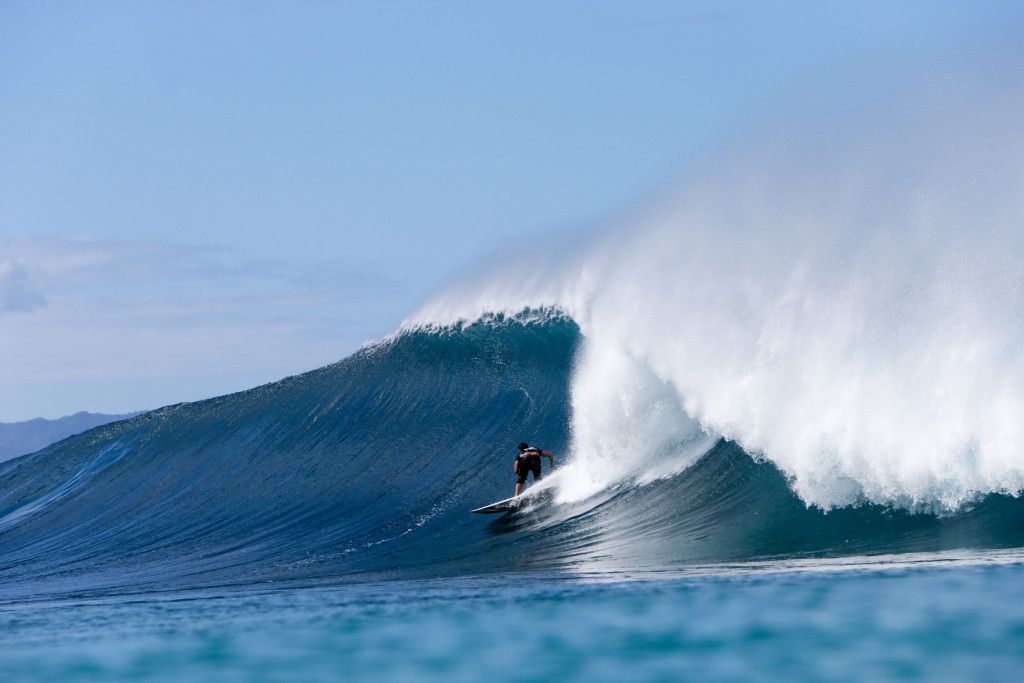 Bruce Irons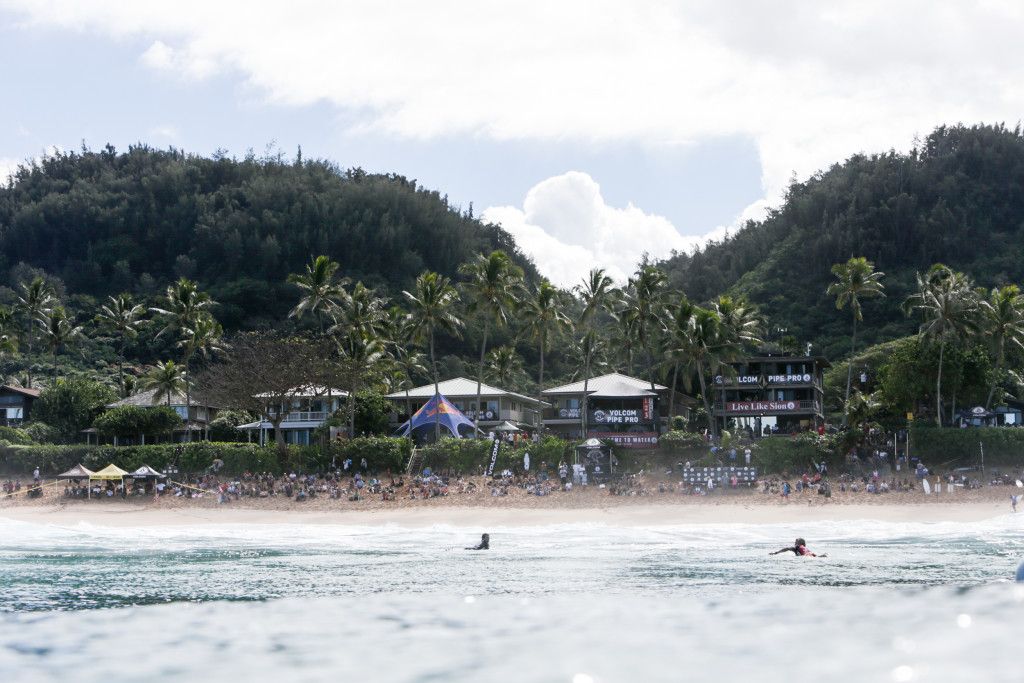 volcom pipe pro day 2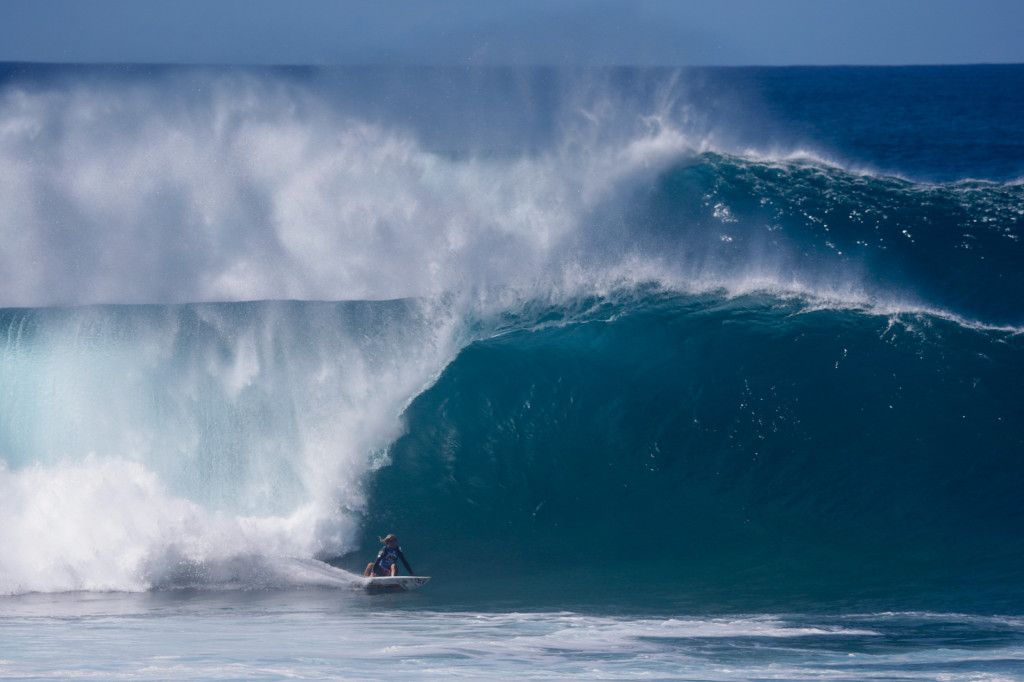 Gavin Beschen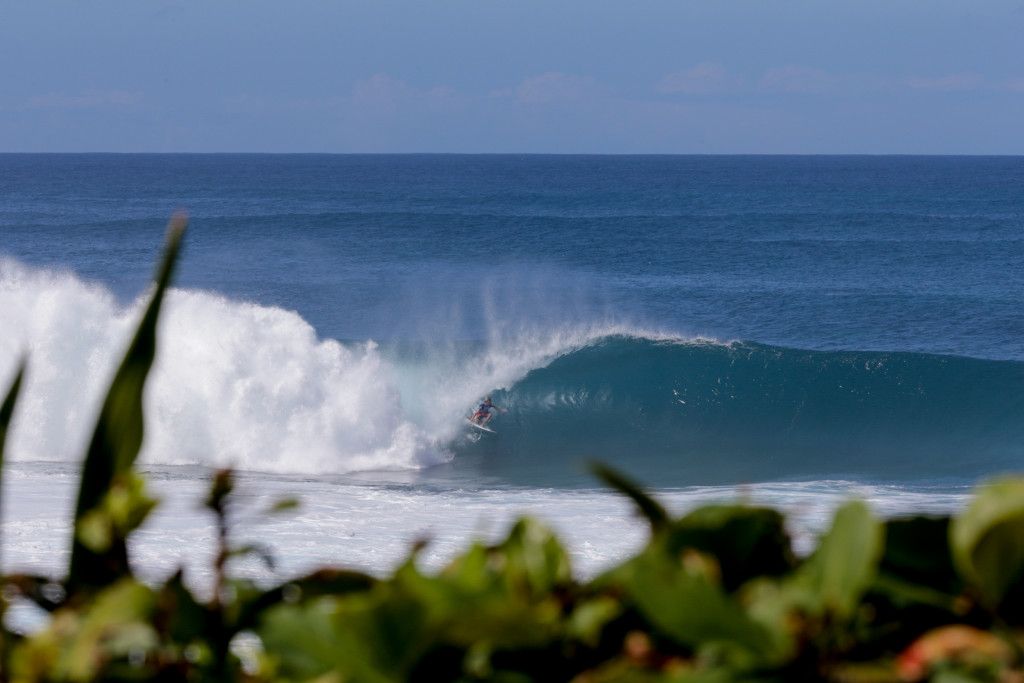 Jack Robinson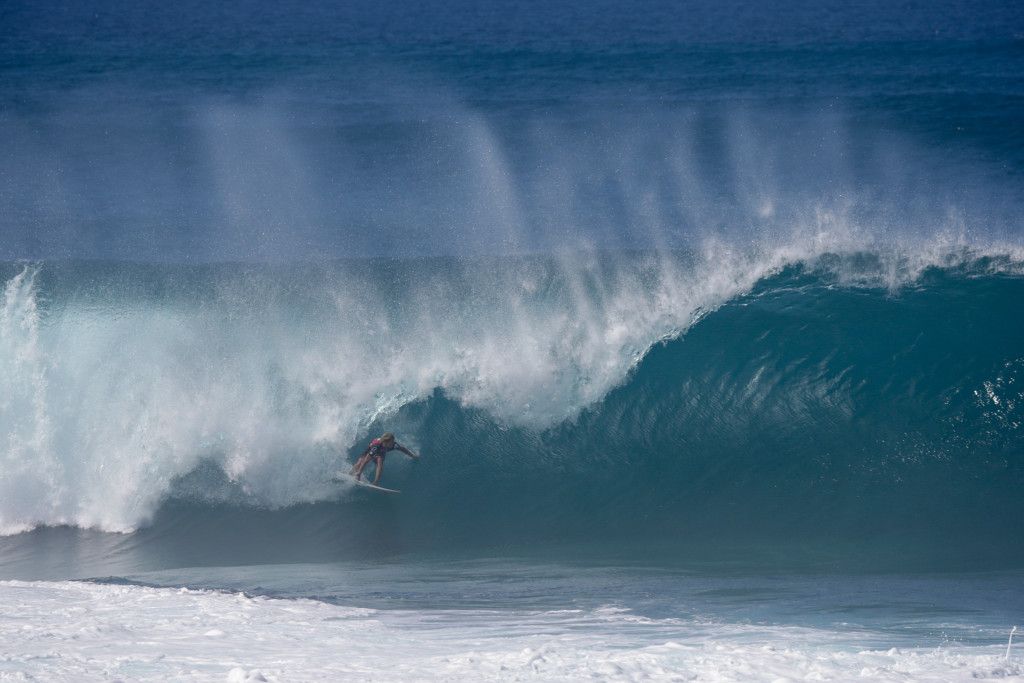 JJF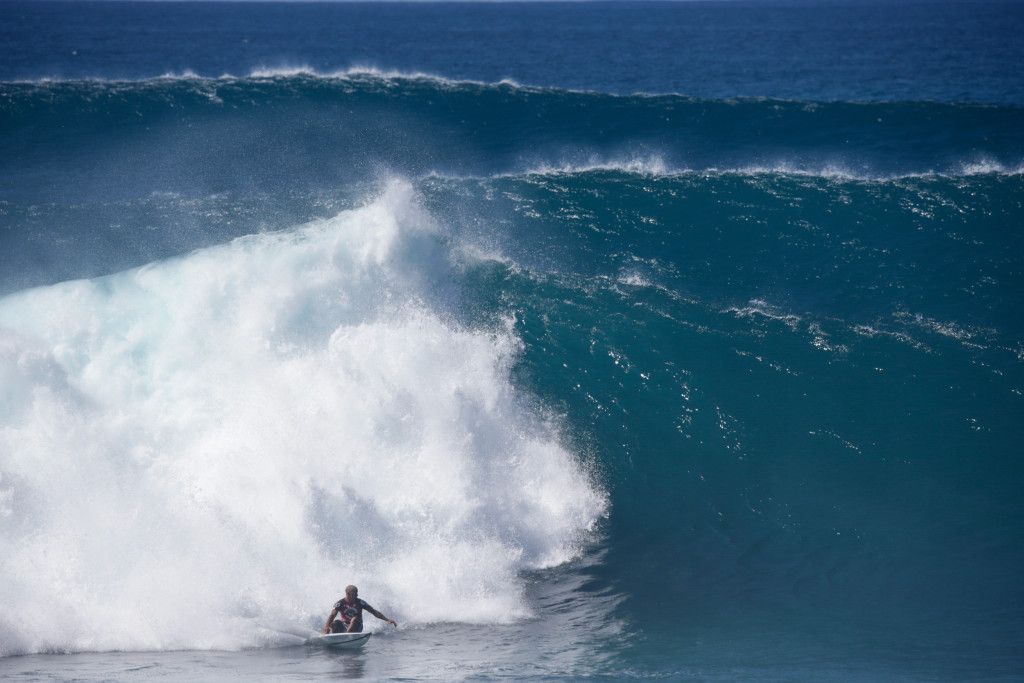 Kelly Slater

Pipeline perfection

Olomana Eleogram
Zeke Lau (HAW) scored a perfect 10-point ride, which catapulted him into the next round and one step closer to the Volcom Pipe Pro title. Photos WSL/Freesurf/Heff
| | |
| --- | --- |
| Event / Location:   | Volcom Pipe Pro, Banzai Pipeline, North Shore, Oahu |
| Dates: | January 28 – February 7, 2016 |
Rating:                            WSL Men's QS3,000

Lau scores perfect 10, Irons, Slater, Florence advanceBanzai Pipeline, North Shore, Oahu, HAWAII – (Monday, February 1, 2016) –The best waves of the winter graced Pipeline for the Volcom Pipe Pro today, a World Surf League (WSL) Qualifying Series (QS) 3,000 rated event with a $100,000 prize purse, up to 3,000 valuable ratings points on offer and qualification into December's Pipe Invitational.North Shore favorite and defending event champion John John Florence (HAW) posted the highest heat total of the day, a near perfect 18.84 for two cavernous Pipe waves. The 23-year-old competed against fellow Hawaii surfer Eala Stewart, New York's Balaram Stack and Italy's Leonardo Fioravanti."It was a really fun heat, I've been excited to watch it all day," said Florence." It's been slowly picking up since this morning, conditions are incredible. The whole day I was just like, 'please stay the same, please stay the same.' Still light offshores, big, beautiful sunny barrels."Kelly Slater (USA) had a tough heat against Chris Ward (USA), Gavin Beschen (HAW) and Yago Dora (BRA), but made it through to the fourth round in second place behind Wardo. The 11-time World Champion won the Volcom Pipe Pro in 2014 and is eager for another shot at victory in the primer conditions."This is easily the best Pipe of the year, right now, the last couple hours, it's incredible," said Slater. "There's so many waves it's hard to keep the adrenaline down and keep yourself calm. I actually got my first wave, which was a really good wave I think, but I was a little too deep and it sucked me back. When it really opened up I was kind of eating it already. And then I came up and watched Wardo get barreled on a really good one and then I got like three on the head… kind of smashed me around so I didn't start the heat so good, but I had a couple backup waves. I wouldn't consider those very good waves out there but I got the scores to make it through and I think we're going to have really good conditions in the next couple days so nice to just have that chance."Hawaiian charger Zeke Lau (HAW) nailed the only perfect 10 of the event for an epic Backdoor wave to keep the lead over Dimitri Ouvre (BLM). With a combined heat total of 16.07, Lau advanced into Round 3 along with Ouvre, while Gavin Gillette (HAW) and Ian Walsh (HAW) were left without the scores needed to progress."The ten felt great," said Lau. "I knew I was only looking for a small score so I was kind of just looking for a little corner to tuck in and of course the biggest right comes, I was like 'oh god,' but it looked like a great wave so I just figured go for it. I pretty much just held on for dear life."Jack Robinson (AUS), the teen who caused a sensation when he won the Pipe Invitational here in December, posted one of the highest heat totals of the day with a 9.00 and a 7.83. Robinson excels in conditions like these and has become a standout in big wave conditions along the North Shore.In a nail biter heat, Bruce Irons (HAW) jumped from third place to first with just forty seconds left on the clock. Sitting on the Backdoor side, Irons pulled into one of the biggest right-hand barrels of the day and navigated an exit as an explosion of cheers erupted from the beach crowd. With a 9.40 score, Irons secured the heat win and a slot into Round 4."The conditions are as good as it gets," said the Kauai surfer. "It's definitely probably one of the best days of winter. Lefts, rights, 8-10 feet offshore, what more do you want?"Contest organizers will reconvene tomorrow morning at 7am to determine if the Final day will take place. With more waves on the way, a Volcom Pipe Pro champion will likely be crowned by midday Tuesday or Wednesday.Results
Shown in order of 1st through 4th. Surfers from Hawaii unless otherwise noted.Round of 64 – 1st and 2nd advance, 3rd=33rd place, 4th=49th place
H1: Marco Giorgi (URY), Kiron Jabour, Keanu Asing, Joel Centeio
H2: Koa Smith, Brent Dorrington (AUS), Derek Peters (USA), Patrick Gudauskas (USA)
H3: Bruce Irons, Joan Duru (FRA), Mikey Bruneau, Billy Stairmand (NZL)
H4: Torrey Meister, Griffin Colapinto (USA), Conner Coffin (USA), Granger Larsen
H5: Ezekiel Lau, Dimitri Ouvre (BLM), Gavin Gillette, Ian Walsh
H6: Jack Robinson (AUS), Nathan Yeomans (USA), Hank Gaskell, Jean Da Silva (BRA)
H7: Sebastian Zietz, Takayuki Wakita, Carlos Munoz (CRI), Brian Toth
H8: Chris Ward (USA), Kelly Slater, Gavin Beschen, Yago Dora (BRA)
H9: John John Florence, Eala Stewart, Balaram Stack (USA), Leonardo Fioravanti (ITA)
H10: Ian Gouveia (BRA), Hiroto Ohhara (JPN), Hizunome Bettero (BRA), Victor Bernardo (BRA)
H11: Tom Whitaker (AUS), Soli Bailey (AUS), Yujiro Tsuji (JPN), Leandro Usuna (ARG)
H12: Nic Von Rupp (PRT), Aritz Aranburu (ESP), Kai Mana Henry, Ricardo Christie (NZL)
H13:Round of 96 – 1st and 2nd advance, 3rd=65th place, 4th=81st place
H1: Marco Giorgi (URY), Derek Peters (USA), Cahill Bell-Warren (AUS), Kai Barger
H2: Koa Smith, Kiron Jabour, Noa Mizuno, Kaito Ohashi (JPN)
H3: Mikey Bruneau, Griffin Colapinto (USA), Mitchell Parkinson (AUS), Parker Coffin
H4: Torrey Meister, Bruce Irons, Makuakai Rothman, Seth Moniz
H5: Gavin Gillette, Jean Da Silva, (BRA), Chris Foster, Ohno Masatoshi (JPN)
H6: Hank Gaskell, Dimitri Ouvre (BLM), Tim Reyes, Ian Gentil
H7: Brian Toth, Chris Ward (USA), Luel Felipe (BRA), Gavin Sutherland
H8: Yago Dora (BRA), Takayuki Wakita, Kaito Kino, Takumi Nakamura (JPN)
H9: Leonardo Fioravanti (ITA), Victor Bernardo (BRA), Benji Brand, Kona Oliveira
H10: Ian Gouveia (BRA), Eala Stewart, Dylan Lightfoot (ZAF), Takumi Yasui (JPN)
H11: Leandro Usuna (ARG), Kai Mana Henry, Joshua Moniz, Kaimana Jaquias
H12: Nic Von Rupp (PRT), Yujiro Tsuji (JPN), Imaikalani deVault, Adrien Toyon
H13: Makai McNamara, Billy Kemper, Kalani David, Koa Rothman
H14: Olamana Eleogram, Kevin Sullivan, Kalani Chapman, Alex Smith
H15: Mason Ho, Keoni Yan, Sunny Garcia, Myles Padaca
H16: Lucas Silveira (BRA), Cory Arrambide (USA), Kekoa Cazimero, Allen Schuyler