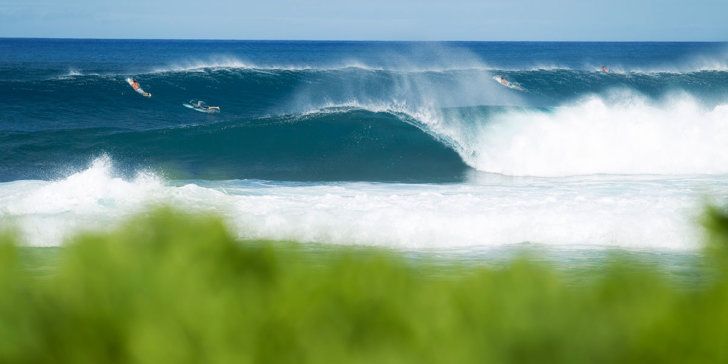 Check out this great read…a very nice article from SURFER.COM
Of course, it's a little different for us who may live nearby and know about the 'other spots' that prevail over Ali'i Beach Park's reef. But, it makes one regroup their gratitude & refocus toward how blessed we are here in Paradise. Thanks for the #1 slot. We're even more pumped for Monday's NNW. SNN Team.
Front page Photo: Ellis
"THE BEST PLACES IN THE U.S. TO EAT, SLEEP, WORK, AND SHRED"
If, as Leo Tolstoy once wrote in Anna Karenina, "All happy families are alike…," then all happy surf towns are, too. Certainly, in every happy surf town there are the same old salty surf dawgs on giant longboards who'll cut off the groms and never look back. There are the underground legends who could've gone pro, but never left. There's a robust amateur comp circuit and a local shaper who seems to make every other guy's board. There's a particular breakfast spot where every surfer in town eventually eats after a dawn patrol, hair still dripping wet, with the menus promoting various combinations of eggs all named after local surf spots, as if the "T-Street" is any better than the "Riviera." Most importantly, in all happy surf towns, every real local believes the same unanimous lie that sometimes, just sometimes, their homebreak can get as good as the best break on the entire planet.
Indeed, there are many of these surf towns all over America, but what, precisely, makes one better than the other? Wave quality? Quaintness? Seclusion? Proximity to a city with culture? Price of a "T-Street" with a side of bacon?
We've compiled this list, primarily considering quality of life and quality of surf, but also taking into account other variables such as climate, consistency and variety of waves, cost of living, culture, and availability of work. After consulting, researching, and heavy debate, we narrowed the expansive list of towns down to 10—our ranking of the 10 best American surf towns.
No. 1: Haleiwa, HI
Visions of clean, white-sand beaches, palm trees, and perfect surf usually accompany a first-time visit to Hawaii. But it's not until you reach the country, away from Honolulu—the high-rise-laden, bustling nucleus of Pacific commerce and tourism—that you truly feel the "Hawaii" of your imagination. Haleiwa, the gateway to the seven miles of wave-filled wonder that are the North Shore, blends the stereotypical idyll of island leisure and a truly local-centric feel, while also providing the backdrop for the most substantial yearly aggregation of the surf world. A surfer's heavy-wave Paradise, the North Shore (technically under Haleiwa town's postal code) has all the waves, culture and allure you've been reading about in magazines and online for over half a century now…
For the full monty of this NS WAVE, CULTURE & QUALITY OF LIFE
Average Water Temp: 76
Average Air Temp: 76
Median Income: $66,256
Median Home Price: $795,000
Most Common Industry: Skilled Trades, Accommodation and Food Services, Education
Population: 3,970
Nearest Large City: Honolulu, HI (30.7 miles, pop. 374,658)
Premier Surf Spots: Haleiwa, Pipeline, Backdoor, Sunset, Rocky Point, Off The Wall, Laniakea, and many more
READ THE ENTIRE STORY AND THE REMAINING TOP 10 HERE
Special note: Pa'ia is in there, too!