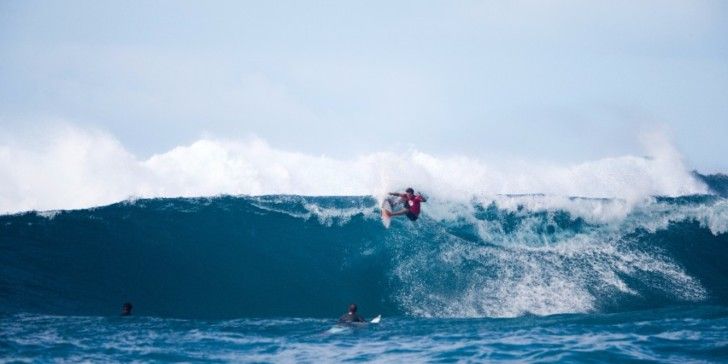 Sunset Pro Junior winner Barron Mamiya (HAW) commits to the lip. Image:WSL/Freesurf/Heff
| | |
| --- | --- |
| Location:    | Sunset Beach, North Shore, Oahu                                                   |
| Rating: | Men + Women's JQS1,000   |
| Event Window:    | January 18 – 28 |
| Today's Conditions: | 4-6+ ft. waves, WNW swell, clean offshore easterly winds |
HALEIWA, Oahu/Hawaii (Friday, January 20, 2017) — North Shore standouts Barron Mamiya (HAW) and Zoe McDougall (HAW) conquered a highly talented field of opponents in big surf today at the Sunset Pro Junior, a World Surf League (WS) Junior Qualifying Series (JQS) 1,000 rated event. This is Mamiya's debut win in a pro competition and McDougal's first in Hawaiian waves (she won the Billabong Junior Series in South Africa in 2016). The two took home 1,000 points, prize money and the glory of winning in their own backyard.
A standout at Pipeline, 16-year-old Mamiya tested his skill at big Sunset today and came out on top. He secured multiple excellent scoring rides in the event, including an 8.0 in the Quarterfinals, and an 8.50 and 8.35 in the Final. Mamiya bested a stacked final that included Finn McGill (HAW), Kauli Vaast (PYF) and Cody Young (HAW) by staying committed on his above-the-lip maneuvers and dropping in on some of the biggest waves of the heat.
"It was a super sketchy Final," said Mamiya after the awards presentation. "It was super scary because every single kid in that Final was good. But I'm stoked to win."
The 25-minute heat started off with Vaast, the highest placing Tahitian in the event, finding the first two waves for an immediate lead. But Mamiya quickly answered back with a beautiful ride that judges deemed excellent (8.5) to overtake Vaast and hold first. Sunset specialist McGill went on to drop a 5.8 for a huge slash off the top during his first ride, but with a continually shifting lineup, the surfers struggled to hold positioning.
The highest score of the Final, and Junior Pro event for that matter, went to McGill for a massive drop and multiple power turns. His 9.10 shook up the rankings, but in the dying minutes of the heat, Mamiya found his backup ride behind McGill, an 8.35 to secure the win.
"Sunset is a real love/hate relationship," continued Mamiya. "I don't usually ever do good out here, but last year I was working a lot on my technique and a lot of other things that I lacked. I kept working and working and then finally, Sunset just started… I started getting it and understanding it more. And my surfing felt a lot better on the wave and I felt way better than the years previous."
McDougall, on the other hand, has spent years honing her skills at Sunset and today's performance was an indicator of time well spent. She dominated the Final early by taking off on the first couple waves and secured the lead with a 5.75 and 0.50. McDougall looked extremely comfortable despite the powerful conditions and carved her way into some of the heaviest waves of the day.
"I'm so happy to win at my home break in good, sizeable conditions, I couldn't imagine a better day," McDougall said post heat. "It was pumping all day. For Sunset, it was pretty consistent, pretty constant waves. I feel like everyone was getting good opportunities."
The surfer started the year off with her 'golden birthday' – she turned 17 on the 17th of 2017, and felt as though the good luck helped propel her toward today's win. "I just want to carry this momentum," McDougall continued. "I started the year at Junior Worlds and got a Quarterfinal finish, and then to come home to this was great. I head off to Australia for the 6,000's next so I'm going to do everything this year."
Runner up finishers McGill and Brisa Hennessy (HAW) also joined McDougall at the World Junior Championship in Australia earlier this month, both finishing third in the world.
"I had the World Juniors in Kiama and that was my first competition [of the year], so having a second good competition means a lot and definitely gives me confidence throughout the year," said Hennessy after advancing from the Semifinals. "For 2017 I'm going to start doing the whole QS tour just to see how I go and have no expectations. I'm really looking forward to it, it should be interesting."
The Women's Final was rounded out by third place winner Summer Ivy (HAW) and Kauai's Gabriela Bryan, who placed fourth.
There are two days remaining in the Sunset Open Men's QS1,000 event and contest organizers will convene tomorrow morning to make a call on whether the competition will resume. Hitting the water first will be Heat 12 of Round Two, which features Imaikalani deVault (HAW), Noah Beschen (HAW), Facundo Carranza (ARG) and Kainehe Hunt (HAW). Day 2 will also run Heat 1-13 of Round 3, which sees top seeds Billy Kemper (HAW), Sunny Garcia (HAW) and McGill take to the big stage again.
RESULTS
Surfers shown 1st through 4th, all athletes from Hawaii unless otherwise noted.
Men's Final
1st – Barron Mamiya, 1000 points
2nd –  Finn McGill, 750 points
3rd – Kauli Vaast (PYF), 560 points
4th – Cody Young, 525 points
Women's Final
1st – Zoe McDougall, 1,000 points
2nd – Brisa Hennessy, 750 points
3rd – Summer Ivy, 560 points
4th – Gabriela Bryan, 525 points
Men's Semifinals, 1st and 2nd advance, 3rd = 5th place, 4th = 7th place
SF1: Barron Mamiya, Cody Young, Ryder Guest, Kade Matson (USA)
SF2: Kauli Vaast (PYF), Finn McGill, Wyatt McHale, Sebastian Williams (ZAF)
Women's Semifinals, 1st and 2nd advance, 3rd = 5th place, 4th = 7th place
SF1: Gabriela Bryan, Brisa Hennessy, Savanna Stone, Keala Tomoda-Bannert
SF2: Zoe McDougall, Summer Ivy, Julia Camargo (BRA), Summer Macedo
Men's Quarterfinals, 1st and 2nd advance, 3rd = 9th place, 4th = 13th place
QF1: Barron Mamiya, Cody Young, Ocean Macedo, Jake Riccobuano
QF2: Ryder Guest, Kade Matson (USA), Troy Osada, Joh Azuchi (JPN)
QF3: Finn McGill, Kaula Vaast (PYF), Logan Bediamol, Cole Alves
QF4: Sebastian Williams (ZAF), Wyatt McHale, Dylan Franzmann, Makana Pang
Women's Quarterfinals, 1st and 2nd advance, 3rd = 9th place, 4th = 13th place
QF1: Gabriela Bryan, Brisa Hennessy, Alexa Muss (USA), Sara Wakita (JPN)
QF2: Savanna Stone, Keala Tomoda-Bannert, Leila Riccobuano, Angelina Yossa
QF3: Summer Macedo, Summer Ivy, Kelta O'Rourke
QF4: Zoe McDougall, Julia Camargo (BRA), Brittany Penaroza, Luana Silva-Coelho
Men's Round of 32, 1st and 2nd advance, 3rd = 17th place, 4th = 25th place
H1: Cody Young, Ryder Guest, Marco Mignot, Luke Swanson
H2: Ocean Macedo, Troy Osada, Kyle Tester (USA), Rian Son (USA)
H3: Kade Matson (USA), Barron Mamiya, Dante Silva, Sacha Levy-Agami (PYF)
H4: Joh Azuchi (JPN), Jake Riccobuano, Kainehe Hunt, Eli Hanneman
H5: Finn McGill, Dylan Franzmann, Taro Watanabe (USA), Tony Nunez
H6: Cole Alves, Makana Pang, Kanoa Shannon, Levi Young
H7: Wyatt McHale, Kauli Vaast (PYF), Noah Beschen, Gavin Hogan
H8: Sebastian Williams, Logan Bediamol, Robert Grilho III, Daiki Matsunaga (JPN)