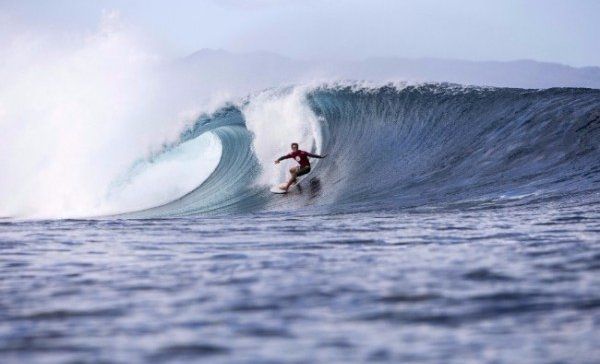 – FINN MCGILL SCORES PERFECT 10 AND THIRD PLACE FINISH
SURF DOESN'T GET MUCH BETTER. 'SPRING TIME' FUN. SUNNY, TRADES, 3-5+' WNW-NW RIGHTS & LEFTS ALL OVER THE NS. SURF TO FADE FRIDAY.SNN
Barron Mamiya at picture-perfect Pipeline during his early morning Round 1 heat.
Credit: © WSL / Freesurf / Latronic
Haleiwa, Oahu, HAWAII – (Wednesday, March 22, 2017) — In one of the most historical Pro Junior moments ever, Barron Mamiya (North Shore, HAW), 16, took out his third consecutive victory at the World Surf League (WSL) Pipe Pro Junior today in flawless, 3-5′ foot barreling surf. The event featured electrifying performances with some of the highest scoring and greatest conditions ever witnessed in a junior competition, all taking place at world-famous Pipeline on Oahu's North Shore.
"I love Pipe, I've always wanted to win here," said Mamiya in a post-Final interview. "This has to be the best win for sure." Fresh off another first-place success at the Papara Pro Junior in Tahiti – which followed his first professional victory ever at the Sunset Pro Junior in January – Mamiya is on an undeniable winning streak.

Standout junior performer of the winter season, Barron Mamiya.  Credit: © WSL / Freesurf / Keoki
"I'm stoked, I worked hard last year and I didn't really do a lot of comps, but I'd like to thank Sean (Ward), he's always down here and comes out, and Joel (Centeio)," he said of his two Hurley coaches. "I'm psyched and all my boards have been good and I'm stoked.
"Last year I knew I could surf Pipe but I didn't know if I could surf small waves. After my edit a lot of people were telling me, 'oh he can only surf big waves, he can only get barreled,' so I think just working super hard and trying different boards, getting used to other waves has been a big help."

L to R: Cody Young (4th), Finn McGill (3rd), Barron Mamiya (1st) and Eli Hanneman (2nd). Credit: © WSL / Freesurf / Keoki
Today's win all but locks Mamiya's commanding lead on the regional junior ranking and secures him a place in the 2017 World Junior Championship. With one final junior event left in the WSL Hawaii/Tahiti Nui region, the Turtle Bay Resort Pro Junior in October, Mamiya has cemented his spot at the top.
"Next year it's going to be head down for the QS for sure," said Mamiya. He graduates early this year as a junior from high school and will be 100 percent focused on the Qualifying Series in 2018, ultimately to compete against the world's best on the Championship Tour. "I want to get points, I want to qualify."

McGill on a steep take off. Credit: © WSL / Freesurf / Latronic
Near-perfect 9-point rides were dropping left and right throughout the day, but the most impressive scores came from third place finisher Finn McGill (North Shore, HAW), 16, who nailed a perfect 10 in the Final, plus a 9.60 and 9.35 in the second Semifinal for the highest heat total of the event, an 18.95 out of a possible 20. Young gun Eli Hanneman (Lahaina, HAW), 14, had an impressive Runner Up finish while Cody Young (Makawao, HAW), 18, nabbed a respectable fourth place.

Young stands tall in the Final. Credit: © WSL / Freesurf / Keoki
It was Maui against Oahu in the 30-minute Final with Mamiya and McGill representing the North Shore and Hanneman and Young hailing from the Valley Isle. Hanneman, the youngest finalist, set the bar with a 7.75 after a steep drop, barrel and blast out of a left-handed ride. Whales played along the outer reef as competitors and spectators awaited another set on the horizon and it wasn't long before competition fired back up and Mamiya and McGill split a peak. McGill went right on a long freight train for a perfect 10 from the judges, and Mamiya left for an 8.35. Young took off on the second wave of the set, stalled, drove down the line and was spat out of the barrel for a notable 9.50.
Midway through the heat, Hanneman got a water patrol ride to shore for an equipment change, but was back out within minutes and chipping away with in-and-out barrels at Pipe.

Hanneman dwarfed by Pipe. Credit: © WSL / Freesurf / Keoki
With five minutes left on the clock and anticipation rising, Mamiya snuck a Backdoor barrel under priority for a 7.90 and the win, as competitors were left without the backup waves needed to overtake his lead.
The second highest single wave score of the day, a textbook 9.90, went to 15-year-old Wyatt McHale (HAW) for a cavernous Backdoor barrel.
"I had first priority when the wave was coming in and I was almost going to go left and I just saw the line on the right so I just went for it," said McHale, who finished with an equal 7th. "Once I made the drop I kind of just pulled up and it was a perfect wave. So stoked."

McHale finds cover on a Backdoor behemoth. Credit: © WSL / Freesurf / Heff
Contest organizers will reconvene tomorrow morning to make a call for the Wahine Pipe Pro at 7am local time. First to hit the water for the women will be defending event winner Mahina Maeda (HAW), Leila Riccobuano (HAW), Julie Nishimoto (HAW) and Kyana Rowland (HAW). The holding period continues until April 3, but with a good forecast for the rest of the week, back-to-back competition days look likely. The forecast calls for 5-8ft. surf and an easing WNW-NW swell with moderate easterly trades tomorrow. Please visit WorldSurfLeague.com for more information.
PIPE PRO JUNIOR RESULTS
Surfers listed 1st through 4th, all athletes from Hawaii unless otherwise noted.
1st – Barron Mamiya, 16.25
2nd – Eli Hanneman, 14.00
3rd – Finn McGill, 11.65
4th – Cody Young, 10.90
Semifinal, 1st and 2nd advance, 3rd = 5th place, 4th = 7th place
SF1: Barron Mamiya, Cody Young, Ocean Macedo, Wyatt McHale
SF2: Finn McGill, Eli Hanneman, Harry Longley, Sammy Gray
Quarterfinals, 1st and 2nd advance, 3rd = 9th place, 4th = 13th place
QF1: Cody Young, Ocean Macedo, Kalani Rivero, Noah Beschen
QF2: Wyatt McHale, Barron Mamiya, Cole Alves, Luke Swanson
QF3: Sammy Gray, Harry Longley, MaiKai Burdine, Ryder Guest
QF4: Finn McGill, Eli Hanneman, Dylan Franzmann, Robert Grilho
Round 1, 1st and 2nd advance, 3rd = 17th place, 4th = 25th place
H1: Cody Young, Luke Swanson, Kyle Tester (USA), Conor Kennedy
H2: Ocean Macedo, Cole Alves, Dwight Pastrana (PRI), Italo Mesinas (USA)
H3: Wyatt McHale, Jake Riccobuano, Kanoa Shannon, Sage Tutterow
H4: Barron Mamiya, Kalani Rivero, Jackson Bunch, Cole Frye
H5: Ryder Guest, Finn McGill, Tyty Kirby, Wolf Wertheimer
H6: Sammy Gray, Eli Hanneman, Dante Silva, Sacha Levy-Agami (PYF)
H7: Robert Grilho, Maikai Burdine, Makana Pang, Brodi Sale
H8: Dylan Franzmann, Harry Longley, Logan Bediamol, Troy Osada