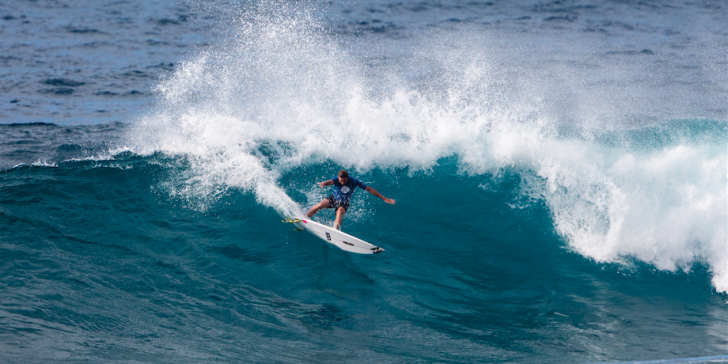 Sunset Beach lines up for early start to the Sunset Pro Junior
Photo: Riley Laing © WSL/Freesurf/Heff
WSL QS Men's Event
WSL Men's and Women's JP1000 Event
Sunset Beach, Oahu Hawaii
17 – 27 January 2016
Surf News Network, 19 January, 2016. Sunset Beach, Oahu – Australia's Riley Laing, 17, and Hawaii's Brisa Hennessey, 16, claimed victory at the Sunset Pro Junior today in solid 6-8-foot waves against a stacked field of teenage competitors. In spite of their age, neither showed any reservations at this infamous big wave break that served up plenty of double-overhead power today.
The Sunset Pro Junior is being held in conjunction with the Sunset Pro – a Men's QS1,000 – this week with no shortage of serious swell still on the horizon.
Laing was the only Australian surfer of the competition, and took the win in a tight final against San Clemente's Griffin Colapinto (USA), who held the lead for majority of the heat. Laing caught a wave in the dying minutes and managed two turns and a floater for a 6.8 and the win. The 25-minute final saw Oahu's Christopher Bluthardt (HAW) and Noa Mizuno (HAW) place third and fourth respectively behind Colapinto.
Hailing from New South Wales, Laing has been heralded as the youngest surfer to tackle Shipsterns Bluff, a Tasmanian big wave slab, at only 13 years old. But a big win had evaded the 17-year-old, until now.
"This is my first win since Under 12, I had one win in Under 12's and then after that I'd get a lot of fourths, seconds, so I'm stoked to get a win at Sunset, it's one of my favorite waves on the North Shore," said Laing post Final. "Had an amazing time out there… All my mates like Griffin and Noa, so good to surf against all those boys, everyone was ripping the whole day, so hats off to them."
The women's final was a tough matchup against three of Oahu's top junior talents: Hennessy, Zoe McDougall (HAW), 16, and Honolua Blomfield (HAW), 16, and also saw former Sunset Junior Pro winner Meah Collins (USA), 16, representing from California.
Hennessy recently returned from Portugal where she competed in the World Junior Championships, and mentions that this win at Sunset is a good start to 2016.
"This win means a lot to me because I'm trying to qualify for World Juniors again," the Kailua local said. "I did it actually recently in Portugal so I'm just trying to re qualify. We only have three events here for the Pro Junior circuit, so I'm just really happy to get a win here, to maybe hopefully get another spot into the World Juniors."

Men's finalists © WSL/Freesurf/Heff
The surfer has seen great success so far in her career, but Sunset has been a challenge to overcome.
"This win feels amazing, I mean I've always kind of had a difficult time at Sunset, and my coach Kahea Hart and Kekoa Bacalso and Greg Nakamura and Pancho Sullivan all help me overcome and just learn more about Sunset and I'm just so blessed to have taken the win here."
A JP1,000 event, Laing and Hennessy racked up points toward their regional ranking and took home a check for $2,000 and $900 respectively. The Sunset Pro Junior marks the first competition of the World Surf League (WSL) 2016 Hawaii schedule, and will be followed up by the Sunset Pro Men's QS1,000 event during this holding period, with contest officials looking forward to a week's worth of waves on the horizon.

Runner up Meah Collins © WSL/Freesurf/Heff
FINAL RESULTS – Sunset Pro Junior JP1,000: Shown in order of 1st through 4th. All surfers from Hawaii unless otherwise noted.
Men's Final
1st – Riley Laing, $2,000 and 1,000 pts
2nd – Griffin Colapinto, $900 and 750 pts
3rd – Christopher Bluthardt, $600 and 560 pts
4th – Noa Mizuno, $500 and 525 pts
Women's Final
1st – Brisa Hennessy, $900 and 1,000 pts
2nd – Meah Collins, $400 and 750 pts
3rd – Zoe McDougall, $160 and 560 pts
4th – Honolua Blomfield, $140 and 525 pts
Men's Semifinal (1st and 2nd advance, 3rd=5th place, 4th=7th place)
SF1: Christopher Bluthardt, Riley Laing (AUS), Wyatt McHale, Sebastian Williams (ZAF)
SF2: Griffin Colapinto (USA), Noa Mizuno, Kainehe Hunt, Logan Bediamol
Women's Semifinal (1st and 2nd advance, 3rd=5th place, 4th=7th place)
SF1: Honolua Blomfield, Meah Collins (USA), Mahina Maeda, Julie Nishimoto
SF2: Zoe McDougall, Brisa Hennessy, Summer Ivy, Leila Riccobuano
Men's Quarter Final (1st and 2nd advance, 3rd=9th place, 4th=13th place)
H1: Sebastian Williams (ZAF), Christopher Bluthardt, Kala Willard, Kelson Lau
H2: Riley Laing (AUS), Wyatt McHale, Kaulana Apo, Kainaru Kato
H3: Griffin Colapinto (USA), Logan Bediamol, Finn McGill, Brodi Sale
H4: Kainehe Hunt, Noa Mizuno, Jake Marshall (USA), Sammy Gray
Women's Quarter Final (1st and 2nd advance, 3rd=9th place, 4th=13th place)
H1: Mahina Maeda, Meah Collins (USA), Aloha Lopez, Gabriela Bryan
H2: Honolua Blomfield, Julie Nishimoto, Brittany Penaroza, Sara Wakita
H3: Brisa Hennessy, Zoe McDougall, Savanna Stone, Emily Nishimoto
H4: Leila Riccobuano, Summer Ivy, Dax McGill, Moana Jones
Men's Round of 32 (1st and 2nd advance, 3rd=17th place, 4th=25th place)
H1: Sebastian Williams (ZAF), Kainaru Kato, Koa Yokota, Barron Mamiya
H2: Christopher Bluthardt, Wyatt McHale, Conor Kennedy, Kuio Young
H3: Kaulana Apo, Kala Willard, Dylan Franzmann (alternate), Ocean Macedo
H4: Riley Laing (AUS), Kelson Lau, Cody Young, Jackson Bunch
H5: Finn McGill, Jake Marshall (USA), Jake Riccobuano, Pono Auld
H6: Griffin Colapinto (USA), Sammy Gray, Taichi Wakita (JPN), Noah Beschen
H7: Noa Mizuno, Brodi Sale, Cole Alves, Kosei Sawamura (JPN)
H8: Kainehe Hunt, Logan Bediamol, Victor Mendes, Makana Pang