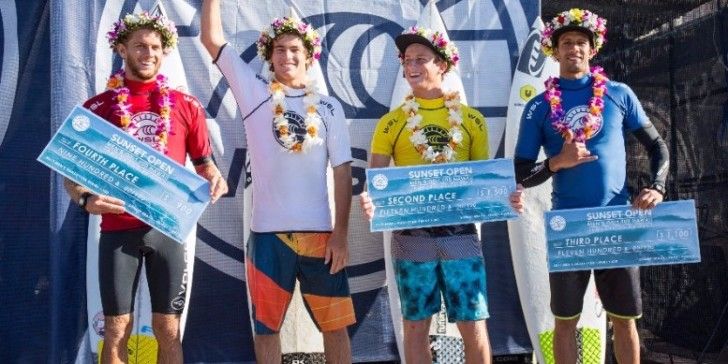 MCGILL (HAW) SCORES BACK-TO-BACK RUNNER UP FINISHES AT SUNSET BEACH  
L to R: Miguel Tudela (PER) in fourth, Jack Robinson (AUS) in first, Finn McGill (HAW) in second and Bino Lopes (BRA) in third. Image: WSL/Freesurf/Heff
| | |
| --- | --- |
| Location:    | Sunset Beach, North Shore, Oahu                                                   |
| Rating: | Men's QS1,000  |
| Congratulations:    | Jack Robinson! |
| | |
HALEIWA, Oahu/Hawaii (Saturday, January 28, 2017) — 
Western Australia's future face of surfing 
Jack Robinson
 won the World Surf League (WSL) Sunset Open, one of the highest quality and hotly contested Qualifying Series (QS) 1,000-rated events in the world.This is Robinson's maiden QS win although the surfer has proven himself on the North Shore and earned podium spots at Sunset Beach in 2016 and 2015 during the HIC Pro and a win at the 2014 Pro Junior. He was granted a sponsor wildcard into the event as a standout at this venue for two straight winters now. Today's victory rounds out his reputation, which also includes a remarkable win at the Pipe Invitational in 2015.
Robinson referred to the Final as a good sparring session, as it came down to an international match up between Finn McGill (HAW), Bino Lopes (BRA) and Miguel Tudela (PER). A great representation of the far reaching talents of surfers around the globe, the culmination of the Sunset Open was nothing short of energetic and entertaining. With the majority of the 112-man field from Hawaii, the addition of international athletes offered a true test of skill at this level of professional competition.
"It was a big talent pool," said Robinson after the win. "I was definitely stoked to get the jump on them all." Jack joined the 112-man field as an event wildcard, along with Maui's Ian Walsh who took a respectable 5th place and Waianae's Sunny Garcia who bowed out in Round 3.
"There's so many talented surfers and it's a gnarly contest so it's definitely up there, it's cool," continued Robinson on how the victory felt.
Second place winner McGill was on a roll after placing runner up in last week's Sunset Pro Junior, and expressed his confidence and ease at surfing his home break.
"I knew that me and Jack actually kind of had an advantage, because he comes out every winter all winter," said McGill. "Jack's really good out here and we know the reef really well, so I kind of knew we had an advantage to finding the waves and knowing what they were going to do. But Bino and Miguel are so good, you can't underestimate anyone in these contests at all."
In the 30-minute Final, Robinson commanded the heat from the onset with smooth carves, speed and a casual confidence that is quickly becoming his trademark. In the first half of the heat, Robinson and Lopes traded waves, both showing commitment on the 15-foot waves and drawing out lines on the open faces.
As sets feathered on the horizon, McGill positioned himself and caught the best wave thus far with powerful turns and a patented Sunset closeout carve, which judges awarded a 7.10. But Bino answered back with a 6.25 for a nice turn off the top and a second turn right under the lip, which put him in second after backing up his 5.40. Robinson continued to solidify his lead with a searing turn and a small barrel, the beach crowd applauding the 7.6, which ended up being the highest single wave score of the Final.
But McGill was not to be outdone and dropped into a bomb as the swell peaked at Sunset. He scored a 7.15 for big open carves to change the situation, and knocked Robinson out of the lead. But the Australian had priority, and was in perfect position to stroke into the last wave of the day with only a minute left on the clock. Robinson hammered out two beautiful turns then landed the closeout for the win, a 6.75 and combined two wave total of 14.35, just 0.10 points ahead of McGill.
The WSL Hawaii season now heads directly into the holding period of the Volcom Pipe Pro, a QS3,000 event that will feature both Robinson and McGill, along with current World Champion John Jon Florence (HAW) and 11x World Champion and defending event winner Kelly Slater (USA). This 3-day event holds prestige, a $75,000 prize purse and points toward surfers' rankings and takes place at one of the most hallowed venues on the planet, the Banzai Pipeline.
RESULTS
Surfers shown 1st through 4th, all athletes from Hawaii unless otherwise noted.
Final
1st – Jack Robinson (AUS), 14.35 // 1000 points
2nd – Finn McGill (HAW), 14.25 // 750 points
3rd – Bino Lopes (BRA), 11.65 // 560 points
4th – Miguel Tudela (PER), 5.25 // 525 points
Semifinal, 1st and 2nd advance, 3rd = 5th place, 4th = 7th place
SF1: Miguel Tudela (PER), Bino Lopes (BRA), Benji Brand, Kai Lenny
SF2:  Jack Robinson (AUS), Finn McGill, Ian Walsh, Imaikalani deVault
Quarterfinal, 1st and 2nd advance, 3rd = 9th place, 4th = 13th place
QF1: Bino Lopes (BRA), Kai Lenny, Josh Moniz, Taumata Puhetini (PYF)
QF2: Benji Brand, Miguel Tudela (PER), Sebastian Williams (ZAF), Kekoa Cazimero
QF3: Ian Walsh, Finn McGill, Barron Mamiya, Cody Young
QF4: Jack Robinson (AUS), Imaikalani deVault, Seth Moniz, Sheldon Paishon
Round of 32, 1st and 2nd advance, 3rd = 17 places, 4th = 25th place
H1: Joshua Moniz, Miguel Tudela (PER), Eli Olson, Kai Mana Henry
H2: Kai Lenny, Benji Brand, Keoni Yan, Yago Dora (BRA)
H3: Sebastian Williams (ZAF), Bino Lopes (BRA), Kaimana Jaquias, Billy Kemper
H4: Kekoa Cazimero, Taumata Puhetini (PYF), Parker Coffin (USA), Elijah Gates
H5: Finn McGill, Imaikalani deVault, Logan Bediamol, Noah Beschen
H6: Ian Walsh, Sheldon Paishon, Koa Smith, Reo Inaba (JPN)
H7: Seth Moniz, Barron Mamiya, Carlos Munoz (CRI), Danny Fuller
H8: Jack Robinson (AUS), Cody Young, Evan Valiere, Tanner Hendrickson
Round of 64, 1st and 2nd advance, 3rd = 33rd place, 4th =49th place
(results shown from finals day only)
H14: Seth Moniz, Jack Robinson (AUS), Lucca Mesinas Novaro (PER), Mason Ho
H15: Tanner Hendrickson, Danny Fuller, Joel Centeio, Kaito Ohashi (JPN)
H16: Cody Young, Barron Mamiya, Torrey Meister, Miguel Blanco (PRT)
For more information, log onto WorldSurfLeague.com
---
About the World Surf League
The World Surf League (WSL), formerly the Association of Surfing Professionals (ASP), is dedicated to celebrating the world's best surfing on the world's best waves through a variety of best-in-class audience platforms. The League, headquartered in Santa Monica, is a truly global sport with regional offices in Australasia, Africa, North America, South America, Hawaii, Japan and Europe.