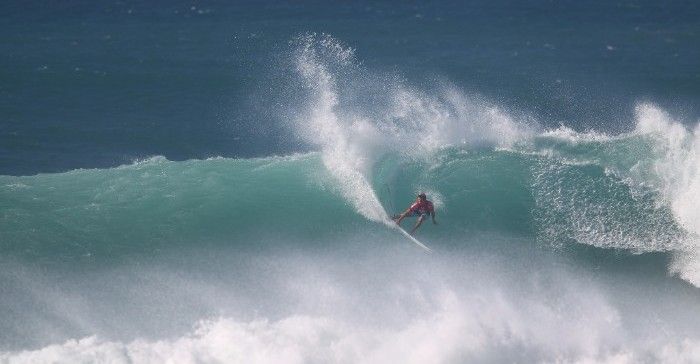 Surf's going off up to 8′ form the NNW and glassy. New 17 sec WNW filling in to 8′ this afternoon. Seabreezes likely to cause some onshores this afternoon. SNN.
Jack Robinson (AUS) in route to a perfect 10-point ride.
Photo: WSL/Freesurf/Photo Keoki
vanstriplecrownofsurfing.com/hicpro2015
Location:   
Sunset Beach, North Shore Oahu, Hawaii
Dates & Rating
October 28 – November 10, 2015
WSL Men's QS 3,000
Sunset Beach, Oahu, HAWAII – (October 28, 2015) – Australia's Jack Robinson, 18, was nothing short of perfect in powerful, triple overhead surf today at the HIC Pro, Presented by Vans. In the second to last heat of a day that had otherwise been dominated by local Hawaii surfers, Robinson fired off two huge snaps for a near-perfect 9.6 ride, then followed up with a pair of barrels that earned a perfect 10. His final scoreline was the highest of the day: 19.6 points out of 20.
Robinson has been hungry for bigger waves in competition this year, and his dreams came true today. Working with local North Shore shaper Eric Arakawa is a definite plus, providing him with specific equipment for powerful, big surf. When it comes to surfboards, the power of Sunset Beach demands very uniquely designed equipment.
"There's waves and hopefully the swell sticks around so I can showcase it!" said Robinson. "There have been a lot of small wave comps and I haven't done that well this year."
The top local performance came from defending HIC Pro champion Danny Fuller (HAW) in round one, where he posted a two-wave total of 16.0. Unfortunately, he was bundled out in Round 2 later in the day.
Standouts who survived today's cut included Hawaii's Billy Kemper, Bruce Irons, and Olamana Eleogram, as well as Peru's Martin Jeri, and Japan's Kan Watanabe.
As the official local qualifier for the Vans Triple Crown of Surfing, the HIC Pro provides a platform for Hawaii athletes to compete for points and prize money, but more importantly a place in the world's most prestigious surfing series.
Billy Kemper (HAW) wowed the beach crowd with an aggressive off the lip attack, garnering a 9.0, which was the one of the highest single wave scores of the event. Winning the HIC Pro back in 2010, Kemper has grown up competing at Sunset and felt confident on his board in today's waves.
"It's such a big playing field … it's you against the ocean, and I just wanted to have fun and feel my boards out and start the winter off right," says the 24-year-old. "I felt good. I felt comfortable. I surf out here a lot and put a lot of time in the North Shore. I've been living over here since I was eight and bouncing back from Maui."
Bruce Irons (HAW), 35 years old, showed expert knowledge in wave selection and positioning to advance, riding a surfboard that carried the iconic design of his late brother Andy.
"It's not easy, Sunset… it's victory at sea," says Irons. "My strategy is to catch waves and not sit. I figure if I ride waves I can win the heat."
Irons clocked an 8.0 in a stacked heat against fellow islanders Isaiah Moniz and Kahea Hart, and 15-year-old East Coast surfer Stevie Pittman. Irons will compete again once the competition resumes against an all-Hawaii heat including North Shore's Kona Oliveira and Kai Mana Henry and Ewa's Davin Torres-Jaime.
"This contest always has crazy competition," Irons continues. "I remember being one of those young 14-year-old kids surfing against Johnny Boy and Occy. It's a mix of everybody and the kids are the ones you have to worry about, cause the stuff they can do… there's no limit. I like watching them.
The contest is looking to resume tomorrow morning, October 29, at 8am. According to the official Surfline report, the waves will be in the head high range as the NNW swell drops off. A solid WNW swell is expected to build in through the day with lighter trade winds.
RESULTS
Round of 96 – 1st and 2nd to next round. All surfers from Hawaii unless noted.
Surfers shown in order of 1st through 4th
H1: Kalani Chapman; Robbie Rickard (AUS); Takayuki Wakita; Kaisa Kawamura (JPN)
H2: Kan Watanabe (JPN); Ezra Sitt; Joao Marco Maffini; Nolan Rapoza
H3: Billy Kemper; Sheldon Simkus (AUS); Skip McCullough (USA); Nate Dorman (USA)
H4: Imaikalani deVault; Barron Mamiya; Finn McGill; Nick Vasicek (AUS)
H5: Cristobal De Col (PER); Brandon Todd (USA); Tyler Gunter (USA); Cole Houshmand (USA)
H6: Myles Padaca; Guy Sato (JPN); Ulualoha Napeahi; Alex Pendleton (USA)
H7: Noa Mizuno; Evan Valiere; O'Neill Massin (PYF); Cody Young
H8: Kylen Yamakawa; Lucca Saldivar (PER); John Mel (USA); Cody Canzoneri (USA)
H9: Kamalei Alexander; Landon McNamara; Danny Fuller; Rob Kelly (USA)
H10: Jack Robinson (AUS); Schuyler Allen; Quinn McCrystal (USA); Joh Azuchi (JPN)
H11: Olamana Eleogram; Martin Jeri (PER); Keijiro Nishi (JPN); Dylan Kowalski (USA)
Round of 112 – 1st and 2nd to next round
H1: Kalani Chapman; Ezra Sitt; Kaoliopuuwai Kahokuloa; Pancho Sullivan
H2: Skip McCullough (USA); Finn McGill; Love Hodel; Edrick Baldwin
H3: Tyler Gunter (USA); Alex Pendleton (USA); Eli Olson; Kaulana Apo
H4: Cody Young; John Mel (USA); Jeames Young (AUS); Reef McIntosh
H5: Danny Fuller; Joh Azuchi (JPN); Laka Burgess; Frank Chenault (USA)
H6: Martin Jeri (PER); Gavin Sutherland; Jonah Morgan; Taichi Wakita (JPN)
H7: Bruce Irons; Stevie Pittman (USA); Isaiah Moniz; Kahea Hart
H8: Benji Brand; Sean Moody; Sheldon Paishon; Jason Shibata