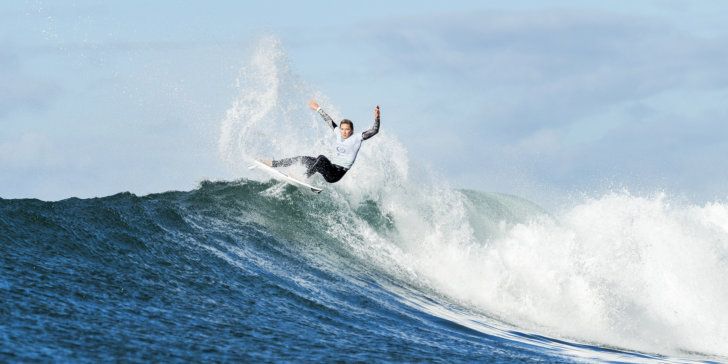 JEEP RATINGS LEADERS WILSON AND PETERSON POST IMPRESSIVE ROUND 1 WINS
LIMA AND SMITH SET BAR WITH HIGHEST SCORES OF OPENING DAY
Front Page: Coco Ho Winning Heat over Stephanie Gilmore © WSL /  Cestari
2009 event winner Silvana Lima (BRA) earned the highest heat total of the day at the Rip Curl Pro Bells Beach.

© WSL /  Cestari
Location:   
  Bells Beach, Victoria, Australia
Event window:
  March 28 – 

April 8, 2018

Today's call:
  Women's Round 1 and Men's Round 1 (H1-8) complete
Conditions:
  4 – 5 foot (1.2 – 1.5 metre)
BELLS BEACH, Victoria/AUS (Friday, March 30, 2018) – The Rip Curl Pro Bells Beach, Stop No. 2 on the World Surf League (WSL) Championship Tour (CT), completed women's Round 1 and the first eight heats of men's Round 1 today in four-to-five foot (1.2 – 1.7 metre) waves at Winkipop, the neighbouring wave to Bells Beach that handled the Good Friday swell and tides on offer.
Top seeds Lakey Peterson (USA), Tyler Wright (AUS), Carissa Moore (HAW), and Johanne Defay (FRA) set the tone with their early Round 1 victories, in addition to wins by CT veteransSilvana Lima (BRA) and Coco Ho (HAW). 
Three-time Rip Curl Pro Bells Beach event winner, Moore, commanded the Surf Coast with her win over Sage Erickson (USA) and Bronte Macaulay (AUS). The three-time WSL Champion was in a solid rhythm with Winkipop, powering her way to a winning two-wave score of 14.53 (out of a possible 20) to move into Round 3. Moore will skip the dreaded elimination Round 2, which is where Macaulay and Erickson will do battle when competition resumes.
"It's such a beautiful morning," said Moore. "There are long, beautiful walls coming through. I was really surprised that they made the move here. I've never surfed in a heat at Winki, so it was a first for me, but with conditions like this, I really enjoyed it."
Lima, 2009 Rip Curl Pro Bells Beach winner, also took out her opening Round 1 heat. The Brazilian dynamo was a standout with her fast surfing to post the highest heat total of the day, a 15.67, which included an excellent 8.17 single-wave score. Lima took down Bells' favorite and two-time event winner, Sally Fitzgibbons (AUS), and event wildcard Kobie Enright (AUS) for her first opening round win of the season.
"I'm so happy to get the first excellent score of the event," Lima said. "I rode a bigger board today than what I usually would, which seemed to work well for me. I have a lot of confidence at Bells and Winkipop as a past winner. I love it here and especially on days like today when the waves are so fun."
Lakey Peterson (USA) successfully carried the momentum from her Roxy Pro Gold Coast win earlier this month into a comfortable heat win to advance directly into Round 3. The current Jeep Ratings Leader was in searing form to dismantle Tatiana Weston-Webb (HAW) and injury replacement Macy Callaghan (AUS) to progress into Round 3, displaying that the yellow Jeep Leader Jersey does not add any pressure to the Californian's performance.
"Winkipop is my favorite wave ever and I felt I surfed well so I was having a good time," Peterson said. "I don't feel any pressure wearing the Jeep Leader Jersey. I'm really focussing on not letting the No. 1 spot add pressure to my game plan and I want to hang onto it for as long as I can so to kick off with a heat win feels good."
Two-time WSL Champion Tyler Wright (AUS) capped off her 300th heat on tour in style with a strong win in her opening round match-up. Wright's rail-game was on point, allowing her to defeat Paige Hareb (NZL) and Malia Manuel (HAW). The 23-year-old now moves into Round 3 and a step closer to clinching one of the only trophies in world surfing that has eluded her.
"I'm feeling really great down here at Bells Beach," Wright said. "I've just transitioned into surfing some bigger boards, which I'm slowly adjusting to. I was really inspired today after celebrating Mick Fanning's retirement last night at his farewell gala. He is honestly one of the greatest humans ever. I absolutely love him."
Following the action in women's Round 1, the competition continued with the first eight heats of men's Round 1, which witnessed epic battles between surfing's biggest names.
Defending Rip Curl Pro event winner Jordy Smith (ZAF) was able to fend off a valiant performance by Patrick Gudauskas (USA) in Heat 3 of Round 1. The pair came up against last year's event runner-up Caio Ibelli (BRA) in one of the most anticipated battles of the day. Smith and Gudauskas went wave-for-wave, but it was Smith who prevailed by taking the lead with only seconds remaining. Ibelli and Gudauskas will now battle it out in Round 2.
"I knew it was going to be a close heat, but I didn't think it would be that close," Smith said. "I had the third highest single wave score, but I still won the heat — that doesn't happen too often. I was lucky enough to have a good back-up score and I'll take that win for sure. The level of surfing on tour is so high, I'm really stoked to not be in Round 2."
2018 CT Rookie Griffin Colapinto (USA) continued his epic run of form this year, taking downFilipe Toledo (BRA) and Michael February (ZAF) in their opening round matchup. Colapinto used an array of innovative moves to advance straight through to Round 3 and solidify himself amongst the world's elite surfers and as the frontrunner in the 2018 Rookie of the Year race.
"I haven't surfed Winkipop much, but I planned to sit up the top of the point," Colapinto said. "It is a really similar wave to Lower Trestles at home in California. It is fast but has great sections for big turns. I really enjoyed that heat and am glad it all worked out."
Reigning two-time WSL Champion John John Florence (HAW) was eager to bounce back from a shock 25th place finish at CT Stop No. 1 on the Gold Coast when he took to the water in Heat 5 of Round 1. A return to winning form was not going to be easy as he came up against 2018 CT Rookie Tomas Hermes (BRA) who was fresh off a third-place finish at Snapper and 16-year-old trials winner Mikey McDonagh (AUS). Florence surfed a calm heat in wind-affected conditions to take the win and avoid Round 2.
"I'm stoked that I got some good waves out there, however, there is still lots of room for improvement," Florence said. "The judges were leaving a lot of room for excellent scores, which means there is always the possibility of something amazing happening. It's really cool how we can move over here to Winkipop from Bells and score the best conditions possible."
Current Jeep Ratings leader Julian Wilson (AUS) carried on with his sizzling form from the Gold Coast to take a close win over Joan Duru (FRA) and trials winner Carl Wright (AUS). Wilson did not look hindered by his shoulder injury that he sustained prior to the event on the Gold Coast as he used his silky smooth style of surfing to impress the thousands of surf fans at Bells Beach.
"That was one of the better heats I've won in a while," Wilson said. "I always love coming down to Bells and surfing in this event and it definitely feels nice to be wearing the yellow Jeep Leader Jersey. Usually, my goal going into an event is to win, but this week it is to meet Mick (Fanning) in one last heat. To surf against him one last time at Bells would be amazing, so that's my goal for sure."
Michel Bourez (PYF), Owen Wright (AUS), and 2016 Rip Curl Pro event winner Matt Wilkinson (AUS) will also advance straight to Round 3 after winning their Round 1 matchups today.
Event officials will reconvene at 7:00 a.m. AEDT tomorrow morning for a possible 7:30 a.m.start.
Solid SW swell builds in today (Friday) and continues through the weekend, with Saturday as the peak of it. Favorable wind conditions for at least the mornings. More sizable swells stacking up for next week to keep surf elevated, with the next one due Mon/Tues. Conditions next week are looking pretty good as well. Surfline
Rip Curl Women's Pro Bells Beach Round 1 Results:
Heat 1: Carissa Moore (HAW) 14.50, Sage Erickson (USA) 9.33, Bronte Macaulay (AUS) 8.80
Heat 2: Coco Ho (HAW) 12.80, Stephanie Gilmore (AUS) 11.93, Keely Andrew (AUS) 10.77
Heat 3: Silvana Lima (BRA) 15.67, Kobie Enright (AUS) 11.00, Sally Fitzgibbons (AUS) 10.44
Heat 4: Tyler Wright (AUS) 13.83, Paige Hareb (NZL) 10.83  Malia Manuel (HAW) 8.63
Heat 5: Lakey Peterson (USA) 14.17, Tatiana Weston-Webb (BRA) 13.07, Macy Callaghan (AUS) 9.73
Heat 6: Johanne Defay (FRA)12.87, Caroline Marks (USA) 12.34, Nikki Van Dijk (AUS) 7.63
Rip Curl Women's Pro Bells Beach Round 2 Matchups:
Heat 1: Keely Andrew (AUS) vs. Caroline Marks (USA)
Heat 2: Sage Erickson (USA) vs. Bronte Macaulay (AUS)
Heat 3: Sally Fitzgibbons (AUS) vs. Kobie Enright (AUS)
Heat 4: Stephanie Gilmore (AUS) vs. Paige Hareb (NZL)
Heat 5: Nikki Van Dijk (AUS) vs. Macy Callaghan (AUS)
Heat 6: Tatiana Weston-Webb (HAW) vs. Malia Manuel (HAW)
Rip Curl Pro Bells Beach Round 1 Results:
Heat 1: Griffin Colapinto (USA) 12.53, Filipe Toledo (BRA) 11.50, Michael February (ZAF) 8.43
Heat 2: Owen Wright (AUS) 10.73, Conner Coffin (USA) 9.10, Ezekiel Lau (HAW) 6.17
Heat 3: Jordy Smith (ZAF) 14.30, Patrick Gudauskas (USA) 14.27, Caio Ibelli (BRA) 12.16
Heat 4: Gabriel Medina (BRA) 12.50  Italo Ferreira (BRA) 11.40,  Ian Gouveia (BRA) 8.23
Heat 5: John John Florence (HAW) 13.76, Tomas Hermes (BRA) 10.30, Mikey McDonagh (AUS) 8.34
Heat 6: Julian Wilson (AUS) 11.10, Joan Duru (FRA) 10.83, Carl Wright (AUS) 7.83
Heat 7: Michel Bourez (PYF)14.10, Adriano de Souza (BRA) 10.97,  Keanu Asing (HAW) 10.87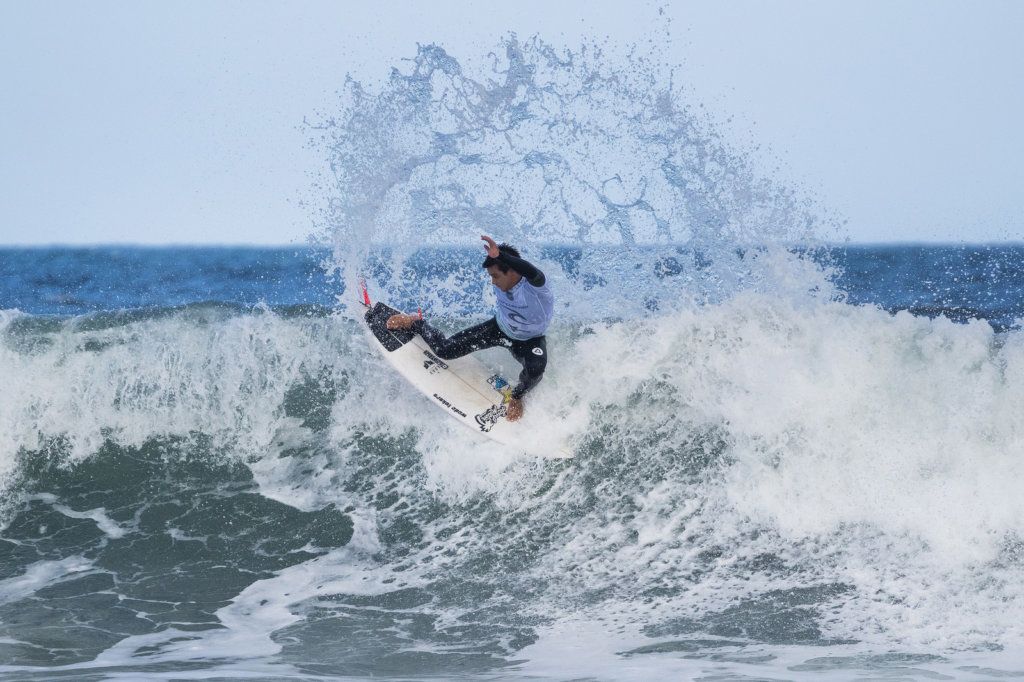 Keanu Asing into round2_Bells 2018  WSL Cestari_
Heat 8: Matt Wilkinson (AUS)11.70, Jeremy Flores (FRA) 11.00, Yago Dora (BRA) 10.16
Rip Curl Pro Bells Beach Remaining Round 1 Matchups:
Heat 9: Kolohe Andino (USA), Frederico Morais (PRT), Willian Cardoso (BRA)
Heat 10: Adrian Buchan (AUS), Connor O'Leary (AUS), Michael Rodrigues (BRA)
Heat 11: Joel Parkinson (AUS), Kanoa Igarashi (JPN), Wade Carmichael (AUS)
Heat 12: Mick Fanning (AUS), Sebastian Zietz (HAW), Jesse Mendes (BRA)