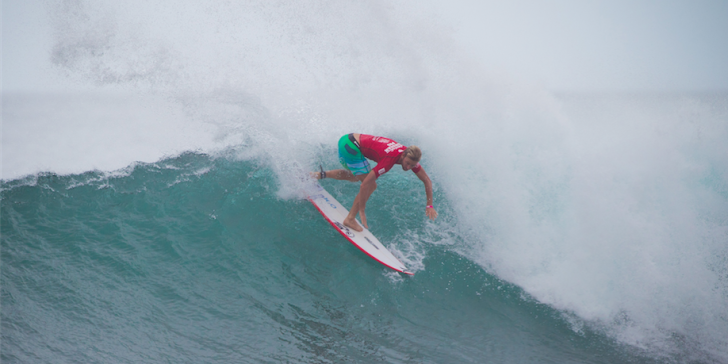 Thursday update: AUSTRALIA'S ACE BUCHAN LEADS THE WAY…
Adrian 'Ace' Buchan displays his signature backside technique. All Images: WSL / Masurel 
Full Recap Below.
Surf for Friday will keep fading and veering North to NNW in the 2-3+' range for Ali'i Beach Park. ESE offshores will continue to create perfect texture. Weather's good if you're a duck. Marginal 4′ NNW fills Sunday. Monday is the final day of the holding period. Sketchy call. Eye balling is the only way. SNN.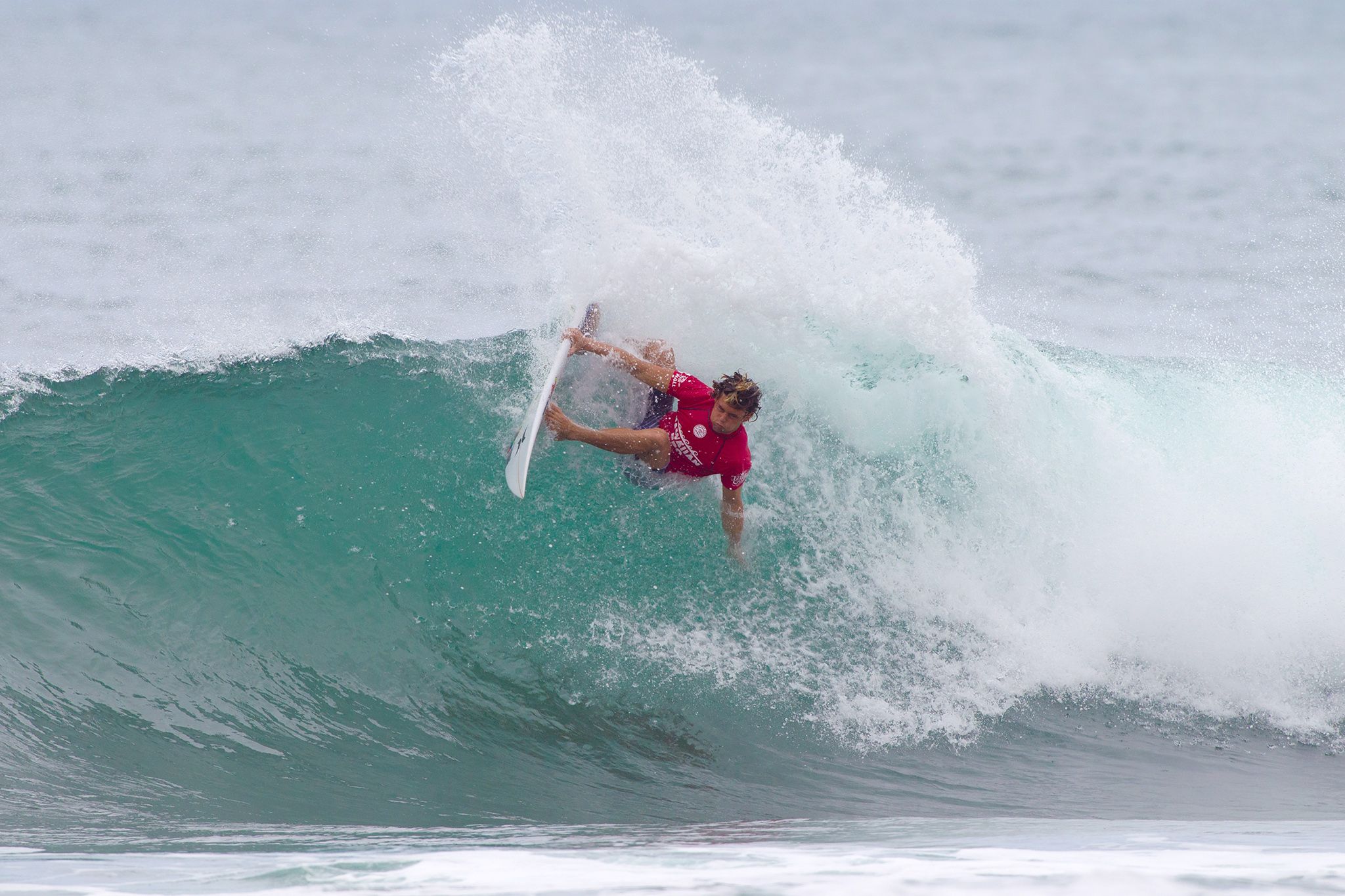 Coffin at the Moche Ripcurl Pro Portugal on Sunday October 25, 2015.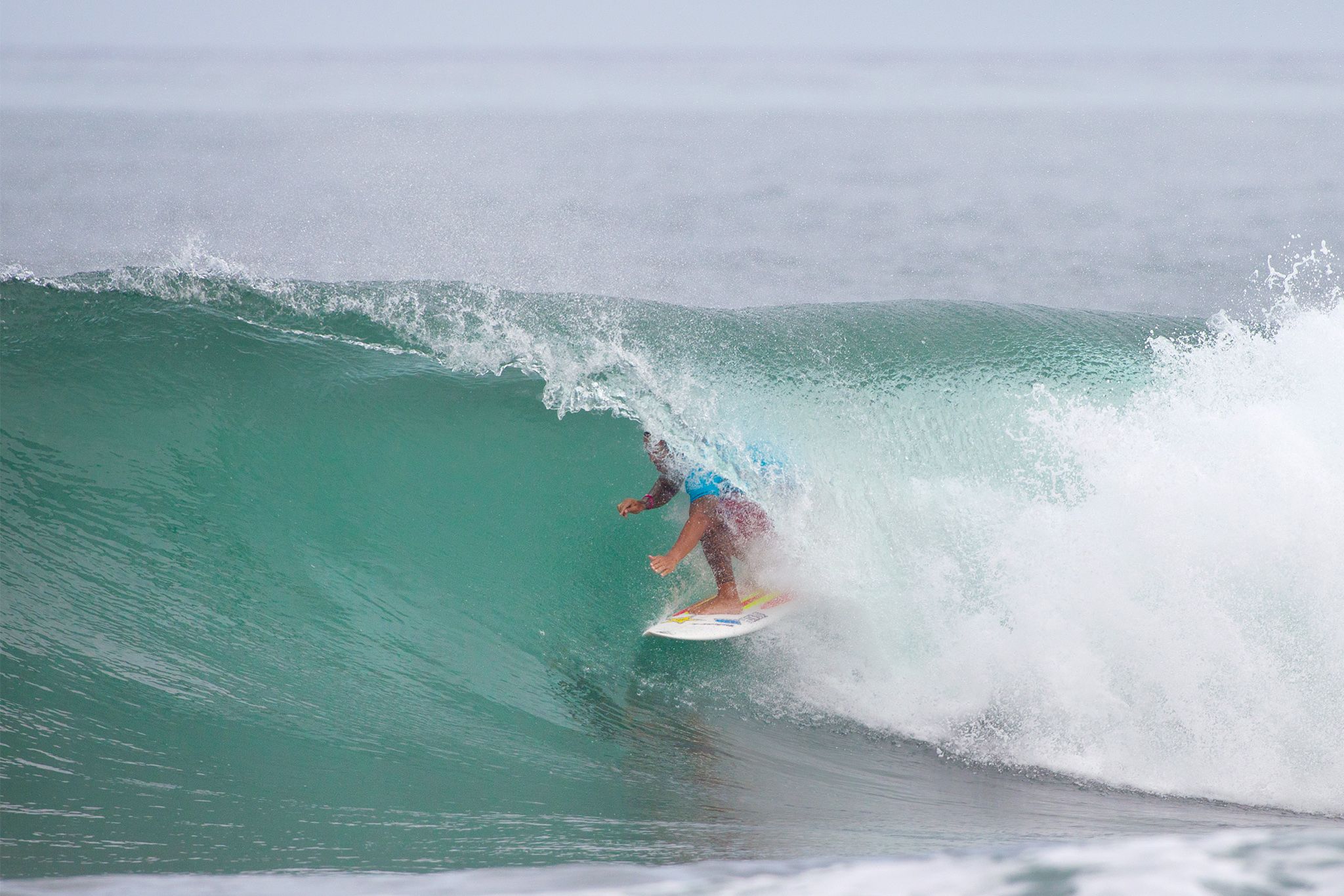 Sunny at the Moche Ripcurl Pro Portugal on Sunday October 25, 2015.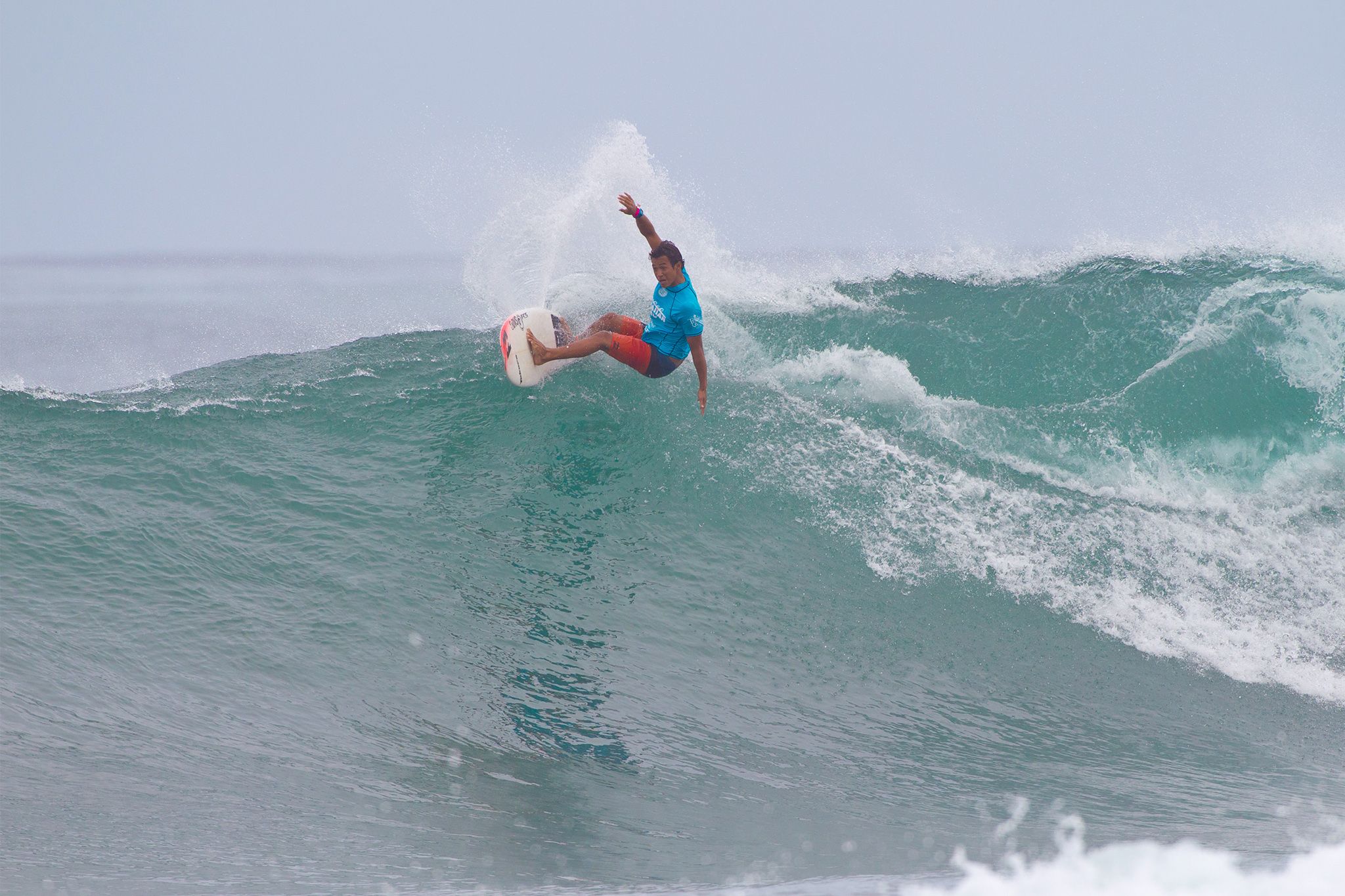 Moniz cutting back full speed.

Location:   
North Shore Oahu, Hawaii
Event:
Dates & Rating:
Hawaiian Pro – Event No. 1 of the Vans Triple Crown of Surfing
November 12 – November 23, 2015
WSL Men's QS 10,000
Haleiwa Ali'i Beach, North Shore, Oahu, HAWAII – (Thursday, November 19, 2015) –Australian Adrian 'Ace' Buchan and Portugal's Tiago Pires were the feature performers in a dramatic day at the Hawaiian Pro that also included major upsets. Round two and the first four heats of Round three were held today in clean 4-6ft. waves and light ESE off shore trade winds. Pires and Buchan advanced from Round 3 in the same heat, posting the highest individual wave and highest heat score of the day between them.Pires' 9.60 came from a late charge that saw him advance a mere 0.07 of a point ahead of Adam Melling (AUS), while Buchan's 17.00 heat total came from flawless wave selection, positioning and execution of maneuvers.
"That was a great start," commented Buchan. "The Triple Crown for me is something I have pretty high up on my list and have come close [to winning] a couple times. Just a chance to surf in these events, they're so prestigious and to have a shot at putting your name on that trophy is a big opportunity. It's something that I would really like to give it everything. I just like coming and surfing against the best guys in these waves."
Kai Otton (AUS) was calculated and confident in his backhand attack to claim first in the heat, while Stuart Kennedy (AUS) displayed equal assurance to edge out competitors Beyrick De Vries (ZAF) and Jordy Smith (ZAF).
"I know Stu was in good form," said Otton. "He started that heat a bit slow but then he really got it together with that good wave, so that was good for him. I fell off my first wave, which would have been a really good score … that was me just a bit stale I think, first time putting the jersey on this winter. But yeah, good heat for me."
Conner Coffin (USA) posted the second highest wave score of the day, a 9.40, to secure a place in the next round. The 22-year-old currently sits 13th on the Qualifying Series (QS) and stands a chance to jump up the ranks for a seat in the 2016 WSL Samsung Galaxy Championship Tour.
"I knew once I had the nine I just didn't want to sit out there and end up with priority and not having anything," said Coffin. "Sometimes when you need a three that's the hardest score to get. I just wanted to get something on the board because I knew if I had over 10 points, that's a pretty decent total right now… Just stoked that that one set came and I had priority."
Former Hawaiian Pro champion Joel Centeio (HAW) made it seamlessly through the heat with only two waves under his belt, an 8.00 and a 6.83, to secure the win. Comfortable at his homebreak, Centeio knows the wave well in all conditions.
"This is Haleiwa, I live across the street. I surf out here every time when it's one foot, two foot, four foot, eight foot. I just love surfing this wave and I'm just stoked to make it through heats."
Joan Duru (FRA) made it through to the next round behind Centeio while Torrey Meister (HAW) and Frederico Morais (PRT) fell short.
A stacked heat with Ezekiel Lau (HAW), Kalani David (HAW), Maxime Huscenot (FRA) and Gavin Gillette (HAW) saw a range of waves and scores, an indicator of the changing swell.
"Watching the two heats previous, waves are looking like they're slowing down," said Lau. "The word is the swell is turning North and there's going to be less waves coming through so I really wanted to stay busy and anything I thought I could get a six on I was pretty much going."
The Honolulu native secured his position to move forward in the contest, along with David, who surfed with style and a tactical approach.
Brazil's Deivid Silva (BRA) surfed with impeccable poise on his backhand. Two big turns on a 4-foot wall landed the 20-year-old with an 8.23 score, backed up by a 7.77 for a 16.00, one of the highest heat totals of the day.
Local surfers Seth Moniz (Honolulu) and Sunny Garcia (Waianae) also made it through to the Round of 64, which is anticipated to resume tomorrow at 8AM, although the swell will be decreasing.
RESULTS
Hawaiian Pro Round of 64
1st and 2nd advance to next round
H1: Tomas Hermes (BRA) 14.06pts, Kanoa Igarashi (USA) 13.84pts, Timothee Bisso (GLP) 13.50pts, Italo Ferreira (BRA) 10.23pts
H2: Adrian Buchan (AUS) 17.00pts, Tiago Pires (PRT) 13.50pts, Adam Melling (AUS) 13.43pts, Ramzi Boukhiam (MAR) — Injured
H3: Kai Otton (AUS) 13.37pts, Stuart Kennedy (AUS) 13.07pts, Beyrick De Vries (ZAF) 12.47pts, Jordy Smith (ZAF) 10.83pts
H4: Alex Ribeiro (BRA) 10.16pts, Jeremy Flores (FRA) 9.90pts, Jack Robinson (AUS) 5.43pts, Kaito Kino (HAW) 5.00pts
Round of 96
1st and 2nd advance to next round
H3: Stuart Kennedy (AUS) 13.53pts, Jack Robinson (AUS) 11.20pts, Yadin Nicol (AUS) 7.83pts, David do Carmo (BRA) 5.56pts
H4: Kaito Kino (HAW) 14.70pts, Beyrick De Vries (ZAF) 11.26pts, Kekoa Cazimero (HAW) 11.13pts, Evan Geiselman (USA) 8.00pts
H5: Deivid Silva (BRA) 16.00pts, Medi Veminardi (REU) 15.74pts, Tanner Hendrickson (HAW) 12.00pts, Joshua Moniz (HAW) 8.97pts
H6: Sunny Garcia (HAW) 13.37pts, Mateia Hiquily (PYF) 13.27pts, Willian Cardoso (BRA) 12.43pts, Michael Rodrigues (BRA) 8.50pts
H7: Aritz Aranburu (ESP) 13.56pts, Seth Moniz (HAW) 13.30pts, Bino Lopes (BRA) 13.16pts, Patrick Gudauskas (USA) 10.43pts
H8: Billy Stairmand (NZL) 12.93pts, Brent Dorrington (AUS) 11.77pts, Marc Lacomare (FRA) 10.10pts, Imaikalani Devault (HAW) 6.74pts
H9: Tanner Gudauskas (USA) 12.56pts, Michael Dunphy (USA) 9.07pts, Leonardo Fioravanti (ITA) 6.67pts, Noe Mar McGonagle (CRI) 5.33pts
H10: Carlos Munoz (CRI) 11.23pts, Michael February (ZAF) 10.30pts, Pedro Henrique (PRT) 9.37pts, Olamana Eleogram (HAW) 8.26pts
H11: Ezekiel Lau (HAW) 14.00pts, Kalani David (HAW) 13.47pts, Maxime Huscenot (FRA) 8.50pts, Gavin Gillette (HAW) 5.37pts
H12: Nathan Yeomans (USA) 10.90pts, Hizunome Bettero (BRA) 10.66pts, Hiroto Ohhara (JPN) 2.93pts, Tim Reyes (USA) 0.70pts
H13: Cooper Chapman (AUS) 13.54pts, Wade Carmichael (AUS) 10.43pts, Billy Kemper (HAW) 9.50pts, Santiago Muniz (ARG) 7.47pts
H14: Joel Centeio (HAW) 14.83pts, Joan Duru (FRA) 11.20pts, Torrey Meister (HAW) 10.30pts, Frederico Morais (PRT) 9.27pts
H15: Conner Coffin (USA) 15.00pts, Soli Bailey (AUS) 11.33pts, Hiroto Arai (JPN) 9.20pts, Koa Smith (HAW) 3.20pts
H16: Thomas Woods (AUS) 13.37pts, Luel Felipe (BRA) 11.23pts, Dion Atkinson (AUS) 11.07pts, Mitch Crews (AUS) 6.10pts
Round of 128
1st and 2nd advance to next round
H1: Granger Larsen (HAW) 14.10pts, Tiago Pires (PRT) 13.67pts, Dylan Goodale (HAW) 11.24pts, Kevin Sullivan (HAW) 7.77pts
H2: Timothee Bisso (GLP) 13.33pts, Tomas Hermes (BRA) 12.26, Steven Pierson (PYF) 9.50, Makuakai Rothman (HAW) 5.73
H3: Yadin Nicol (AUS) 11.00pts, Kekoa Cazimero (HAW) 8.76pts, Thiago Camarao (BRA) 4.27pts, Kaimana Jaquias (HAW) 2.76pts
H4: Kaito Kino (HAW) 12.10pts, David Do Carmo (BRA) 10.83pts, Mason Ho (HAW) 10.63pts, Jamie O'Brien (HAW) 10.06pts
H5: Medi Veminardi (REU) 13.97pts, Sunny Garcia (HAW) 9.37pts, Tom Whitaker (AUS) 7.44pts, Makai McNamara (HAW) 5.70pts
H6: Willian Cardoso (BRA) 15.93pts, Joshua Moniz (HAW) 13.83pts, Alex Smith (HAW) 11.33pts, Mikey Bruneau (HAW) 7.73pts
H7: Aritz Aranburu (ESP) 15.67pts,  Imaikalani Devault (HAW) 13.30pts, Nathan Hedge (AUS) 12.70pts, Kiron Jabour (HAW) 11.23pts
H8: Marc Lacomare (FRA) 13.00pts, Seth Moniz (HAW) 12.03pts, Marco Fernandez (BRA) 10.83, Hank Gaskell (HAW) 10.40
H9: Leonardo Fioravanti (ITA) 15.33pts, Olamana Eleogram (HAW) 14.06pts, Kai Barger (HAW) 10.90pts, Marco Giorgi (URY) 10.27pts
H10: Michael February (ZAF) 15.74pts, Michael Dunphy (USA) 14.90, Adrien Toyon (FRA) 9.94pts, Elijah Gates (HAW) 9.67pts
H11: Kalani David (HAW) 11.83, Tim Reyes (USA) 10.53pts, Nomme Mignot (FRA) 9.80pts, Myles Padaca (HAW) 8.23
H12: Hizunome Bettero (BRA) 16.60pts, Gavin Gillette (HAW) 13.37, Ian Gouveia (BRA) 13.17,
Evan Valiere (HAW) 12.30
H13: Wade Carmichael (AUS) 15.00pts, Joel Centeio (HAW) 12.37, Miguel Tudela (PER) 10.74
Luke Shepardson (HAW) 5.93
H14: Frederico Morais (PRT) 17.96pts, Billy Kemper (HAW) 15.63pts, Lucas Silveira (BRA) 14.36, Isaiah Moniz (HAW) 12.87pts
H15: Hiroto Arai (JPN) 11.70pts, Luel Felipe (BRA) 11.47pts, Charly Martin (GLP) 11.14, Benji Brand (HAW) 10.23pts
H16: Thomas Woods (AUS) 13.17pts, Koa Smith (HAW) 13.06pts, Gonzalo Zubizarreta (ESP) 12.63pts, Ian Gentil (HAW) 4.60pts