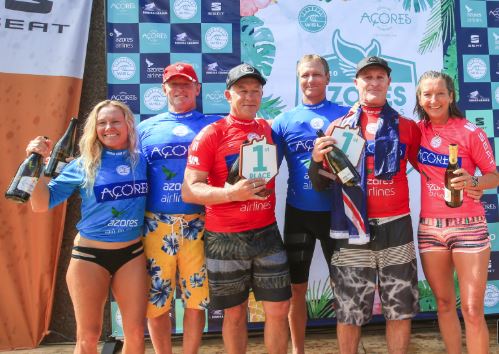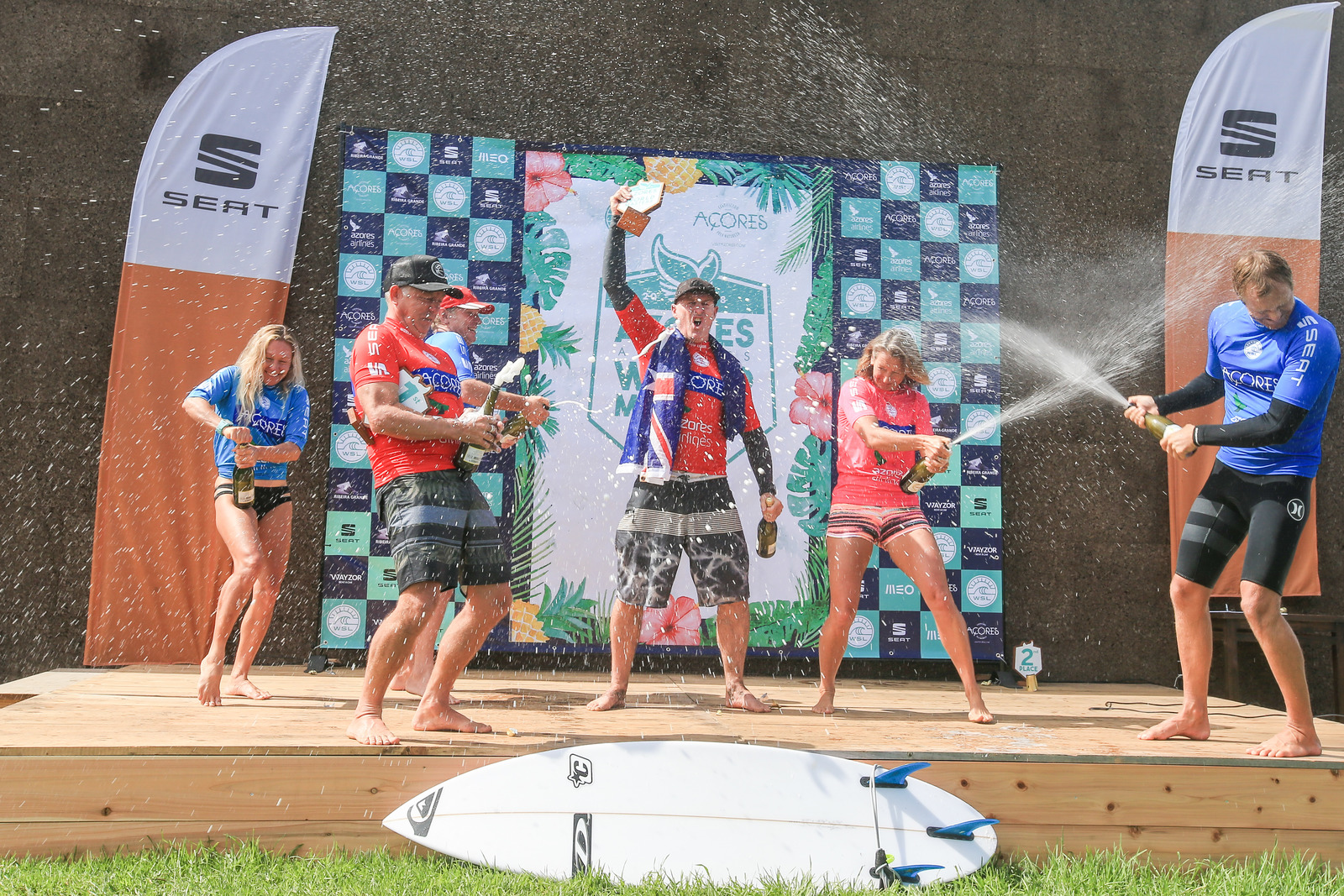 The six finalists with winners Rob Bain, Dave Macaulay and Layne Beachley in red (left to right).




ALL PHOTO Credit: © WSL / Masurel
PRAIA DE SANTA BARBARA, Sao Miguel – Azores Islands (Sunday, September 23, 2018) –
Australians 
Rob Bain
, 
Layne Beachley
 and 
Dave Macaulay
 have won the 
Azores Airlines World Masters Championship
 in historic fashion today, claiming victory in the Final bouts against 
Cheyne Horan
 (AUS), 
Rochelle Ballard
 (HAW) and 
Shane Beschen
 (HAW) respectively in the Grand Masters, Women's Masters and Men's Masters divisions held in good three foot surf at Praia de Santa Barbara.
A World Surf League (WSL) Specialty Event, the Azores Airlines World Masters Championship has been treated to an abundance of swell and great performances by some of the legends of surfing from past generations, culminating with today's crowning of the Champions.
Rob Bain (AUS) and Cheyne Horan (AUS) took it to the water first in the men's Grand Masters Final and while the first half of their matchup was a relatively low-scoring affair, Bain started throwing fireworks on the 15 minute mark. Sitting on the inside peak and selecting perfect little runners on the left, Bain built an incredible 17.10 scoreboard on two excellent waves, displaying radical forehand carves and great flow linking maneuvers on long waves. Horan could never climb out of that combination situation and Bain claimed a first-ever World Title in the Grand Masters division.
"Cheyne was always going to be a hard competitor and I was a bit nervous I thought if the waves are small it's going to be a battle," Bain stated. "I'm glad I picked up some waves and I felt good on them, it was just a matter of picking them. This is really a special moment and a dream come true. It's taken a lifetime of ups and downs in competitions."
A late entrant into this event, Bain has been arguably the best surfer all week in his division and dominated every heat he entered until claiming the coveted World Title this morning. The Australian celebrated his 56th birthday today with an incredible performance.
A four-time runner-up in the world in the late 1970s and early 1980s, and the 1999 World Masters Champion, Cheyne Horan (AUS) showed great surfing this week in Azores but unfortunately couldn't quite perform in the Final.
"It was a funny heat, mentally I was all over the place," Horan said. "I just had no confidence today, every time I'd go to hit the lip I'd get all jittery and stuff so it was really hard for me. And Rob kept going from strength to strength, he was already getting good scores on the small ones and when he picked up the best waves of the heat it was all over. But everyone had an insane time here, catching up and surfing every day, it's been an amazing experience."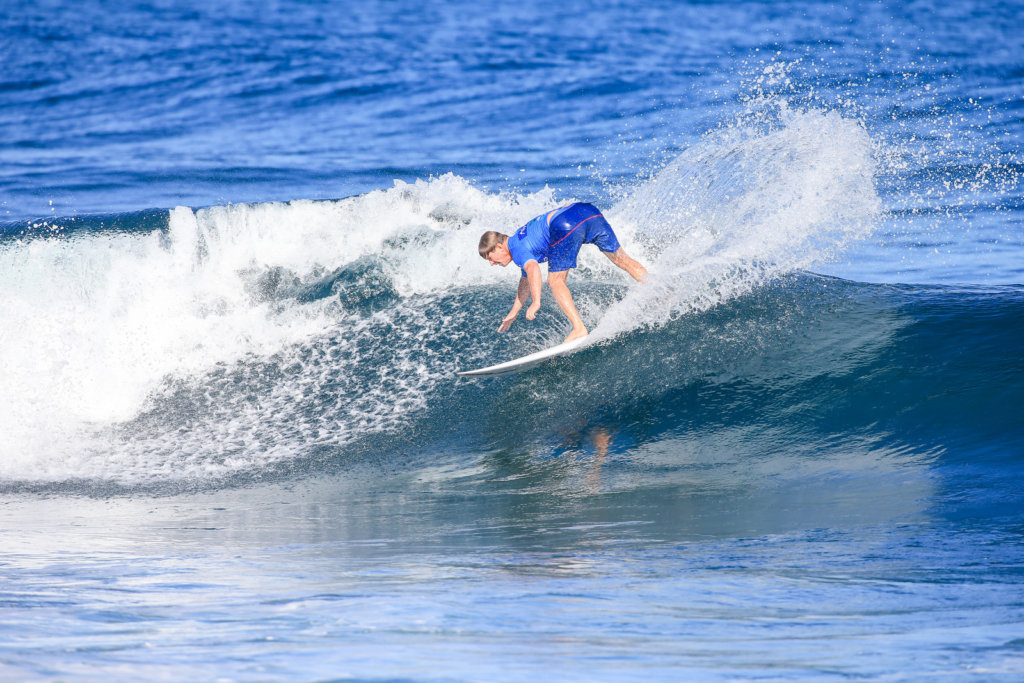 The women's Masters Final was up next between 7-time World Champion Layne Beachley (AUS) and a former QS Champion and runner-up in the world Rochelle Ballard (HAW). The Hawaiian had the best start with a 6.50 in the opening minutes of their heat but Beachley was quick to find her own little left for a 6.60 to claim back the lead. She quickly backed it up with another 6.33 to strengthen her pole position.
Beachley's experience came into play as she perfectly controlled the rest of the Final and walked away with an eighth World Title, but maybe more importantly wrote another page in surfing's history books winning the first-ever Women's Masters title.
"It was really tricky conditions but I had my game plan and I stuck to it and luckily it worked!" Beachley stated. "Whenever I talked to the guys they said they kept moving up and down the beach chasing the waves so that's what I did and I just trusted Huey would send me the waves and I feel fortunate that he did."
"This is really satisfying," she continued. "We're all extremely grateful to WSL for recognizing the pioneers and the trailblazers of the sport and putting this event on. As you can see we still love to compete, we still love to prove to ourselves and others that we've still got what it takes to win, and I look forward to competing again in this event in future years."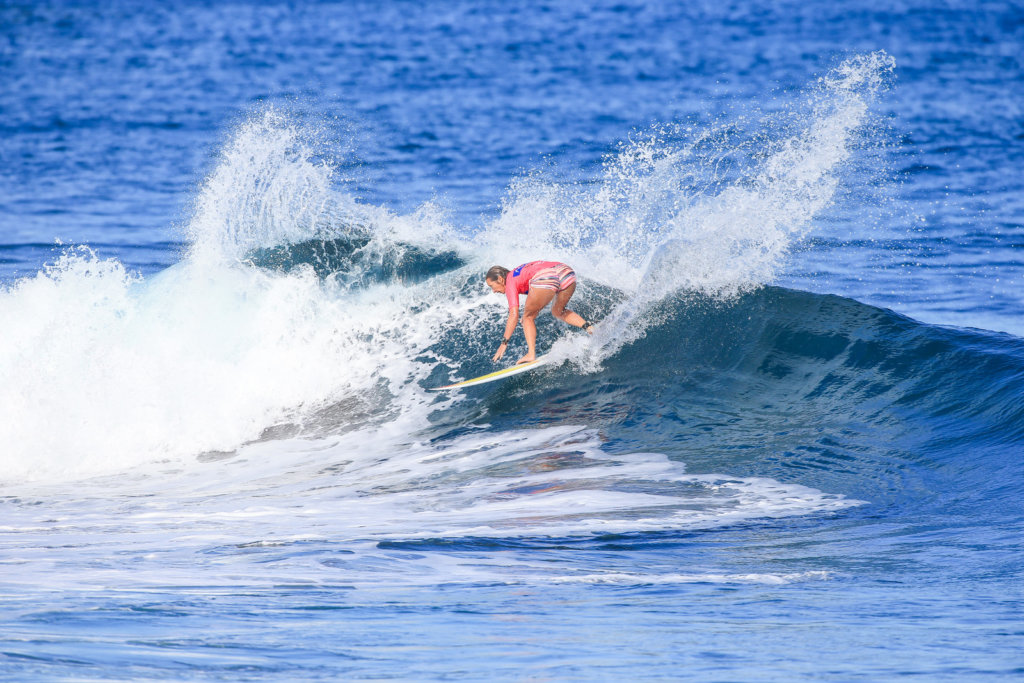 Ballard strategically started her heat apart from Beachley and caught her best wave but hearing the Australian putting on scores on the board, the Hawaiian decided to join her peak. The move unfortunately didn't bring her better waves and Ballard placed runner-up.
"I'm really happy to make the final, for me it was all about surfing well and unfortunately that heat lacked waves a little bit," Ballard said. "I felt like I started well and had a good strategy but it stopped breaking there. But it's been a great event, it was very nice to hang with everybody and catch up like old times. There's a shift in maturity, you want to be here and really enjoy the experience rather than just focus on the victory and the game."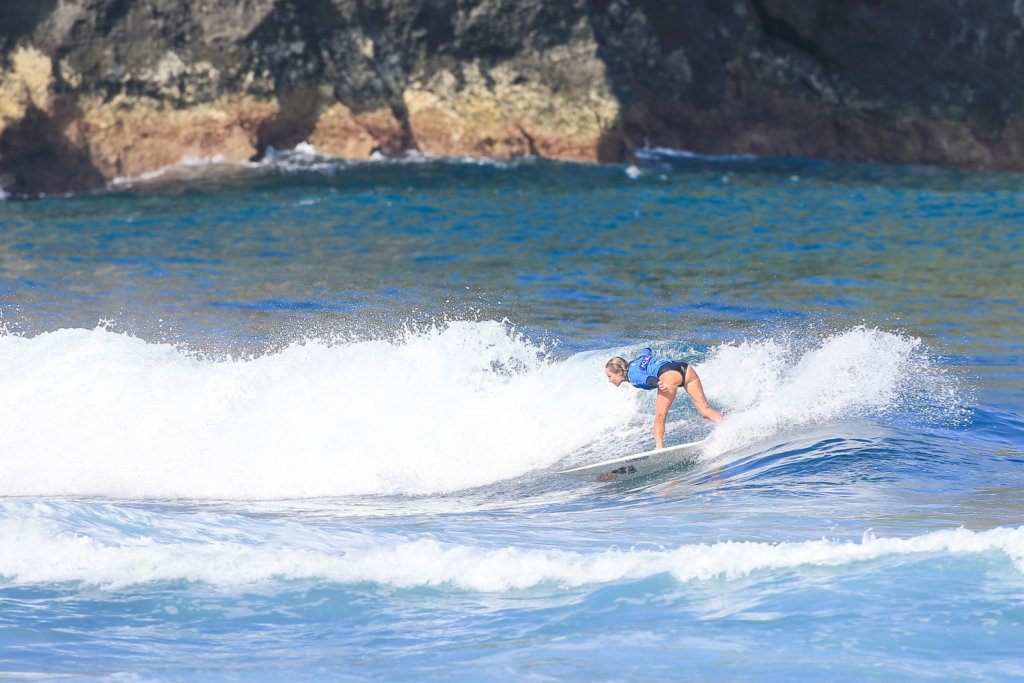 Dave Macaulay (AUS) and Shane Beschen (HAW) finally paddled out for the day's last Final in the men's Masters division. The Australian had a great start and looked fired up, scouring the lineup to find the gems and continuously improving on his scores to impose a big requirement on his opponent. With a couple of 7s on the board, Macaulay remained out of reach for the Hawaiian and the two-time former World No. 3 claimed his first World Title as the oldest competitor in the masters' division.
"I never dreamed this would happen," Macaulay stated. "I was so stoked for Bainy but I couldn't get too emotional cause I had that heat right after. It's been an unbelievable week, we've had an absolute ball. The people here were so friendly and it's so beautiful, I'd come back for a holiday any day. I've had a very fortunate life, being able to keep surfing after the tour, all my kids' surf and it's just insane."
Beschen was one of the strongest competitors all week, putting on big performances alongside Luke Egan (AUS), Fabio Gouveia (BRA) and Jake Paterson (AUS) but the Hawaiian couldn't match Macaulay's rhythm in the ocean and he eventually placed runner-up.
"I didn't, unfortunately, have my best performance today," Beschen said. "But just to be on the list and get invited to come here was a big honor. It's been great seeing everyone and surfing all week. I've had a great time and want to thank all the people here and online for supporting us. My first ever heat against Tom Curren and that buzzer beater against Luke Egan were definitely two highlights of my week."
The Azores Masters & Grand Masters Pro are scheduled from September 18 – 23, 2018 at PRAIA DE SANTA BARBARA, Sao Miguel – Azores Islands. For all results, photos, video highlights and press releases, log on to worldsurfleague.com.
The Azores Masters & Grand Masters Pro are organized by DAAZ Eventos with the support of the following event partners:  Azores Airlines, Governo Regional dos Acores, Turismo dos Açores, Câmara Municipal da Ribeira Grande, SEAT, MEO, MagicSeaWeed amongst others.
AZORES AIRLINES WORLD MASTERS CHAMPIONSHIP FINAL RESULTS:
1 – Dave Macaulay (AUS) 14.43
2 – Shane Beschen (HAW) 11.33
AZORES AIRLINES WORLD GRAND MASTERS CHAMPIONSHIP FINAL RESULTS:
1 – Rob Bain (AUS) 17.10
2 – Cheyne Horan (AUS) 9.53
AZORES AIRLINES WORLD WOMEN'S MASTERS CHAMPIONSHIP FINAL RESULTS:
1 – Layne Beachley (AUS) 12.93
2 – Rochelle Ballard (HAW) 10.43