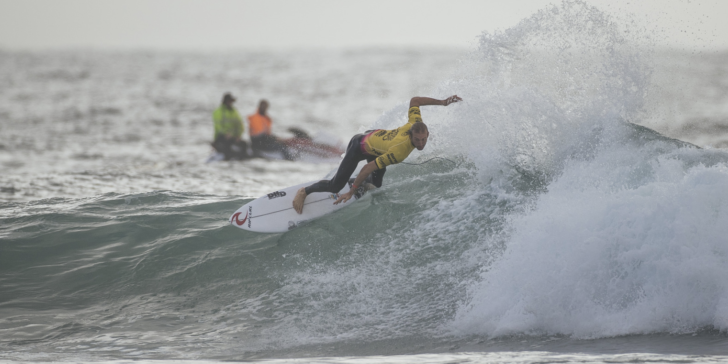 The Tweed Coast Pro
Top Seeds Stephanie Gilmore and Owen Wright Dominate Day 1 at Cabarita
Two-time WSL World Champion Tyler Wright  takes a knee in solidarity with Black Lives Matter
Up and comers make their mark on opening rounds of Tweed Coast Pro
front page image: Tweed Coast Pro event Top seed Owen Wright was a standout on day 1 at Cabarita, posting the second-highest heat total of the opening day of competition at Cabarita Headland.
WSL / Dunbar
CABARITA HEADLAND, NSW / AUS (Sunday, September 13, 2020) – Live professional surfing has returned to Australian shores with the opening day of the  Tweed Coast Pro seeing epic action at Cabarita Headland. Australia's best surfers were treated to clean three-to-four foot surf for day 1 of the specialty charitable event that is part of the Australian Grand Slam of Surfing series.
It was a strong day for the men's and women's top seeds as Australian Olympic team qualifiers Owen Wright and Stephanie Gilmore posted some of the highest heat totals of the day in their respective divisions. Wright's razor-sharp backhand attack was in full flight with the current world number 9 progressing into the Quarterfinals with a two-wave total of 15.17 (out of a possible 20).
"It felt so good to get out there," Wright said. "Competing with the guys out there was so great — the conditions are fun and the sun's out so we're all stoked. I've been really enjoying the time at home and away from competition but as soon as I got here and got back into my training I felt all of the competitive instincts come back like I was back in the zone. It's just great to be back competing."
Growing up in Kingscliff just up the road from Cabarita, Steph Gilmore relished the opportunity to compete for the first time in 2020 at one of her childhood haunts. The last time Gilmore competed she took victory at the Lululemon Maui Pro at Honolua Bay last December and today she picked up where she left off with a solid victory in her Round 1 heat. The seven-time WSL World Champion posted a 15.93 heat total to take down wildcards Zahli Kelly and India Robinson.
"It's so wild to think It's been this long since the last event we all surfed in," Gilmore said. "I was actually really nervous before I paddled out and was getting all of those feelings you get when competing which was great. It was great to know we were all back doing this thing that we love. This is the longest I've been in one spot since I was 17 so I've really been able to focus on getting my body right and my equipment dialled in which is great — I'm feeling really really good. It's just so great to be back in a jersey and I'm looking forward to the Quarterfinals.

 Two-time WSL World Champion Tyler Wright takes a knee in solidarity with Black Lives Matter today at the Tweed Coast Pro.
: WSL / Dunbar
Tyler Wright, two-time World Surf League Champion, took her return to competition as an opportunity to make a statement and take a knee in solidarity with Black Lives Matter during her heat today at the Tweed Coast Pro. Wright knelt for 439 seconds – one second for every First Nations person in Australia who has lost their lives in police custody since 1991.
In a post on her Instagram account, Wright said,
"Before I'm an athlete, I'm a human being. So today, before my heat at the Tweed Coast Pro, I'll be taking a knee in solidarity with Black Lives Matter. These are divisive times and I'm a long way from perfect, but I deeply believe in the pursuit of racial justice and equality for everyone. I understand that my white privilege and having this platform within the surfing community means I have the choice to say something and do something…and that many don't have that opportunity. I need to say more and do more with mine and I'm committed to challenging and changing the systems that continue to discriminate and oppress people of different backgrounds."
The WSL is in full support of Wright and everyone around the world who are making their voices heard against racism and injustice. Surfing is for everyone and the WSL stands in solidarity to proactively work against racism and fight for true equality. Wright then paddled out late to her heat and put on an epic performance to take the heat win and progress into the Quarterfinals.
After falling off the elite Championship Tour in his Rookie year, 2020 was supposed to be Ethan Ewing's big comeback to the big league. That was until COVID struck. After months of preparing at home, Ewing arrived at Cabarita determined to start strong and start strong is exactly what he did, posting the highest single-wave score of the event so far. Ewing was awarded a 9.17 for a series of searing frontside turns on a beautiful Cabarita wall as the 22-year-old Queenslander pegged himself as the man to beat at the Tweed Coast Pro.
"I've been enjoying myself at home during this downtime but now I'm keen to get back into it," Ewing said. "I'm really happy to be back competing especially against some of these names. These are all the best surfers in the country which is an incredible test so it feels good to book a spot in the Quarterfinals. I really feel like I'm ready for this."
When qualifying for the CT at the end of 2019, former World Junior Champion Isabella Nichols was preparing for a massive rookie season in 2020. Having had 6 months of waiting for the first event of the Australian Grand Slam event, Nichols was nervous to pit herself against the elite-level surfers and today she took her opportunity to make her mark, booking a spot in the Quarterfinals where she will take on fellow up and comer Macy Callaghan.
"I've been really nervous for the last 2 months waiting for these events to run," Nichols said. "I surfed in a couple of QS events before everything was cancelled and didn't really make any heats so I have had a lot of time to stew on that and try to get in the right mindset for competing with all of the big names. I'm glad we're finally here and getting things going. It felt really nice to post some solid scores here today. My first heat was just about finding my feet and a rhythm which allowed me to open up a bit in that last heat which felt really nice."
 Isabella Nichols will take on Macy Callaghan in the Quarterfinals at the Tweed Coast Pro when competition resumes at Cabarita Beach South of Burleigh Heads tomorrow (Google map HERE)
 WSL / Dunbar
Another 2020 CT rookie who impressed on Day 1 at Cabarita was Jack Robinson who looked fiery in the Cabarita peaks. Known as one of the most talented surfers in waves of consequence, Robinson has made it no secret that he has been working hard on his smaller wave surfing and it paid dividends today as he blitzed his opening round heat with an impressive combination of rail and fins free surfing.
Other notable heat winners today included Mikey Wright, Sally Fitzgibbons, Julian Wilson and Nikki van Dijk along with Cabarita local and wildcard surfer Zahli Kelly who progressed over fellow wildcard Philippa Anderson. 16-year-old Kelly will take on seven-time WSL World Champion Stephanie Gilmore in Quarterfinal 2 when competition resumes tomorrow.
Event wildcard Molly Picklum will do battle with Nikki van Dijk after she overcame Keely Andrew in the last heat of the day at Cabarita.
The one international surfer competing on this year's Australian Grand Slam of Surfing is South Africa's, Matthew McGillivray. McGillivray decided to stay on in Australia back in March when the pandemic first became an issue for professional surfers and as a qualified surfer on the WSL Championship Tour, he was welcomed into these events. He had a great start to today's event by taking a round one heat win and advancing to tomorrow's Quarterfinals.
Earlier in the day, WSL held two 'local best of the best' heats (male and female) which saw Tweed Coast surfers from the Cabarita Boardriders, Black Rocks Boardriders, Kingscliff Boardriders and Juraki Surf Culture indigenous Surf Group vie for a spot into the main event. In the end, it was Micah Margieson and India Robinson that moved into the main draw and were unfortunately despatched of in the elimination round.
Tomorrow, four up-and-coming junior surfers from Juraki will surf-off in an Indigenous Expression Session, both of which will be broadcast live to WSL's global audience.
The Australian Grand Slam of Surfing, part of The WSL Countdown, will see 24 of Australia's best surfers (12 men and 12 women) go head to head in their respective divisions. 11 male CT competitors and 8 female CT competitors will be on standby for each stop, some looking to compete for the first time in 2020. The remaining spots in each field will be allocated to the highest ranked 2019 non-qualifying Australian surfers or selected wildcard surfers.
The broadcast-only 'strike mission' style event, not designed for spectators due to COVID, will see competitors given just four days' notice within the competition window, to travel to each location to compete over two days. Surf conditions will determine which location is surfed and when to make sure surfers compete in the best conditions possible.
Adding to the high stakes, men's and women's overall series champions will each win $20,000AUD to donate to a charity of their choice.
Be sure to tune in tomorrow as we crown the event winners at the 2020 Tweed Coast Pro at Cabarita Beach.
The Australian Grand Slam of Surfing will run across the nation between September 13 and 14 and be broadcast live on worldsurfleague.com, Channel 7 (7 Plus), Fox Sports Australia (Kayo) and Sky Sport NZ.
For more information on this and the WSL Countdown Series, please visit www.worldsurfleague.com
The Australian Grand Slam of Surfing couldn't happen without the valued support of our partners including the NSW Government, Boost Mobile, Jeep, Bonsoy, Harvey Norman, Wingman Beer, Red Bull, Seven Network, Fox Sports Australia and Sky Sport NZ.
Tweed Coast Pro Women's Round of 12 Results:
HEAT 1: Macy Callaghan (AUS) 12.00 DEF. Isabella Nichols (AUS) 11.84, Philippa Anderson (AUS) 9.60
HEAT 2: Stephanie Gilmore (AUS) 15.93 DEF. Zahli Kelly (AUS) 11.73, India Robinson (AUS) 2.80
HEAT 3: Tyler Wright (AUS) 12.66 DEF. Sally Fitzgibbons (AUS) 12.04, Molly Picklum (AUS) 9.16
HEAT 4: Nikki Van Dijk (AUS) 9.57 DEF. Keely Andrew (AUS) 9.53, Holly Wawn (AUS) 6.70
Tweed Coast Pro Women's Elimination Round Results:
HEAT 1: Isabella Nichols (AUS) 14.16 DEF. India Robinson (AUS) 12.60
HEAT 2: Zahli Kelly (AUS) 9.10 DEF. Philippa Anderson (AUS) 7.77
HEAT 3: Sally Fitzgibbons (AUS) 12.17 DEF. Holly Wawn (AUS) 5.57
HEAT 4: Molly Picklum (AUS) 11.93 DEF. Keely Andrew (AUS) 10.27
Tweed Coast Pro Women's Quarterfinal Matchups:
HEAT 1: Macy Callaghan (AUS) vs. Isabella Nichols (AUS)
HEAT 2: Stephanie Gilmore (AUS) vs. Zahli Kelly (AUS)
HEAT 3: Tyler Wright (AUS) vs. Sally Fitzgibbons (AUS)
HEAT 4: Nikki Van Dijk (AUS) vs. Molly Picklum (AUS)
Tweed Coast Pro Men's Round of 12  Results
HEAT 1: Connor O'Leary (AUS) 11.23 DEF. Adrian Buchan (AUS) 10.80, Wade Carmichael (AUS) 9.07
HEAT 2: Owen Wright (AUS) 15.17 DEF. Ethan Ewing (AUS) 12.30, Micah Margieson (AUS) 2.17
HEAT 3: Jack Robinson (AUS) 13.43 DEF. Julian Wilson (AUS) 9.34, Mikey Wright (AUS) 8.23
HEAT 4: Matthew McGillivray (ZAF) 9.13 DEF. Morgan Cibilic (AUS) 8.93, Ryan Callinan (AUS) 8.77
Tweed Coast Pro Men's Elimination Round Results
HEAT 1: Adrian Buchan (AUS) 14.40 DEF. Micah Margieson (AUS) 11.67
HEAT 2: Ethan Ewing (AUS) 16.50 DEF. Wade Carmichael (AUS) 13.77
HEAT 3: Julian Wilson (AUS) 14.07 DEF. Ryan Callinan (AUS) 11.53
HEAT 4: Mikey Wright (AUS) 12.10 DEF. Morgan Cibilic (AUS) 11.83
Tweed Coast Pro Quarterfinal Matchups:
HEAT 1: Connor O'Leary (AUS) vs. Adrian Buchan (AUS)
HEAT 2: Owen Wright (AUS) vs. Ethan Ewing (AUS)
HEAT 3: Jack Robinson (AUS) vs. Julian Wilson (AUS)
HEAT 4: Matthew McGillivray (ZAF) vs. Mikey Wright (AUS)
About the WSL 
The World Surf League (WSL), established in 1976, is the home of surfing. The WSL is dedicated to changing the world through the inspirational power of surfing by creating authentic events, experiences, and storytelling to inspire a growing, global community to live with purpose, originality, and stoke.The WSL is a global organization, headquartered in Santa Monica and with regional offices in North America, Latin America, Asia Pacific, and EMEA. The WSL possesses a deep appreciation for the sport's rich heritage while promoting progression, innovation, and performance at the highest levels.

The WSL is comprised of Tours & Events, celebrating the world's best surfers across all disciplines and annually running more than 180 global contests and crowning the undisputed World Champions across all divisions; WSL WaveCo, where innovation meets experience; and WSL Studios, which offers best in class storytelling across competition, lifestyle, and conservation.For more information, please visit WorldSurfLeague.com