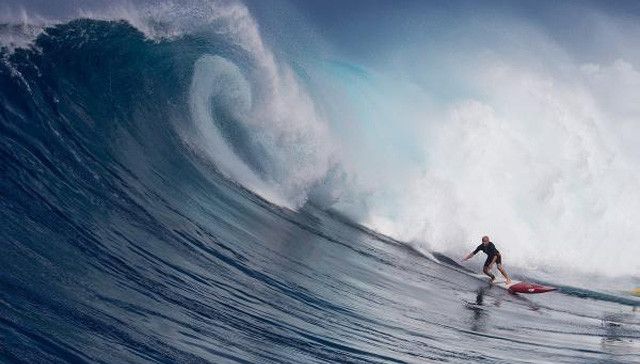 Gary Linden © WSL/Fred Pompermeyer

It's good to know the guy steering the tour can tackle Jaws
Surf News, 29 January, 2015 – When it comes to representing the business of big wave riding, Big Wave Tour Vice President Gary Linden decided it was best to lead by example. At the tender age of 65, he just scored his first big wave at Jaws, site of the BWT's Pe'ahi Challenge. Though the event hasn't yet run, Linden was able to cross an item off his bucket list and, just maybe, set a record in the process. The big-wave hellman chatted about his experience at Jaws.
World Surf League: You recently caught your first wave at Jaws. What was that experience like?
Gary Linden: I talked to Greg Long (USA) before and he said, "No, you can't do it, I don't think you can do it Gary. It takes all my athletic ability, every drop I make." So I had this in the back of my mind. But I've surfed all the other big waves, every spot we have on Tour, everywhere. It was on my bucket list to get one at Jaws.
I had some health issues this year — I had an arthritic hip and some heart problems and I'm going, 'it's probably not going to happen'. I'm bringing all that baggage on the day. But I've still got my suit, I've still got my vest, just on the odd chance that I thought I could do it I would. I was sitting there watching all the waves and thinking. Finding out where I thought I could fit, what part of the peak. I've become really good at reading the waves so I don't put myself in the wrong position.
I sat there and my friend Ben Wilkinson (AUS), one of the guys on the tour who's really just a genuine human being, paddled over and goes, "Gary you want to catch a wave?" And I told him I didn't have a board. And he says, "Well I'll loan you this one." He's like 260 (lbs.). He's got a big old, thick board. I knew I was at least going to be able to get into it, I didn't know if I'd be able to turn it, but I'd get into it. I told him to go out there and surf and catch one and come back. So he comes back again says, "You wanna go Gary?" And I thought, 'This is my chance, if I'm ever gonna do it, it's right now.'
I suited up, paddled out, I knew where I was going to sit and I knew I had to do it quick because I didn't want to get caught out there for a while and I picked off a good one. I made it the bottom and got clipped by the wall just at the end. That's the hard part about Jaws, every wave pretty much barrels and you got to be able to set up. This board was just too big for me to really maneuver all that well, but it got me in which is what I wanted. It got me a notch. It was an amazing feeling.
WSL: What was the response from the crowd like?
GL: It was so gratifying to see the emotion and the joy on all the people out there that watched me catch it. I'm 65 and I may be one of the oldest guys to ever paddle in out there. If you're trying to lead a Tour or direct an event, it's nice for the people to know you can actually do it. There was so much love from everybody that I was actually able to do that, I think it encouraged them to know that when you reach 65 life's not over.
WSL: Tell us about your journey to founding the BWT.
GL: I realized that big wave surfing wasn't a sport, but more of a lifestyle for guys my age, in their 40s-plus, who had enough money to buy the bigger boards, could take time off work and chase the bigger swells. You have to have a flexible schedule, so none of the young kids were pursuing the sport. We weren't really seeing the limits of big wave surfing being pushed by people 18-30 when you're really in your prime athletic ability. I had the experience of working with the Tour and doing the format and I thought, 'Well, I want to help create a sport out of big wave surfing.'
WSL: How did you get into big wave surfing?
GL: I think of big wave surfing as a philosophical approach to surfing. What that means is that you always sit out back and wait for the biggest wave to come in, regardless of how big it is. Whether it's two-foot and you're waiting for a three-foot, I'm gonna sit out and wait for the big one. (laughs)
The first big wave I ever caught was during the swell of the century at Rincon in 1969. The same day that Greg Noll surfed his wave at Makaha, I surfed Rincon and it was really, really big. I got a late start in pursuing what we now refer to as big wave surfing. But philosophically I was always trying to catch the biggest wave, no matter where I was.