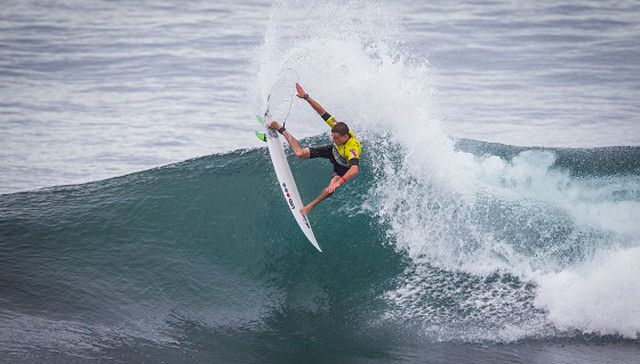 Photo: Matt Banting blitzed the ASP Qualifying Series in 2014 © ASP/Poullenot
Seven levels of 'Star' events become five 'QS1000' events 
Surf News Network, 5 November, 2014. Los Angeles – Association of Surfing Professionals (ASP) International is pleased to announce a restructure and rebranding action for the Qualifying Series (QS) that will take effect in 2015.
The action is intended to simplify the Qualifying Series from a consumer, media, marketing and athlete standpoint, ensuring the continuation of the world's best surfers advancing through to the elite Championship Tour where they will contest for the world title.
Moving forward, the former seven levels of QS events will become five with naming designations centered around point offerings:
"1-Star" to become "QS1000"
"2-Star" and "3-Star" to merge and become "QS1500"
"4-Star" and "5-Star" to merge and become "QS3000"
"6-Star" to become "QS6000"
"Prime" to become "QS10000"
The QS tiers have been streamlined, whilst maintaining a similar points differential that exists  between the current Prime and Star events.
"Our goal with the Qualifying Series is always to ensure the best surfers are advancing to surfing's highest level of competition, the Championship Tour" Kieren Perrow, ASP Commissioner, said. "The changes being made to next year's Qualifying Series are designed to enhance the process already in place and improve the experience for our athletes, fans and event partners"
In addition to the above transition, enhanced emphasis will placed around the seven regional tours in Africa, Australia, Europe, Hawaii, Japan, North America and South America with preferred seeding into all QS events being awarded to regional champions.
Running in conjunction with the evolution of the Qualifying Series, the ASP will roll out significant changes to its Junior Program. Having crowned notable surfers such as Andy Irons, Joel Parkinson, Adriano de Souza, Gabriel Medina, Jessi Miley-Dyer, Sally Fitzgibbons and Pauline Ado in the past, the ASP World Junior Championships are populated through seven regional tours and have long served as the benchmark for future greatness in the surfing world. Historically a 20-and-under age division, the age will drop to 18-and under beginning in 2016.
"The ASP World Junior Championship is the most prestigious junior event on the planet and the calibre of past champions is unparalleled," Perrow said. "We've spent significant time discussing trends within the surfing world, athlete performance and career pathway and have determined that the evolutionary rollout for the ASP Junior Program over the next two years will benefit the sport."
In 2015, the ASP will become the World Surf League (WSL), overseeing the Men's Championship Tour, Women's Championship Tour, Big Wave Tour, Qualifying Series, World Junior Championships and World Longboard Championships.