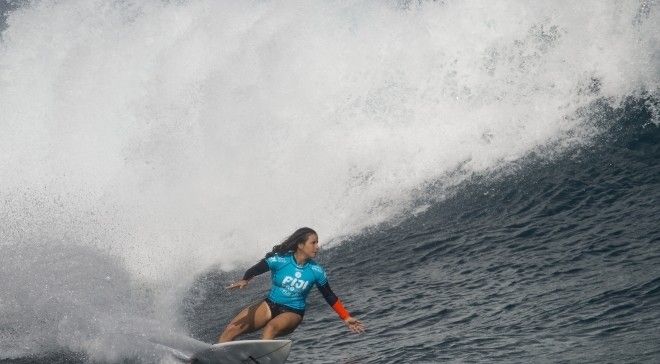 Fiji was a turning point this year for Defay
Surf News Network, Jan 1,2015 – In 2013, a young Junior surfer hailing from Reunion Island took the whole of Europe by surprise when she dominated both the regional Junior and QS rankings on her way to qualify for the ultimate proving ground: the ASP Women's World Championship Tour.
A year later, Johanne Defay has accomplished her dream of competing against the World's Best Surfers at some of the most exotic locations around the globe. Not only that but the 21-year-old French ripper topped off her maiden season with the coveted Rookie of the Year trophy rewarding her consistent campaign and an overall Top 8 finish.
We just caught up with Johanne, only days after the completion of the season in Hawaii at the Target Maui Pro.
ASP: Congratulations Johanne on an exceptional first season amongst the Top17 ! Let's go back to the beginning and how you found yourself qualified for the 2014 season.
Johanne Defay: Yeah that was so unexpected ! I was focusing exclusively on the Junior tour in Europe for my last season under-20, and the CT was more of a long-term goal I always had in mind. But last summer it all came together with the European title and the quailification; there weren't that many events in 2013 so two big results were enough for me to get through.
ASP: The first few events were a bit tough for you, how did you feel adjusting to the big leagues ?
JD: I think I was just overwhelmed finding myself amongst the girls, and seeing my locker next to Steph Gilmore's for example.. I was just really impressed and I still had that Junior attitude. On the CT you need to mature quickly, both in and out of the water. It really is next level and I just realized it the hard way. I found out how much work you need to put in, every day. I think the most important thing I realized is that you need to find you own ways, cause what the next girl is doing is probably not right for yourself. I'm definitely still learning.
ASP: Then Fiji happened and you reached the quarters, did something just click ?
JD: I just enjoyed that event, and never questioned my surfing or thought of the end result. I felt so good in those waves, the island was incredible and going surfing in the boat was such a cool experience.
ASP: Then you really stepped up and found consistency in the following events. What did you adjust to produce those results ?
JD: I think I just found a good rhythm. My coaches (Joel Hauss, Simon Paillard, Nicolas Coradi and Yann Martin) kept pushing and supporting me and it really helped. When you're in doubt you can't do anything without the support of your close ones. I have such incredible people around me, I just kept working and it started to pay off.
ASP: Off that maiden season, what did you most appreciate ?
JD: Well, good memories often go with good results ! I loved surfing at home in France. The events are really intense and it's awesome to share the ups-and-downs with your entourage. I'm stoked I got to live that first season with those people on a day-to-day basis. Finally coming home after a long time away feels amazing as well.
ASP: Unfortunately next year you will be the only European on tour, what would you tell your compatriots to help their qualification campaign ?
JD: I'm not really in a position to give advice. Everyone gets there differently I think, I just know you need to keep at it, and accept the help of others along the way cause it's a lot harder on your own.
ASP: You've managed to follow an entire season without a major sponsor, is your result going to help raise your profile and attract brands ?
JD: I sure hope so ! Fingers crossed.
ASP: How are you going to spend your time between now and the first event next year ?
JD: I'm home now in Reunion Island for the holidays over Christmas and the new year. I hope I can travel early next year, in January for example and surf as much as I can !