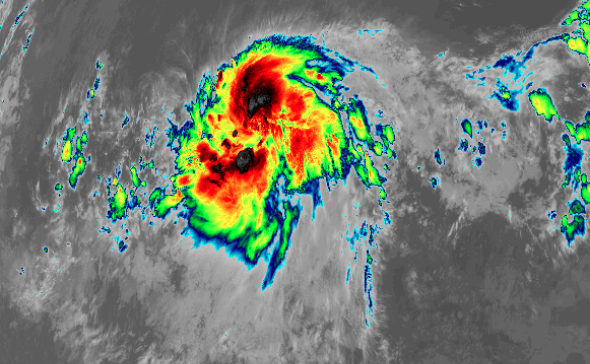 Barbara's exact track will determine impacts-if any-for Hawaii after this weekend and work week.
Barbara is tracking more westward than Alvin, so it is possible that this system or it's remains may near Hawaii early the second week of July (or the 8th onward).
But, the threat to Hawaii is currently low since it's so early in the forecast.
8am Monday updated details: the National Hurricane Center shows TS Barbara roughly 930 miles south-southwest of Cabo San Lucas. Strengthening is expected for the next couple of days with a good chance for fast intensification. Currently, the max sustained wind is 60 knots & she's roughly 930 miles SSW of Cabo San Lucas. Barbara is tracking West (275 degrees) at 14kts and expected to slow down and turn west-northwest over the next 24-48hrs.
SURF: WW3 expects (at this point) for us to get a small to moderate East Swell with its 14-sec forerunners popping the buoys Sunday the 7th. Surf will build into Monday with 2-2.5′ swell at 12 sec and hold at 3′ 11 sec Tuesday. None of these readings mean much more than 2-3′ East swell…tho' it's early days for either an up or downgrade. SNN.