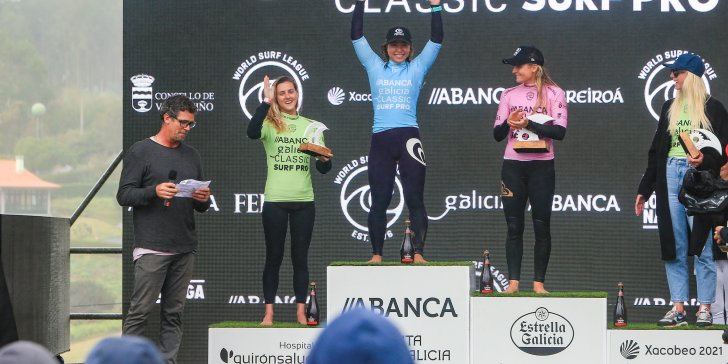 18 year-old Japanese surfer belts historic win with breakthrough performance

Bronte Macaulay places second, leads QS and nabs CT spot for 2020

Hawaii's Local Ladies: Brisa Hennessy nailed a 6th and Kauai's Tatiana Weston-Webb hit 4th (repping BRA)
 Amuro Tsuzuki (JPN) took out the most important event of her young career in Galicia
.
Credit: © WSL / Masurel
PLAYA DE PANTIN, Valdoviño / Galicia – Spain (Wednesday, September 4, 2019) – Amuro Tsuzuki (JPN) has won the women's QS10,000 ABANCA Galicia Classic Surf Pro in historic fashion today, claiming victory in the Final bout against Bronte Macaulay (AUS) held in three-to-four foot surf at Pantin.

Stop No. 9 on the 2019 World Surf League (WSL) European Qualifying Series (QS), the ABANCA Galicia Classic Surf Pro was a historic event as only the second-ever women's event in that category and offering equal prize-money. It witnessed incredible performances by some of the world's best surfers as well as a new crop of up-and-coming talents, culminating today with Tsuzuki's victory.

18 year-old Japanese surfer Amuro Tsuzuki came to Pantin ranked 56th on the Qualifying Series and blasted through the field, defeating four past and current Championship Tour athletes on her way to a historic, breakthrough performance to take out the event.

"This is just a dream and right now I actually  cannot believe it," an emotional Tsuzuki said. "I have trained and worked so hard to get to here and now, it just feels incredible."

Her win today is only the second at this level for a Japanese surfer, and the first since Hiroto Ohhara's performance at the 2015 VANS US Open of Surfing. More than just points and prize-money, the significance of her achievement resonates even louder in a year of Olympic qualification and the introduction of the sport to a global audience next year, in her home country of Japan.

"Most people in Japan don't even consider surfing as a sport," Tsuzuki added. "I'm hopeful that my win today will change minds and maybe get more people interested and invested in surfing in our country."
The young Japanese dominated all week and impressed with her powerful and dynamic surfing.
Credit: © WSL / MasurelThis result has not only propelled the young surfer into major spotlight, but also landed her in 8th position on the Qualifying Series leaderboard, and with potential double-qualifiers through the CT, if the season ended right now Tsuzuki would get a spot on next year's Top 17. The year is far from over, but with the caliber of surfing displayed in Pantin and the maturity with which the powerful regular foot took on finals day, Tsuzuki is allowed to dream big.In the Final, unfortunately waves didn't really play their part and Bronte Macaulay (AUS) couldn't quite showcase the level of performance she put on all week. Nevertheless the Australian, who sits 11th on the CT currently, bagged a major result with the runner-up spot, taking command of the QS with an astonishing 20,950 points which sees her lock her spot on next year's CT roster."It was a disappointing Final but overall a great event in a beautiful part of the world, I always look forward to coming back here," Macaulay said. "I've definitely not got any kind of pressure now heading into the rest of the CT season but I still really want to make the Top 10, it's been my goal since the start of the year. Amuro (Tsuzuki) has been the standout surfer this whole event and to see her mom cry on the beach and all the Japanese girls come down to pick her up was amazing. She's so talented and only 18 so it's great to see someone like her break through."
Bronte Macaulay (AUS) was a standout all week in Pantin as well.
Credit: © WSL / MasurelWorld No. 16 Macy Callaghan (AUS) may have peaked just a little bit too early with an incredible performance in the Quarterfinals where she posted a near-perfect 9.40 to defeat the former No. 1 on the QS Isabella Nichols (AUS). In the semis, she put together a convincing effort that would have won her most other heats but Macaulay was on another rhythm and the Avoca beach surfer was forced out in equal 3rd."I think I've surfed good overall and it's the best competition I've had all year," Callaghan said. "I definitely needed a result coming here, and though I'm still not in a great position at least with this result I'm giving myself a chance. Our last event in Port Stephens is really close to home and I feel very relaxed there so I'm looking forward to it."

Chelsea Tuach (BRB) came off the back of a QS3,000 win in South Africa in June and kept all her momentum going in Galicia with an equal third place finish. In her Semifinal bout, the Barbados surfer could not match the young Japanese surfer's flair, but she stills posted the biggest result of her season and still has a mathematical chance at the qualification if she can reach the finals again in the next and final big event.

"I'm over the moon, Pantin is the one place where I know I can find a good rhythm and I can always enjoy myself and compete the best," Tuach said. "My focus is  now on Japan, I'm flying out tonight for the ISA there and we have a strong team from Barbados so we're hoping to do something big. Competing for your country is really special and very inspiring, especially for a tiny country like ours. Athletics is really important in Barbados and the people really love their athletes so I feel a lot of support."

Nichols and Sage Erickson (USA), who both validated their CT membership for 2020 this week in Galicia as well, were the subjects of surprise eliminations in the Quarters today as they had previously dominated the field throughout the early days of the event.

 With the completion of the ABANCA Galicia Classic Surf Pro, the current Qualifying Series Top 10 is as follows:

Global Qualifying Series Women's Top 10:
1 – Bronte Macaulay (AUS)
2 – Sage Erickson (USA)
3 – Isabella Nichols (AUS)
4 – Tatiana Weston-Webb (BRA)
5 – Caroline Marks (USA)
6 – Brisa Hennessy (HAW) 
7 – Alyssa Spencer (USA)
8 – Amuro Tsuzuki (JPN)
9 – Keely Andrew (AUS)
9 – Chelsea Tuach (BRB)

Surfers will have a choice of smaller QS events across the globe over the next two months, and the final big event will be the QS6,000 Port Stephens Toyota Pro from November 12-17 in Australia.

The competition also ran through 6 more heats of the men's Round 2 before being called off and surfers will be back at 9 a.m Thursday for a potential early re-start.

The ABANCA Galicia Classic Surf Pro count on the collaboration of Xunta de Galicia (Turismo de Galicia, Xacobeo 2021, Deporte Galego, Galicia Calidade, Secretaria Xeral de Igualdade, Conselleria de Medioambiente), Diputacion de A Coruña, Ayuntamiento de Ferrol, Ayuntamiento de Valdoviño, Sociedad Mixta de Turismo de Ferrol, Costa das Ondas y Federación Galega de Surf; así como las firmas ABANCA, ESTRELLA GALICIA, CABREIROA, HOSPITAL QUIRON, INTERMAX, VOLKSWAGEN YAÑEZ, TAGHEUER, JOYERIA JAEL, SIROKO,GADIS, GAM, ITG Y VAZVA.

The ABANCA Galicia Classic Surf Pro is scheduled from September 1-7, 2019 at playa de Pantin, Galicia / Spain. For all results, photos, video highlights, and press releases, log on to worldsurfleague.com.