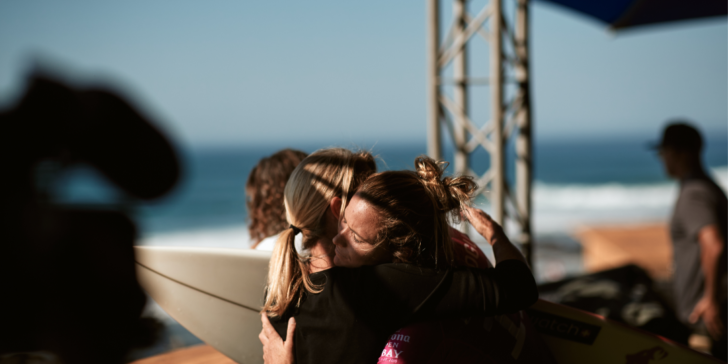 Australians Bronte Macaulay and Nikki Van Dijk Eliminated in Round of 16

Next Call: Tuesday, July 16, at 7:30 AM SAST

Competition Called OFF, Monday, July 15 (Sunday 14 Hawaii)
Courtney Conlogue (USA) is through to the Quarterfinals after a close heat with Nikki Van Dijk (AUS) at the Corona Open J-Bay today. Credit: © WSL / Sloane
JEFFREYS BAY, South Africa (Sunday, July 14, 2019) – The Corona Open J-Bay, the sixth stop on the 2019 World Surf League (WSL) Championship Tour (CT), completed the remaining two heats of the women's Round of 16 before the wind came up and event organizers called competition off for the day. Americans Lakey Peterson and Courtney Conlogue won their heats in three-to-six foot (0.9 – 1.8 meter) conditions at Jeffreys Bay, sending home AustraliansBronte Macaulay and Nikki Van Dijk, respectively.

Event organizers have called competition OFF tomorrow, Monday, July 15. The next call will be Tuesday, July 16, at 7:30 a.m. SAST for a possible 8:05 a.m. start.

"We are going to be off tomorrow, Monday," said Travis Logie, WSL Competition Director. "Similar waves to today but a little bit smaller and less consistent, and we have promising swell coming Tuesday and Wednesday."
Courtney Conlogue Through to Fifth Quarterfinal of 2019 Season
Pictured: Courtney Conlogue (USA) Credit: © WSL / Tostee
Courtney Conlogue (USA) and Nikki Van Dijk (AUS) battled for a place in the Quarterfinals in Heat 7 of the Round of 16. The exchange was as close as it could get with equal scores and the tie-breaker going to the third-highest wave score. Conlogue and Van Dijk traded perfect set waves, with Conlogue controlling the heat from the start. Van Dijk stayed calm and committed and overtook the lead. With a few minutes to go, Conlogue matched the required score, and the two competitors' top two scores tied with 13.00 points (out of a possible 20). Conlogue took the win thanks to her third-highest wave score, a 5.83 to Van Dijk's 5.17. This heat was a rematch from their Round of 16 clash at the Rip Curl Pro Bells Beach, and Conlogue got Van Dijk's number once again.
"I'm feeling very grateful that I won the tie," said Conlogue. "These conditions are beautiful, and I've had some funky heats before with bad conditions in previous events, so I'm stoked to surf today. I don't want to finish in the Quarters. I don't like finishing there. I've had some great surfing but it came down to just a few waves. The conditions are gorgeous today. I just want to give it my all and let the ocean present itself and have fun."
2018 Event Runner-up Lakey Peterson Advances Against Bronte Macaulay
Pictured: Lakey Peterson (USA) Credit: © WSL / Tostee
Another close heat saw Lakey Peterson (USA) and Bronte Macaulay (AUS) go toe-to-toe for the last Quarterfinal spot. Peterson surfed aggressively, opting for more medium-sized waves, while Macaulay waited for the set waves. A stronger offshore seemed to slow down the heat, leaving fewer options available as time wound down. Peterson held onto the lead and secured her entry in the fourth Quarterfinal, where she will meet Conlogue. Macaulay exits the Corona Open J-Bay in equal 9th, her fifth R/16 exit this season.
Corona Open J-Bay Remaining Women's Round of 16 (H7 – 8) Results:
Heat 7: Courtney Conlogue (USA) 13.00 DEF. Nikki Van Dijk (AUS) 13.00
Heat 8: Lakey Peterson (USA) 13.03 DEF. Bronte Macaulay (AUS) 11.43Corona Open J-Bay Women's Quarterfinal Matchups:
QF 1: Stephanie Gilmore (AUS) vs. Caroline Marks (USA)
QF 2: Carissa Moore (HAW) vs. Johanne Defay (FRA)
QF 3: Sally Fitzgibbons (AUS) vs. Malia Manuel (HAW)
QF 4: Courtney Conlogue (USA) vs. Lakey Peterson (USA)Corona Open J-Bay Men's Round of 16 Matchups:
Heat 1: Jordy Smith (ZAF) vs. Owen Wright (AUS)
Heat 2: Gabriel Medina (BRA) vs. Ryan Callinan (AUS)
Heat 3: Kolohe Andino (USA) vs. Deivid Silva (BRA)
Heat 4: Ezekiel Lau (HAW) vs. Adrian Buchan (AUS)
Heat 5: Filipe Toledo (BRA) vs. Willian Cardoso (BRA)
Heat 6: Sebastian Zietz (HAW) vs. Michel Bourez (FRA)
Heat 7: Kanoa Igarashi (JPN) vs. Peterson Crisanto (BRA)
Heat 8: Kelly Slater (USA) vs. Italo Ferreira (BRA)

More available at WorldSurfLeague.com.