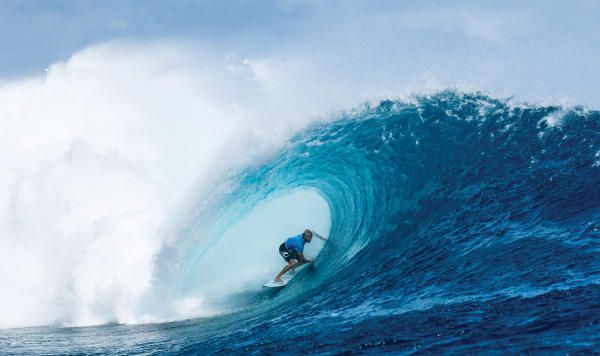 Here's to Owen bagging plenty more of these types of waves on the 2017 Tour. – WSL / Jimmy Wilson
Looking at the list (at bottom) it's clear to see this year's roster makes up the deepest, widest depth of talent the Tour has ever seen. There's 6 World Champs out of the top 32 (about 20%, 1 out of 5), and 18 Years of Titles between them or nearly half the years since the Tour began in '76 . Then look at the guys who coulda/woulda/shoulda had a title: Julian Wilson, Felipe Toledo, Jordy Smith, Josh Kerr, Owen Wright and even Matt Wilkinson (last years #1 for ~ half the year). Not to leave out the other Brazilian and California talents…It's outta hand trying to predict at this point but will be fun trying. SNN.
WSL Update: After a year long absence from the WSL Championship Tour (CT), Australian Owen Wright accepted the 2017 WSL wildcard,  making his much-anticipated return at the Quiksilver Gold Coast Pro Tuesday March 14th. 
Wright suffered a traumatic head injury surfing Pipeline in December 2015 and took the entire 2016 season off to recover.
"I'm so thankful for the support of my friends and family, my sponsors, the WSL and all the people in the community who sent positive thoughts to me throughout my recovery," Wright said. "I'm feeling stronger every day and I'm very much looking forward to returning to the Tour and further honing my fitness and surfing throughout the 2017 season."
The Byron Bay local capped an outstanding 2015 campaign with a No. 5 overall ranking and was a contender for the 2016 Title race until he was derailed by his accident. Due to the seriousness of his injury, Wright's decision to return this season was not confirmed until after he successfully competed last month at the Maitland and Port Stephens Toyota Pro QS6,000 in Newcastle, NSW.
"Owen Wright is one of the most electric and powerful surfers to ever grace the tour," said Kieren Perrow, WSL Commissioner. "The WSL's priority was Owen's well-being and a healthy return to the sport. After assessing his performance and health after the QS event earlier in the season…we're happy to have him back." WSL
Quiksilver Pro Gold Coast Round 1 Match-Ups:
Heat 1: Michel Bourez (PYF), Conner Coffin (USA), Jadson Andre (BRA)
Heat 2: Matt Wilkinson (AUS), Stuart Kennedy (AUS), Ian Gouveia (BRA)
Heat 3: Kolohe Andino (USA), Kanoa Igarashi (USA), Jack Freestone (AUS)
Heat 4: Gabriel Medina (BRA), Wiggolly Dantas (BRA), Ezekiel Lau (HAW)
Heat 5: Jordy Smith (ZAF), Miguel Pupo (BRA), TBD
Heat 6: John John Florence (HAW), Connor O'Leary (AUS), TBD
Heat 7: Kelly Slater (USA), Mick Fanning (AUS), Jeremy Flores (FRA)
Heat 8: Julian Wilson (AUS), Caio Ibelli (BRA), Leonardo Fioravanti (ITL)
Heat 9: Joel Parkinson (AUS), Italo Ferreira (BRA), Joan Duru (FRA)
Heat 10: Filipe Toledo (BRA), Adrian Buchan (AUS), Frederico Morais (PRT)
Heat 11: Adriano de Souza (BRA), Josh Kerr (AUS), Bede Durbidge (AUS)
Heat 12: Sebastian Zietz (HAW), Owen Wright (AUS), Ethan Ewing (AUS)
Roxy Pro Gold Coast Round 1 Match-Ups:
Heat 1: Johanne Defay (FRA), Sally Fitzgibbons (AUS), Keely Andrew (AUS)
Heat 2: Tatiana Weston-Webb (AUS), Sage Erickson (USA), Bronte Macaulay (AUS)
Heat 3: Tyler Wright (AUS), Nikki Van Dijk (AUS), TBD
Heat 4: Courtney Conlogue (USA), Silvana Lima (BRA), Pauline Ado (FRA)
Heat 5: Carissa Moore (HAW), Laura Enever (AUS), Coco Ho (HAW)
Heat 6: Stephanie Gilmore (AUS), Malia Manuel (HAW), Lakey Peterson (USA)
For all the WSL news action coming next week…GO HERE