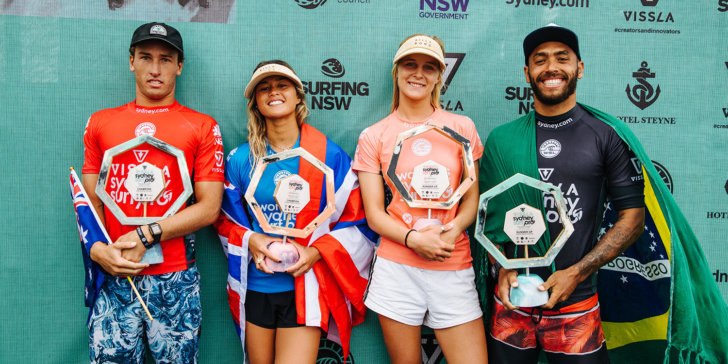 Front page Finalists at the 2019 Vissla Sydney Surf Pro QS6,000 at Manly Beach, (L – R) Jordy Lawler (AUS), Alessa Quizon (HAW), Isabella Nichols (AUS) and Jadson Andre (BRA).
Credit: © WSL / Matt Dunbar
Manly Beach, NSW /AUS (Sunday, March 24, 2019) –  Jordy Lawler (AUS) and Alessa Quizon (HAW) have claimed victory at the 2019 Vissla Sydney Surf Pro andSydney Women's Pro presented by Sisstrevolution World Surf League (WSL) Qualifying Series (QS) 6000 event. Manly Beach provided another day of super clean 2-to-3 foot surf for some of the world's best to put on a show for thousands of fans that lined the sand at one of competitive surfing's most iconic beaches. 

WSL events at Manly have seen an array of the sports biggest names claim victory but only once in recent history has a Northern Beaches local taken the win (Laura Enever 2015). This year, the Vissla Sydney Surf Pro saw the winner's trophy return home as North Narrabeen local Jordy Lawler (AUS) claimed the biggest win of his young career in front of huge crowds at Manly. After a few years of poor results and niggling injuries, Lawler could be on the brink of career-best form as he rockets to 4th on the QS rankings. 

"I've worked my whole life to be standing here on this stage right here so to be doing it now feels surreal," Lawler said. "Winning an event of this size and gaining 6000 QS points is so good but to win down here at Manly with everyone from North Narrabeen here is incredible. Surfing an event so close to home is so sick but winning one is amazing– I don't even know what to say to be honest — I feel like I'm dreaming. This has done a heap for my confidence and all I want to do now is to qualify for the CT and now I really believe I can."
: Local favourite Jordy Lawler chaired through huge crowds after the biggest win of his career at the 2019 Vissla Sydney Surf Pro QS6,000 at Manly Beach.
Credit: © WSL / Matt Dunbar
After falling off the elite Championship Tour in 2016, 
Alessa Quizon (HAW) 
has taken a step back from competition and has focussed less on re-qualifying for the CT. The young Hawaiian has been hand picking events and taking it heat by heat, trying as much as possible to surf without pressure on herself. This new, more relaxed approach seems to be working as Quizon took out the first major QS event win of her career. Alessa will now have to reassess her plans for competition as she sits in fourth place on the WSL QS rankings."I can't really believe this is happening," Quizon said. "I was mainly coming to Australia to support my husband (Caio Ibelli – pro surfer) and maybe surf a few events and just see how I would go. Newcastle wasn't the best result and then I came here and kept making heats and then I ended up in the Final. I wasn't really planning on chasing the QS this year and going for re-qualification but I might have to rethink that. It was cool to share it with Bella and I'm so excited to see her doing well. This is all so surreal I just need to let it all sink in."
: Sydney Women's Pro pres. by Sisstrevolution 2019 winner Alessa Quizon (HAW).
Credit: © WSL / Matt Dunbar
Former WSL World Junior Champion 
Isabella Nichols (AUS)
 has been building momentum all season, starting the year with an equal 3rd on the Central Coast, then backing it up in Newcastle with a second and now another Final appearance in Manly at the Sydney Women's Pro presented by Sisstrevolution. Although Nichols fell just short of the win for the second time in a week, The Sunshine Coast local is over the moon that she has had the best start to the QS season of her career and is now leading the QS rankings at the end of the Aussie leg.
"Obviously I wanted to come here and win the event but to make another final at a QS6,000 is so good — I'm so stoked," Nichols said. "I've never started my season well so to be leading the QS is so amazing and I feel like it's all coming together for me. I'm really happy for Alessa, she is a great friend of mine and an incredible surfer so I'm stoked to see her do well. Although I want to shift my focus on to the next events and make sure I keep my roll going, I just want to soak this up as it's a really amazing feeling right now."

: Sydney Women's Pro pres. by Sisstrevolution 2019 runner-up Isabella Nichols (AUS).
Credit: © WSL / Matt Dunbar
Similar to Isabella Nichols, Jadson Andre (BRA) found himself in his second final in a week having finished runner-up in Newcastle as well as today at Manly. Andre, like Nichols, was hoping to go one better this week, but after a QS6,000 win, last month in Brazil and now two finals appearances in Australia Andre is way out in front on the QS rankings. With this in mind, he can head to the first CT event at Snapper Rocks next week feeling comfortable that he has already secured a spot on tour in 2020.
"It's so crazy to think my major season has not started yet but this is my third final," Andre said. "I can't help but be a bit disappointed that I didn't finish first at these last two events but to be in such a strong position on the rankings will be awesome for my confidence as The CT season starts again. There was so many Brazilians on the beach supporting me which was so awesome. It's been such a great week in Manly and now it's time to shift my focus to Snapper which starts next week."
The Vissla Sydney Surf Pro is a collaboration between World Surf League and Surfing NSW to run Sydney's largest surfing event at the iconic Manly Beach.
The Vissla Sydney Surf Pro is proudly supported by the NSW Government via its tourism and major events agency Destination NSW. The event is also proudly supported by Vissla, Sisstrevolution, Northern Beaches Council, Hotel Steyne, WSL, KeySun Zinke and Surfing NSW.