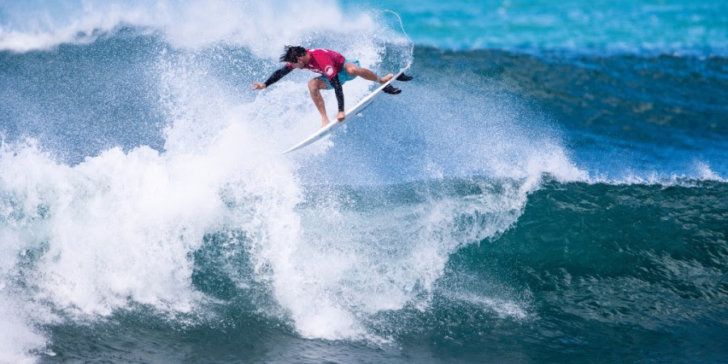 CAM RICHARDS TOP PERFORMER WITH 9.33 FULL ROTATION
ROUND 1 COMPLETED WITH LIST OF LOCALS ADVANCING MANY LOCALS OUTSTED: INCLUDING BIG NAMES LIKE MASON HO…
East Coast's Cam Richards eyes a perfect landing on his 9.33 ride in Round One Heat 11.
Image: WSL / Freesurf / Heff
| | |
| --- | --- |
| Location:    |   Haleiwa Ali'i Beach Park, North Shore, Oahu                                                 |
| Event window: |   November 12 – 24, 2017 |
| Rating: |   Men's QS10,000 |
| Conditions: |   3-5ft.+ WNW swell |
HALEIWA, Oahu/Hawaii – (Tuesday, November 14, 2017) — The 35th Annual Vans Triple Crown of Surfing launched today with an exciting aerial show at the Hawaiian Pro, a World Surf League (WSL) Qualifying Series (QS) 10,000 event, and saw Cam Richards(USA) score an excellent 9.33 (out of 10) for a full rotation 540 maneuver in the punchy surf at Haleiwa Ali'i Beach Park.Richards dominated Round One Heat 11 from the start with a 7.83 on his opening ride to raise the bar and then quickly dropped another 7.10 to secure a strong lead against competitors Shayden Pacarro (HAW), Timothee Bisso (FRA) and Dylan Goodale (HAW). The lineup was graced with a flurry of waves as the WNW swell continued to fill in and Richards found a rampy left-handed ride to take to the air for his 9.33.
A new breakout East Coast hopeful from South Carolina, this is Richards' 17th event this year after an early win at the Carve Pro Men's QS1,000 in Sydney, Australia and a runner-up finish at the Telstra Stores Tweed Coast Pro.

Cam Richards (USA) was among the International QS Top 10 in the beginning of 2017 and looks to gain momentum in Hawaii after an impressive feat on opening day. Image: WSL/Freesurf/Heff
"It's my first year giving it my all," commented Richards. "I don't really care I just hope to do well, make as many heats as I can, make some money and get some points. Hopefully next year is really good, it'd be cool to qualify this year, but who knows."
Richards has yet to hit winning form again since his run in Australia, but is off to a solid start in Hawaii with today's performance after tallying the highest single wave and two-wave total – 17.16 out of 20 – of the competition thus far.
Pacarro also advanced with stylish top-to-bottom surfing behind Richards and secured the second highest single-wave score of the day, an 8.00, for a long left on his forehand. Tanner Gudauskas (USA) and Brett Simpson (USA) also scored 8.0 rides later in the day.
2014 Hawaiian Pro winner Dusty Payne (HAW) advanced through Round One Heat 5 behind Australia's Dion Atkinson in a tight heat that also included 2017 WSL Hawaii/Tahiti Nui Regional Junior Champion Barron Mamiya and Tahitian powerhouse Taumata Puhetini.
"The Triple Crown is always challenging, there's never an easy heat," said Payne. "Every time you can make one it's fortunate, I'm happy to still be going."

Dusty Payne lays into it for a combined heat total of 12.23 in an early morning heat. Image: WSL/Freesurf/Keoki
Payne is back in the game after taking eight months off due to a massive disc herniation suffered at the big wave break known as Nazare prior to the 2016 MEO Rip Curl Pro Portugal. The Maui surfer missed the Vans Triple Crown last year to focus on rehabilitation and has returned to his in-form performance with a focused goal to get back on the Championship Tour (CT).
"I'm just happy to be surfing, I missed it last year and was pretty bummed. But my body feels good and I'm just really happy to be here at home." Payne had a miraculous re-qualification onto the 2015 CT after a win at the 2014 Hawaiian Pro and a second place at the Vans World Cup and is a beacon for other local surfers looking to achieve dreams through these enormous opportunities at home in Hawaii.
Regional surfer Ariihoe Tefaafana from Tahiti demonstrated quick surfing to tally nine rides in Heat 8 and advanced in first ahead of Parker Coffin (USA). Tefaafana sits third on the WSL Hawaii/Tahiti Nui regional rankings behind Finn McGill (HAW) and has the potential to secure the Regional Champion title after McGill was knocked out in the opening heat of the day.
"This is my first Prime (QS10,000) and I was just trying to keep busy," said Tefaafana. "I'm third in the regional ranking so I came to Hawaii to win that. It's one of my first goals. I'm just taking it heat by heat and trying to have fun."

Snappy surfing from Ariihoe Tefaafana (PYF) earned him advancement into Round 2. Image: WSL/Freesurf/Keoki
Contest organizers will reconvene tomorrow morning to assess conditions and determine whether to resume competition; a call will be made by 7:30am HST. Surfline, official forecasters for the event, predict a combo of easing WNW swell and holding NNE swell to produce more waves in the 3-5ft+ range with strong NE-ENE trade winds for tomorrow.
The Hawaiian Pro event window will run from November 12 – 24, followed by event No. 2 of the Vans Triple Crown of Surfing, the Vans World Cup of Surfing, from November 25 – December 6 and  event No. 3, the Billabong Pipe Masters, from December 8 – 20.
For more information, please visit www.worldsurfleague.com or download the WSL app to receive updates on your mobile device and watch LIVE action. Fans can also tune into Spectrum SURF Channel, which will televise the 2017 Vans Triple Crown events LIVE and in replay on digital channels 250 SD and 1250 HD, across the state of Hawaii.
RESULTS
Surfers shown in order of 1st through 4th, all athletes from Hawaii unless otherwise noted
Round of 96 (1st and 2nd advance, 3rd = 65th place, 4th = 81st place)
H1: Marco Giorgi (URY), Nat Young (USA), Elijah Gates, Jack Robinson (AUS)
H2: Brett Simpson (USA), Soli Bailey (AUS), Hiroto Ohhara (JPN), Kalani Ball (AUS)
Round of 128 (1st and 2nd advance, 3rd = 97th place, 4th = 113th place)
H1: Elijah Gates, Kalani Ball (AUS), Koa Smith, Finn McGill
H2: Brett Simpson (USA), Jack Robinson (AUS), Raoni Monteiro (BRA), Evan Valiere
H3: Kiron Jabour, Rafael Teixeira (BRA), Mason Ho,
H4: Keoni Yan, Hiroto Arai (JPN), Mateus Herdy (BRA), Kaito Kino
H5: Dion Atkinson (AUS), Dusty Payne, Taumata Puhetini (PYF), Barron Mamiya
H6: Victor Bernardo (BRA), Lucca Mesinas Novaro (PER), Tomas King (CRI), Logan Bediamol
H7: Mitch Coleborn (AUS), Jackson Baker (AUS), Mihimana Braye (PYF), Makana Eleogram
H8: Ariihoe Tefaafana (PYF), Parker Coffin (USA), Mitch Crews (AUS), Heremoana Luciani (PYF)
H9: Shane Campbell (AUS), Maxime Huscenot (FRA), Olamana Eleogram, O'Neill Massin (PYF)
H10: Aritz Aranburu (ESP), David Van Zyl (ZAF), Jordy Collins (USA), Kalani David
H11: Cam Richards (USA), Shayden Pacarro, Timothee Bisso (FRA), Dylan Goodale
H12: Torrey Meister, Kaimana Jaquias, Marco Fernandez (BRA), Jacob Wilcox (AUS)
H13: Imaikalani deVault, Lucas Silveira (BRA), Hizunome Bettero (BRA), Eli Olson
H14: Tomas Tudela (PER), Billy Kemper, Oney Anwar (IDN), Luke Shepardson
H15: Tanner Gudauskas (USA), David do Carmo (BRA), Lliam Mortensen (AUS), Tereva David (PYF)
H16: Luel Felipe (BRA), Cody Young, Tanner Hendrickson, Makai McNamara
About Vans
Vans®, a VF Corporation (NYSE: VFC) brand, is the original action sports footwear, apparel and accessories brand. Vans authentic collections are sold globally in more than 75 countries through a network of subsidiaries, distributors and international offices. Vans also owns and operates nearly 600 retail locations around the world. The Vans brand promotes the action sports lifestyle, youth culture and creative self-expression through the support of athletes, musicians and artists and through progressive events and platforms such as the Vans Triple Crown of Surfing®, the Vans U.S. Open of Surfing, Vans Pool Party, Vans Custom Culture, Vans Warped Tour®, and Vans' cultural hub and international music venue, the House of Vans.