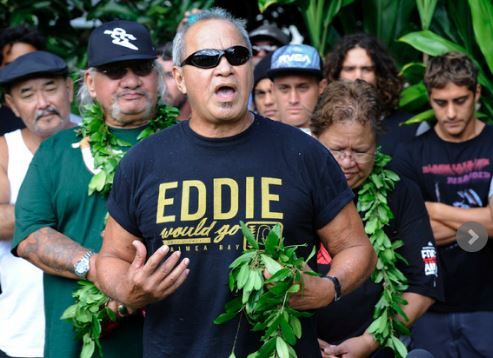 " To inspire the next generation" Clyde Aikau.
KHON first broke the story Saturday and continues with the updates on this Waimea Bay size news. SNN.
Why are Quiksilver and the family of legendary waterman Eddie Aikau parting ways? It's the question many have been asking after KHON2 first reported Saturday that talks broke down after months of negotiation between the two parties, leaving the Quiksilver in Memory of Eddie Aikau in limbo.
At a news conference Monday morning, the Aikau family reiterated it's not about money, but told KHON2 that among the major reasons was that they were not willing to compromise on changing the condition requirements needed to hold the event, considered one of the most prestigious in the world.
Family spokesman Clyde Aikau and attorney Seth Reiss made pleas to the city to help them keep "The Eddie" alive in 2016-17.
It all has to do with the permit needed to hold the event. In a press statement released before the Aikau family news conference, Quiksilver said it is offering to give the permit to the family, but the city says it's not that simple.
At the news conference also attended by family supporters — including professional surfers who have competed in the big-wave invitational — Clyde Aikau spoke passionately on behalf of the family.
"Today is to make a plea to our honorable city council, our honorable mayor, and any other senator, representative, that can kokua this family," he said. "We want to continue to honor Eddie and his Eddie Aikau big-wave surfing event that we've had for 31 years. This year is 32 years. We have reached millions all over the world. We want the privilege to continue to carry on his heritage, what Uncle Eddie is all about. To inspire the next generation is what Uncle Eddie and this family is all about, and to always, always, you put somebody else before yourself is what Uncle Eddie's legacy is all about".
In the company's statement, Quiksilver said it "had every intent of continuing to run the event it created 31 years ago in partnership with the Aikau family, but Quiksilver's multiple offers of substantially increased monetary support for future events were declined by agents of the Aikau family over months of negotiations."
"As a gesture of our respect and support we are happy to give our permit to run the event in 2016-2017 to the Aikau family, should the City of Honolulu allow it, and stand by to run the event with the family if they so choose. It is our most heartfelt wish to see the tradition of The Eddie carried on without interruption," Quiksilver CEO Pierre Agnes said in the statement.
Company spokesman Glen Moncata added later in a phone interview that "their expectations and our expectations were probably different."
Honolulu Mayor Kirk Caldwell said, in part, in the following statement Monday that:
Surf tournament park permits are awarded through a competitive application process. Quiksilver's application was approved to hold a surf tournament event named 'In Memory of Eddie Aikau' during the 2016-2017 holding period, and permit transfers are prohibited. (View permit application here: Page 1 and Page 2)

That said, with all the parties willing to come together, city attorneys are working to find a way to move forward so the Eddie can Go this year. One potential solution we are working on is to have Quiksilver 'hire' an Aikau Foundation management team to implement the permit and run the contest on behalf of Quiksilver.

"Eddie Aikau was known as a person who could settle disputes between diverse parties. In his honor, we are committed to bringing everyone together to ho'oponopono and work towards finding a solution for this world class contest that unites all of Hawaii."

For more on the story at KHON GO HERE