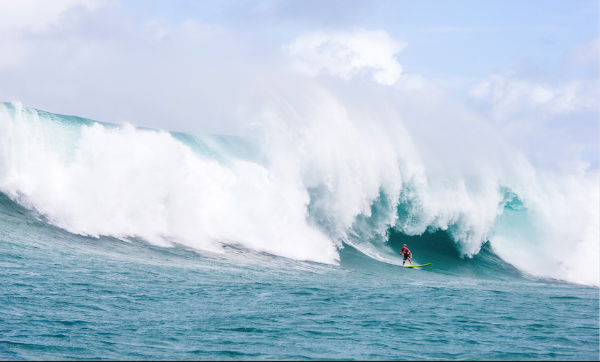 John John Florence claims Quiksilver in Memory of Eddie Aikau
Image: WSL
| | |
| --- | --- |
| Location:    | Waimea Bay, North Shore, Oahu/Hawaii |
| Event window: | Window Closes on February 28, 2016. |
| Today's call: | Finished, Congrats John John Florence! |
| Conditions: | 44′-55′ EDDIE Swell! |
WAIMEA BAY, Oahu/Hawaii (Thursday, February 25, 2016) – John John Florence (HAW) brought a new style and a new generation to big wave surfing today by winning the Quiksilver in Memory of Eddie Aikau Big Wave Invitational, a World Surf League Specialty Event, in waves of up to 60-feet. Florence won $75,000 – the biggest purse in Big Wave riding, with a 4-wave total of 301 out of 400 points.
"I was excited just to be part of the event," said Florence. "I was so nervous, I thought, oh gosh, I just gotta get through this day and hopefully get a couple of waves!
"I was riding my bike down here this-morning in the dark and just the energy of how many people were parked all the way down the street. I've lived here my whole life and I've never seen it like that. Walking down the beach, like Uncle Clyde was saying, people just screaming, and the energy was so crazy. I've never been a part of an event like this. It's definitely the highlight of my life for sure.
"Biggest of all, I want to say thanks to the Aikau family and Quiksilver for putting on this amazing event. I've only seen it run a couple of times in my life so to be a part of it, to be surfing in it, and to actually win it is such a dream come true…against all these legends. These guys are my heroes since I've been growing up. And thanks to my mom and my family and all my good friends who are here."
Florence, 23, edged out previous event winner Ross Clarke-Jones (AUS) with a late charge in his second round heat, posting his top two rides of the day during a flurry of gigantic waves. Better known for his year-round pursuits on the WSL Championship Tour, Florence is fast forging himself a place at the head of the big wave riding movement that is regarded a discipline all its own.
Third place today was Shane Dorian (HAW); fourth went to Jamie Mitchell (AUS); fifth was Kelly Slater (USA); and sixth was Makuakai Rothman (HAW).
A capacity crowd of 25,000 lined the headland-to-headland arena of Waimea Bay, witnessing eight hours of uninterrupted, mind-blowing entertainment. They roared and gasped as the 28-man field offered up fearless rides and more than a few horrific wipeouts from sun up to sun down.
Today's conditions were the most epic ever for an "Eddie" and will surely go down as the greatest one-day Big Wave event in history. The emotions and energy were on overload with what surfers were calling "Brock's Swell," in honor of long-time Eddie invitee and Hawaii Big Wave rider Brock Little, who lost his battle with cancer just last week.
Those who rode today were nothing short of gladiators, armed with surfboards of up to 11-feet in length that were still dwarfed by the ocean's tonnage. They pitted world-class skills along with their lives against the adrenaline-inducing display of Mother Nature.
The undeniable crowd favorite, drawing a standing ovation wave as he walked from Waimea Bay Beach Park to the shoreline, was 66-year-old Clyde Aikau – Eddie Aikau's younger brother, who has contested all nine Quiksilver In Memory of Eddie Aikau Big Wave Invitational events through 31 years, declaring this to be his last.
In all, 141 dramatic rides were logged today, including gutsy charges by Eddie Aikau rookies Koa Rothman (HAW) and Mason Ho (HAW); last minute Alternate starters Danilo Couto (BRZ) and Ben Wilkinson (AUS); and emotionally charged, seasoned rides by Slater and Dorian, in memory of close friend Brock Little.
The world famous Hawaiian Water Patrol were the bedrock of today's event, without whose support the organizers would never have been able to call the day "on." Their safety support and assistance in harrowing moments will see every surfer return home safe tonight.
At times it was as if there were two spectacular events going on at the same time as surfers dropped down feathering walls, and a fleet of rescue jet-skis gunned to outrun avalanches of water as they bolted towards beach or horizon.
Along with the Water Patrol support was the added layer of confidence athletes had with the Quiksilver x Aqua Lung Inflatable Vest – a technology that didn't exist when The Eddie was last held in December of 2009. Only three of the 28 athletes today competed without a vest.
"It was actually nice to have it, to have the option," said Ross Clarke-Jones. "Because if I don't wear it, then I'm going to get hammered. I chose to wear it and I didn't need it till the last wave. It was the last wave and I thought I'll pull it anyway because I got pounded and it just came out like a breeze. It's an incredible piece of equipment."
Each surfer contested two rounds of 1-hour, 7-man heats, with their top four scoring rides at the end of the day producing their final event score. Each ride was scored out of a total of 100 points, with size of wave, critical nature of the take-off, and successful completion of a ride all factors.
Oahu's Aaron Gold was awarded today with the The Quiksilver GO Challenge for a massive wave ridden at Pe'ahi a month ago that has been estimated at more than 70 feet. The special award was offered up to all Quiksilver in Memory of Eddie Aikau Invitees and Alternates for the biggest, most critical wave ridden in the Hawaiian Islands during the holding period of this event up to today. Gold won $10,000 for his efforts.
The Quiksilver In Memory of Eddie Aikau is the original one-day, Big Wave surfing event, started in memory of Hawaiian waterman, Waimea Bay lifeguard and Big Wave pioneer Eddie Aikau. What started 31 years ago to pay tribute to Aikau, has grown to become an almost mythic event whose elusiveness has only fueled its global appeal. The Eddie only runs when wave face heights reach a minimum of 40 feet at Waimea Bay… a day so rare it has only happened nine times in 31 years. Today was one of those days.
Highlights from the Quiksilver in Memory of Eddie Aikau are available at WorldSurfLeague.com
The Quiksilver in Memory of Eddie Aikau Final Results:
1 – John John Florence (HAW) 301
2 – Ross Clarke-Jones (AUS) 278
3 – Jamie Mitchell (AUS) 249
4 – Kelly Slater (USA) 238
5 – Dave Wassel (HAW) 230
Round 1/Heat 1 Results:
Ross Clarke-Jones (AUS) 166, Jamie Mitchell (AUS) 83, Shane Dorian (HAW) 80, Kohl Christensen (HAW) 71, Sunny Garcia (HAW) 47, Greg Long (USA) 38, Ramon Navarro (CHL) 5
Round 1/Heat 2 Results:
Kelly Slater (USA) 97, Aaron Gold (HAW) 85, Jamie O'Brien (HAW) 70, David Wassel (HAW) 65, Reef McIntosh (HAW) 46, Tom Carroll (AUS) 29, Grant Baker (ZAF) 23
Round 1/Heat 3 Results:
John John Florence (HAW) 170, Takayuki Wakita (HAW) 104, Mark Healey (HAW) 101, Clyde Aikau (HAW) 65, Nathan Fletcher (USA) 39, Peter Mel (USA) 9, Noah Johnson (HAW) 0
Round 1/Heat 4 Results:
Koa Rothman (HAW) 110, Makuakai Rothman (HAW) 103, Bruce Irons (HAW) 44, Danilo Couto (BRZ) 69, Mason Ho (HAW) 63, Ian Walsh (HAW) 10, Kala Alexander (HAW) 0
Round 2/Heat 1 Results:
Shane Dorian (HAW) 207, Jamie O'Brien (HAW) 141, Reef McIntosh (HAW) 81, Aaron Gold (HAW) 76, Tom Carroll (AUS) 48, Kohl Christensen (HAW) 43, Greg Long (USA) 33
Round 2/Heat 2 Results:
David Wassel (HAW) 230, Kelly Slater (USA) 201, Ross Clarke-Jones (AUS) 178, Jamie Mitchell (AUS) 172, Ramon Navarro (CHL) 95, Grant Baker (ZAF) 68, Sunny Garcia (HAW) 40
Round 2/Heat 3 Results:
John John Florence (HAW) 206, Mason Ho (HAW) 144, Kala Alexander (HAW) 86, Mark Healey (HAW) 32, Danilo Couto (BRZ) 30, Clyde Aikau (HAW) 26, Koa Rothman (HAW) 7
Round 2/Heat 4 Results:
Ian Walsh (HAW) 115, Makuakai Rothman (HAW) 91, Peter Mel (USA) 77, Bruce Irons (HAW) 57, Nathan Fletcher (USA) 54, Takayuki Wakita (HAW) 37, Ben Wilkinson (AUS) 37
Top 4 Waves (Both Rounds):
John John Florence (HAW) 301
Ross Clarke-Jones (AUS) 278
Shane Dorian (HAW) 270
Jamie Mitchell (AUS) 249
Kelly Slater (USA) 238
Makuakai Rothman (HAW) 231
David Wassel (HAW) 230
Mason Ho (HAW) 191
Jamie O'Brien (HAW) 180
Aaron Gold (HAW) 139
Mark Healey (HAW) 133
Takayuki Wakita (HAW) 123
Koa Rothman (HAW) 117
Ian Walsh (HAW) 115
Reef McIntosh (HAW) 112
Grant Baker (ZAF) 109
Kohl Christensen (HAW) 109
Bruce Irons (HAW) 101
Ramon Navarro (CHL) 100
Danilo Couto (BRZ) 93
Clyde Aikau (HAW) 91
Nathan Fletcher (USA) 88
Sunny Garcia (HAW) 87
Peter Mel (USA) 86
Kala Alexander (HAW) 86
Greg Long (USA) 71
Tom Carroll (AUS) 67
Noah Johnson (USA)/Ben Wilkinson (AUS) 37