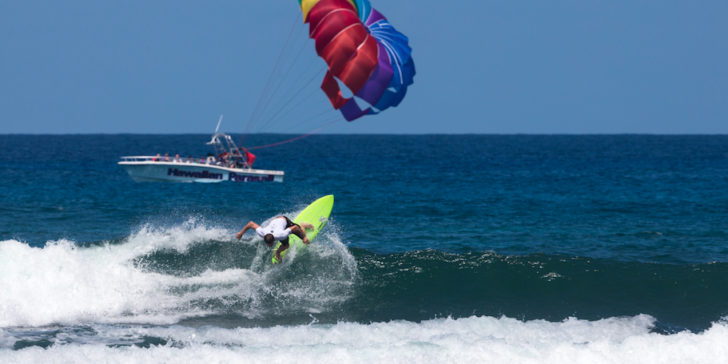 Dege O'Connell (HAW), matching the color of Honolulu, had heat wins in both Round 1 and 2. Image: WSL / Freesurf / Heff
| | |
| --- | --- |
| Event:    | Local Motion Surf Into Summer                                  |
| Venue: | Ala Moana Bowls, Honolulu, Oahu   |
| Date: | May 26 – 31, 2016   |
| Rating: | Men's QS1,000 |
Honolulu, Oahu, HAWAI – (Friday, May 27, 2016) — The Local Motion Surf Into Summer WSL Men's QS1,000 event launched this morning with a competitive comeback from Dege O'Connell (HAW), who saw his first heat wins in three years after taking time off to recover from injury. The Local Motion Surf Into Summer is a critical event for professional surfers of Hawaii, as it offers them qualification into highly rated international competition.
O'Connell, from Maui, looked resilient in the shoulder-high surf and exploded off a set wave with powerful vertical hits for a 9.00 – the second highest score of the day – in Round 1.
O'Connell's wave set the bar for the morning, and surfers battled to find solid scores in the tricky conditions to progress into the next round.
"It felt good, I had a good rhythm," said O'Connell. "I didn't know I had a 9, I was hoping like a 7 or something… I got hurt two years ago and I've done like three contests and lost first round, so it just felt good to get the jersey on and win a heat again."

O'Connell showed flair on his backside. Image: WSL/Freesurf/Heff
The Maui surfer found another first place advancement in Round 2 ahead of Takayuki Wakita (HAW) after besting Enrique Turo Ariitu (PYF) and Bruce Irons (HAW). Dege will go against Billy Choi (HAW), Teoro Tahutini (PYF) and Kaimana Kinimaka (HAW) when the competition resumes.
"My goal is just to compete and enjoy it," said O'Connell. "Maybe if I made the Final I'd make the Triple Crown, but I just want to surf."
A new and rising SW swell produced clean conditions in the morning, but by mid day the winds picked up and proved challenging for competitors. The surfers had to exercise good judgment on wave selection to find mid-range scores.
The highest score of the day, a 9.4, went to Jake Marshall (USA) for quick, precise surfing on a set wave. The Encinitas, California native eliminated defending event winner (and his team manager), Joel Centeio (HAW) in the first heat of Round 2 after advancing in first from Round 1.
"As far as an up and coming surfer, he's amazing," said Centeio, 33, of Marshall, 17. "I've been watching him surf since he was like 11 years old in California. So I knew going into the heat that he was really, really good and he could post big scores. So for me, I'm really stoked because he's one of our team riders and I'm just stoked to see the younger guys do well."
Although Centeio's campaign was stopped short, he, like most surfers here today, looked to gain valuable ratings points to qualify for the Vans Triple Crown of Surfing. With a win at the Hawaiian Pro in 2009, the athlete talked about the difference between competing on the North Shore versus South Shore.

The event tents overlook Diamond Head in the morning light. Image: WSL/Freesurf/PhotoKeoki
"I feel like the North Shore you're usually battling the elements and just trying to compete because it's so big and it can be scary at times. But Ala Moana Bowls it's super playful, it's rippable. A little less pressure in a way, but still that anxiety of just competing itself kind of gets you. I love doing them both, I feel pretty comfortable at both venues so I'm just excited to be surfing."
Results
Surfers shown in order of 1st – 4th
Athletes from Hawaii unless noted.
Round of 64
1st and 2nd to next round, 3rd = 33rd place, 4th = 49th place
H1: Kekoa Bacalso, Jake Marshall (USA), Derek Wong, Joel Centeio
H2: Travis Beckmann, Eli Olson, Imaikalani deVault, Koa Yokota
H3: Gavin Gillette, Noa Mizuno, Bruce Mackie (BRB), Barron Mamiya
H4: Braiden Maither (AUS), Derek Ho, Hank Gaskell, Ulualoha Napeahi
H5: Billy Choi, Alex Pendleton, Kainoa Haas, Kona Oliveira
H6: Dege O'Connell, Takayuki Wakita, Turo Ariitu, Bruce Irons
H7: Mikey Bruneau, Teoro Tahutini, Evan Valiere, Koa Rothman
H8: Louis Gillick (AUS), Kaimana Kinimaka, Keijiro Nishi (JPN), Ian Walsh
H9: Kaulana Apo, Billy Kemper, Kai Matsumoto, Jason Shibata
H10: Kevin Sullivan, Luke Shepardson, Davin Torres-Jaime, Gregg Nakamura
H11: Kekoa Cazimero, Dj Joy, Paul Pugliesi (USA), Landon McNamara
Round of 96
1st and 2nd to next round, 3rd = 65th place, 4th = 81st place
H1: Jake Marshall (USA), Koa Yokota, Love Hodel, Facundo Carranza (ARG)
H2: Eli Olson, Kekoa Bacalso, Nick Mita, Gavin Sutherland
H3: Barron Mamiya, Derek Ho, Kalani Ross, Kawai Lindo
H4: Braiden Maither, Bruce Mackie (BRB), Tom Dosland, Rainos Hayes
H5: Alex Pendleton, Turo Ariitu (PYF), Kaisho Kato (JPN), Frank Chenault (USA)
H6: Dege O'Connell, Kainoa Haas, Johnny Noris (USA), Jud Lau
H7: Teoro Tahutini (PYF), Louis Gillick (AUS), Che Allan (BRB), Keoni Nozaki
H8: Keijiro Nishi (JPN), Koa Rothman, Flynn Novak, Ezra Sitt
H9: Jason Shibata, Gregg Nakamura, Kala Willard, Heifara Tahutini
H10: Davin Torres-Jaime, Ashley Keillah (AUS), Finn McGill, Christopher Bluthardt
H11: Paul Pugliesi (USA), T.J. Barron, Kai Mana Henry, Chandler Norton (USA)
H12: Chris Foster, Dj Joy, Luke Adolfson, Nainoa Surratt
H13: Sheldon Paishon, Tereva David (PYF), Isaac Stant, Keoni Picollo
H14: Joaquin Del Castillo (PER), Macy Mullen (TPE), Wyatt McHale, Dexter Preston (USA)
H15: Cody Young, Barak Maor, Logan Bediamol, Willie Safreed (USA)
H16: Shayden Pacarro, Edrick Baldwin, Kelson Lau, Joey Johnston