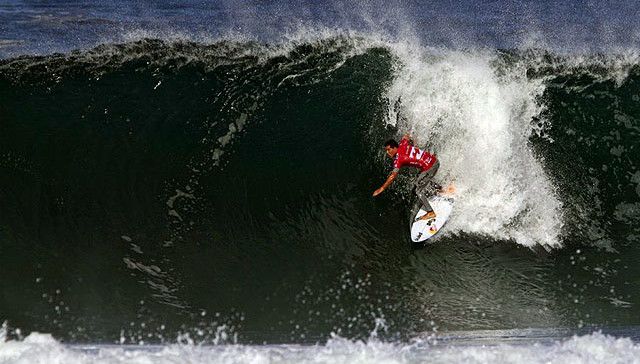 Knee injury sidelines world #8 ranked Adriano
Photot Adriano de Souza in Brazil © ASP/Smorigo
Surf News, 14 November, 2014 :Adriano De Souza (BRA) has bowed out of the Billabong Pipe Mastersbecause of a persistent knee injury, according to a Facebook note he posted Thursday. The Brazilian has been open about his knee pain at recent competitions and, after consulting with family and doctors, has decided to withdraw from the event in Hawaii.
"I will be watching this amazing race for the Title between Gabriel (Medina), Kelly Slater and Mick Fanning and I promise that I will do everything I can to be competing for the World Title next year," De Souza wrote. "My dream isn't over yet, it was just postponed for next year."
De Souza is the second surfer confirmed to opt out of the event at Pipeline, which will be the final men's WCT contest of the 2014 season.Taj Burrow (AUS), who will be recovering from shoulder surgery, has also decided to forego the competition.
Three other WCT surfers have also suffered injuries in recent weeks: Slater returned from a Fijian getaway with a couple of broken toes, C.J. Hobgood (USA) is still on the mend after splitting his foot open in Portugal and Thursday John John Florence (HAW) alerted officials at theReef Hawaiian Pro that he was withdrawing from the Vans Triple Crown opener due to a hamstring injury.
De Souza is currently No. 8 on the WCT rankings and will be part of the 2015 elite class despite missing the Pipe Masters. But absences for Hobgood and Slater could be dire for their respective ambitions: Hobgood is sitting one spot below the cutoff mark to requalify for next year's Tour and Slater is still in the race for the 2014 Title.