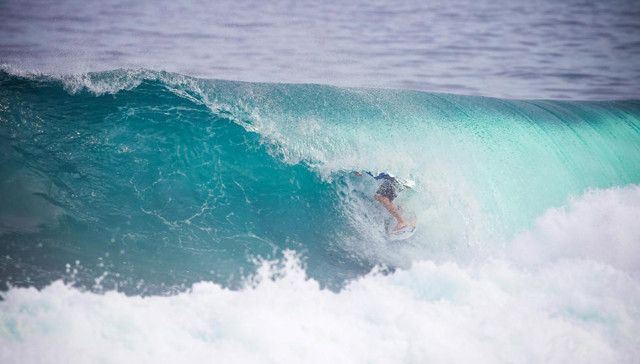 Photo: Adam Melling © WSL/Masurel
SATA Azores Pro 
World Surf League QS10,000 Men's event
Praia de Santa Barbara, Sao Miguel Azores Islands
22 – 27 September 2015
Event finishes Round of 96, Round of 48 and sets up for Round of 24 
Surf News Network, 23 September, 2015.
Praia de Santa Barbara Sao Miguel – The second day of the QS10,000 SATA Azores Pro unfolded in clean three-to-four foot surf allowing some of the World's top surfers to perform and drop huge scores in Round 2 of competition.
Brent Dorrington (AUS), 28, collected the day's highest combined heat total, an incredible 18.86 out of 20 possible, including a near-perfect 9.93 for a clean exited backhand barrel punctuated by a quick floater on the falling lip. The talented Aussie hailing from Coolangatta, had already bagged two excellent 8+ rides and continued to enjoy the conditions, posting another excellent score before the final horn.
"That wave kind of came out of nowhere, my plan was to stick to the right and then that thing popped up," Dorrington said. "It got pretty deep at the start and I just fit in that floater at the end, I thought I was going to go head over heels but I pulled it off so I was stoked. It was a little bit all-over the place this morning but as soon as my heat came up it really cleaned up and yeah I'm looking forward to the rest of the week for sure."
Adam Melling (AUS), 30, former winner of the Portuguese Waves Series – Cascais Trophy, posted the first and only perfect 10 point ride of the event so far, on a righthand deep barrel followed by a two-turn combo to finish the wave.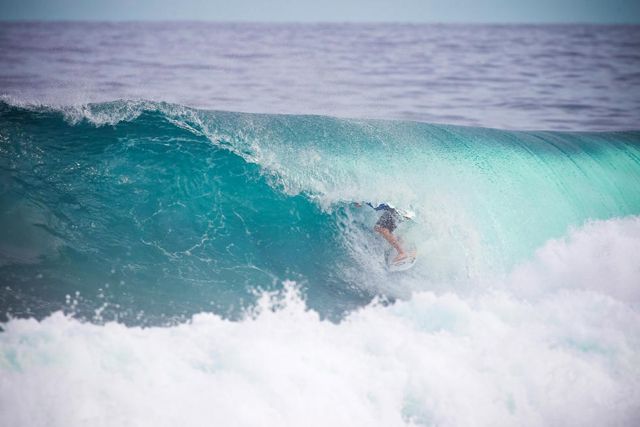 Alejo Muniz © WSL/Masurel
"It's good to be back here, I had a 10 here I think 3 years ago, and haven't had another one since," Melling stated. "That wave was pretty good, paddling into it I felt quite deep and I got through it and got a couple turns so yeah I'm happy with that. Getting good results on the QS would definitely help, I'm getting some heats under the belt and it definitely helps with confidence. I've won the Portuguese Waves Series before and would love to win it again."
Ezekiel Lau (HAW), 21, found similarities at Santa Barbara with his native Pacific atoll and managed to showcase his Hawaiian power in the clean peaks. With three dangerous Brazilian opponents, the young natural-footer stayed extremely patient in the lineup, only opting to ride three waves during the 30-minute matchup, two of which scored above 8 points.
"I feel good, the waves are a lot easier today than yesterday," Lau reflected. "Today it seems like the banks are pretty good in the corner and the waves are cleaner. I like coming to the Azores, it's pretty similar to home, a lot of power and beachbreaks so I'm having fun here."
Evan Geiselman (USA), 22, launched into a clean forehand rotation grabbed all the way and completed the wave with a nice floater to net an impressive 9.67 and take a win in Round 2. The talented Floridian relegated current World No.21 Miguel Pupo (BRA) into second with his last minute heroics and will look to confirm his excellent form when the event resumes.
"As I watched Miguel's two 7s and realized how the judges were scoring, it seemed like they wanted something different cause everyone's been doing two backside bangers or something," Geiselman analysed. "On my 9 it felt like a pretty big air and really corked down in the wind. I love doing airs, I love doing the most progressive stuff I can and film it, and I really want to make heats.
Timothee Bisso (GLP), 18, rounded up the day's action with a convincing heat win over Ramzi Boukhiam (MAR) and Brazilian Thiago Camarao (BRA) and Marco Fernandez (BRA). The junior surfer from Guadeloupe, who won an amateur European event at praia de Santa Barbara last year, found his rhythm and collected two major heat wins in his first QS10,000 appearance.
"I'm making a lot of points here and will surf in the third round tomorrow, so for a first time in a QS10,000 I'm super happy," Bisso commented. "Conditions were really tough today and not everyone got good waves, but I managed to find two fun lefts and I'm stoked. I came here last year and won the Euro Junior on this very same spot so I feel pretty confident out there."
Event officials and surfers will reconvene at 9AM on Thursday for a potential restart of competition with the Round of 24. Up first when the event resumes will be Brent Dorrington (AUS), Caio Ibelli (BRA) and Dion Atkinson (AUS).
The SATA Azores Pro is scheduled from September 22-27, 2015 at PRAIA DE SANTA BARBARA, Sao Miguel – Azores Islands. The SATA AZORES Pro is organized by DAAZ Eventos with the support of the following event partners:  SATA Airlines, Governo Regional dos Acores, Turismo dos Açores, Câmara Municipal da Ribeira Grande, SUMOL, SEAT , MOCHE, amongst other.
UPCOMING SATA AZORES PRO ROUND OF 24 MATCHUPS:
Heat 1: Brent Dorrington (AUS), Caio Ibelli (BRA), Dion Atkinson (AUS)
Heat 2: Adam Melling (AUS), Marlon Lipke (PRT), Hizunome Bettero (BRA)
Heat 3: Sebastian Zietz (HAW), Alex Ribeiro (BRA), Miguel Tudela (PER)
Heat 4: Ezekiel Lau (HAW), Pedro Henrique (PRT), Wigolly Dantas (BRA)
Heat 5: Alejo Muniz (BRA), Jack Freestone (AUS), Aritz Aranburu (ESP)
Heat 6: Bino Lopes (BRA), Carlos Munoz (CRI), Tanner Gudauskas (USA)
Heat 7: Kolohe Andino (USA), Ramzi Boukhiam (MAR), Evan Geiselman (USA)
Heat 8: Timothee Bisso (GLP), Tanner Hendrickson (HAW), Miguel Pupo (BRA)
SATA AZORES PRO ROUND OF 48 RESULTS:
Heat 1: Brent Dorrington (AUS) 18.86, Marlon Lipke (PRT) 13.67, Nathan Yeomans (USA) 12.74, Conner Coffin (USA) 7.77
Heat 2: Adam Melling (AUS) 17.50, Caio Ibelli (BRA) 13.60, Jesse Mendes (BRA) 11.24, Marco Giorgi (URY) 7.64
Heat 3: Hizunome Bettero (BRA) 12.70, Dion Atkinson (AUS) 12.57, Jose Ferreira (PRT) 10.70, Adrien Toyon (FRA) 7.87
Heat 4: Sebastian Zietz (HAW) 11.27, Pedro Henrique (PRT) 11.20, Willian Cardoso (BRA) 10.50, Connor O'Leary (AUS) 6.90
Heat 5: Miguel Tudela (PER) 15.50, Wigolly Dantas (BRA) 14.23, Vincent Duvignac (FRA) 13.20, Thomas Woods (AUS) 11.50
Heat 6: Ezekiel Lau (HAW) 17.20, Alex Ribeiro (BRA) 14.83, Deivid Silva (BRA)  14.76, Krystian Kymerson (BRA) 12.97
Heat 7: Alejo Muniz (BRA) 14.36, Carlos Munoz (CRI) 13.03, Frederico Morais (PRT) 12.00, Jonathan Gonzalez (CNY) 10.27
Heat 8: Bino Lopes (BRA) 15.17, Jack Freestone (AUS) 11.30, Jadson Andre (BRA) 10.64, Noe Mar McGonagle (CRI) 10.26
Heat 9: Tanner Gudauskas (USA) 14.00, Aritz Aranburu (ESP) 12.86, Medi Veminardi (REU) 11.47, Mitchel Coleborn (AUS) 6.97
Heat 10: Kolohe Andino (USA) 14.10, Tanner Hendrickson (HAW) 13.16, Ryan Callinan (AUS) 11.43, Gony Zubizarreta (ESP) 8.40
Heat 11: Evan Geiselman (USA) 16.70, Miguel Pupo (BRA) 15.10, Santiago Muniz (ARG) 11.26, Mitch Crews (AUS) 9.00
Heat 12: Timothee Bisso (GLP) 13.43, Ramzi Boukhiam (MAR) 12.77, Thiago Camarao (BRA) 10.76, Marco Fernandez (BRA) 4.60
REMAINING SATA AZORES PRO ROUND OF 96 RESULTS:
Heat 23: Thiago Camarao (BRA) 14.66, Evan Geiselman (USA) 12.00, Tomas Hermes (BRA) 11.50, Kanoa Igarashi (USA) 10.33
Heat 24: Timothee Bisso (GLP) 12.53, Miguel Pupo (BRA) 10.33, Vasco Ribeiro (PRT) 8.73, Cooper Chapman (AUS) 6.56